Editor's Note: This is part of a series of profiles highlighting the diverse interests and careers of VSCPA members. Know a member (including yourself) who would make for an interesting profile? Email VSCPA Communications Manager Chip Knighton.
It's not an easy thing to maintain a career as a technology consultant. The rapid pace of advancement makes it harder than ever to stay current on current best practices and future trends. It's the kind of work environment that leads even a successful practitioner to refer to herself as a "perpetual student."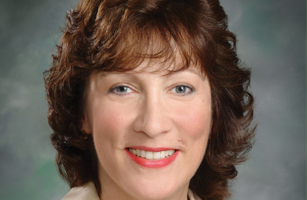 That consultant is VSCPA member Judy Borsher, CPA, CITP, president and CEO of SCG Training and Consulting in Alexandria. She found her career niche when working for KPMG in the 1980s as a business consultant focused on accounting software installation. 
The move was brought about by a simple realization — she realized she had a knack for explaining technology to her fellow CPAs. That skill, along with a dogged effort to establish herself as a expert in an ever-changing technological landscape, has kept her in demand as an instructor in the Mid-Atlantic region for the last three decades.
"Everybody knows work technologies have changed dramatically," Borsher said. "But what really was the pivot point for me in my work as a CPA was realizing that I had valuable skills in creating and presenting CPE technology courses. That's really the focal point of my career."
The majority of Borsher's clients need help on the Microsoft Office 365 platform. Accounting organizations and finance professionals make up a hefty portion of her client base, including the VSCPA, where she teaches several courses a year, most recently in a three-day run in July at the Society's Virginia Beach CPE cluster. But she works with plenty of other groups looking to gain more knowledge about Office 365 (especially Excel), including government agencies, nonprofits and private businesses.
Credentials beyond the CPA have helped Borsher advance in her career. She's a Microsoft Certified Trainer (MCT) and holds the American Institute of CPAs (AICPA) Certified Information Technology Professional (CITP) credential, and those letters represent a convenient way to show her experience with the technologies she teaches.
"Having both of those establishes my skill level to work with companies and organizations," she said. "Some people ask, 'How important are credentials?' We all understand the value of the CPA credential.
"These credentials establish that the CPA has a commitment to technology...They're not easy to acquire. They take years of business experience."
But beyond that, Borsher says, technological expertise is no longer optional for CPAs. Technological advances have had the dual effect on the profession of providing a growing area of service (information technology, cybersecurity, software implementation) while taking over tasks traditionally performed by entry-level accountants.
The result? The CPAs who thrive in the business environment of the future will be the ones who adapt and deliver services businesses need.
"It's not a choice anymore. The CPA professional must be and is a valued technology advisor to clients," Borsher said. "That's part of what clients expect today.
"When a CPA is having a conversation with a client, that conversation often includes an understanding of cloud technology and cybersecurity best practices. It's a requirement to have some knowledge about these technologies. You can't get away from it."
Borsher grew up in New Jersey and graduated from Cornell University before working in business management for performing arts organizations, a focus gleaned from her experience playing flute and piano as a child. She returned to Cornell for her master's in business administration, but had an epiphany during graduate school and switched her MBA focus to finance and accounting.
"I realized the CPA profession was a highly valued career path that offered a wide variety of specialties," she said. "It's interesting how the general public, over the years, looks at CPAs and thinks they do one thing, usually tax preparation. Young people are starting to understand that the profession offers a wide variety of paths and specialties."
But no matter what specialty a CPA chooses, technology expertise should always be part of his or her suite of services.
"Each CPA has an area of specialty, and they know what the resources are for that," Borsher said. "But what we're talking about is technology, and it doesn't matter what your specialty is. Technology knowledge needs to be layered on top of any specialty."