Editor's Note: This is part of a series of profiles highlighting the diverse interests and careers of VSCPA members. Know a member (including yourself) who would make for an interesting profile? Email VSCPA Communications Specialist Chip Knighton.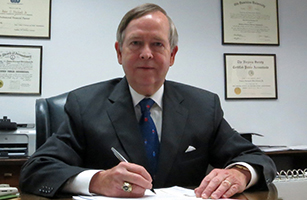 It's now nearly three weeks into retirement for Jimmy Strickland, CPA. Thirty years after he started his own practice out of the sun room in his house in Norfolk, he and his wife, Gale, the firm's administrator, stepped away from what had turned into Strickland & Jones, a 32-employee, three-office firm.
But even retirement allowed Strickland to deal with what he views as one of the accounting industry's most pressing topics — succession planning.
"With a profession dominated by white males over the age of 55, I've noticed that there's a big need for people to get good advice in succession planning," he said. "We started about two years ago, having meetings with people we thought would make good partners. Since then, we've promoted three people to partner."
Strickland actually noticed that need while it was benefiting his own firm.
"We acquired 11 firms over the last 16 years primarily because they were local firms that got to the end of their career and did not have succession plans," he said. "They looked around and didn't have anyone to hand over the practice to."
Strickland was fortunate to be able to hand over control of his firm to his partner, Steve Jones, who assumed the leadership role. And retirement has freed up Strickland to take on some projects around the world.
He visited Malawi in southern Africa in 2004 at the invitation of a local minister and started a mission after returning to the United States. Creative Global Relief, the 501(c)(3) he founded, has taken on several improvement projects, including the installation of foot-powered irrigation pumps to help area farmers, child sponsorship and infrastructure improvements.
"I fell in love with the people there," he said. "They're so poor, so reverent. I came back a changed person — I couldn't turn my back on their needs."
Strickland first went over to Malawi through his church, Norfolk Seventh-Day Adventist. His focus quickly expanded when he saw all the help he could provide the local population.
'This year, when we go back, I plan to use my skills to help them plan infrastructure projects," he said. "One community there, Mdatwilika, is in a state of decay. We're going to use some of our resources to help them with some of their building projects."
That's not the only trip Strickland has planned. He and Gale will head to Florida next month — and that's all they know. They haven't decided where to go or when to come back. It's part of what he calls their "gift to ourselves" after decades of hard work and community involvement (he's also stepping down from the board of the YMCA of South Hampton Roads).
He's come a long way from the days when his firm was himself, his wife and a sunroom. He left Goodman & Co. and borrowed $3,000, which he paid back in six months, to found the firm.
He credits Strickland & Jones' success to the way firm management treated employees.  
"The continual theme that helped us was our family-friendly atmosphere. We actually called our people our firm family and believed in not allowing our people to work Saturdays and Sundays to allow them to have family time. We actually prohibit our people from working Saturdays and Sundays. We had flex time for working mothers who couldn't work full-time. We tried to do fairly innovative things to try to attract good people.
"A firm's greatest asset is good people. I learned early on to hire people smarter than me and keep them around."