Editor's Note: This is part of a series of profiles highlighting the diverse interests and careers of VSCPA members. Know a member (including yourself) who would make for an interesting profile? Email VSCPA Communications Manager Chip Knighton.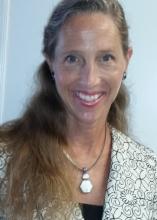 Janet Lawson, CPA, has always been caught between two worlds to some extent. Now she's hoping to use her unique set of talents and interests to forge a new path.
After a long, winding career in corporate finance, Lawson, of Virginia Beach, is working as an independent consultant — in a couple of disparate fields. One is what you'd expect: using her CPA skills to help small businesses. The other draws on an interest that goes back much further, to her childhood in Northern Virginia, through college, and her entire career, even abroad: health and wellness.
That fascination truly took root when Lawson was a member of the gymnastics team at the College of William & Mary. A team ritual planted the seeds for her future interests in yoga, visualization, meditation, nutrition and holistic healing.
"We had an energy circle," she said. "Our coach had us do an energy circle where we touched foot to foot, hand to hand, and we'd pass that energy when we got off equipment to the next teammate. It's a ritual they've kept, and it was magical for me."
That was the beginning of two paths that unfolded in parallel for Lawson. One was her accounting career, which took her through numerous corporate finance jobs at Fortune 500 companies like Capital One, Circuit City, Norfolk Southern, Amerigroup and lastly at Anthem, where she combined her interests as a training designer and project manager while leading meditation sessions for coworkers.
Lawson's training design role was cut in one of Anthem's reorganizations in 2017, an experience that led her to finally go all-in on wellness — almost. She currently has one main client as a lifestyle coach, and had a former international life strategist client as her content developer, but she's keeping a toe in the accounting world by doing bookkeeping and compilation work for various clients. 
While Lawson does enjoy accounting work, it's not where her heart and soul is. That became apparent during a previous period of professional difficulty — a recessionary lay-off, ironically, from the very employer that nurtured her interest in wellness and healing.
That employer was Edgar Cayce's Association for Research and Enlightenment, founded by the famous New Age healer in Virginia Beach. Before working there, she had worked her way up to associate vice president position at Amerigroup, but in her words, she had also "burned [herself] out." In addition to the new job, she attacked her personal life with a new interest in different ways to be healthy.
"When I was getting really ramped up in my career, I thought there had to be more to life than this," she said. "I started going to yoga consistently. I think it starts with yoga for a lot of people. They go for the physical practice and start to really understand the breath, and they start to use that at work, in the car, in an argument. I started investigating more and realized there was much more to the thought side, the mental side."
She followed her interest in wellness to the Cayce association, where she worked as accounting, treasury and finance lead and absorbed everything she could. However, that was in the later part of the 2000s, and economic realities meant it was time for another change.
"When the bottom dropped out of the economy, I had worked myself out of my accounting job there," Lawson said. "I went to Mexico to get out of the country. I reinvented myself, taught yoga, Pilates, and exercise classes. I wasn't formally trained, but I had been practicing yoga and picked up Pilates down there and became a sought after instructor.. I was a Reiki practitioner. I had Reiki clients and energy medicine clients. 
"I teamed with a German naturopath and taught a natural healing course, and I realized I wasn't an accountant by nature. This was really my bailiwick."
Lawson returned to the United States re-energized and focused on a new path and obtained her health coach certification. She continued to take on consulting clients, though, and worked for Anthem for three years before making her latest career move.
Her overarching goal is to carve out a consulting niche helping businesses or schools with finance and wellness. Her ideal role might be a new one aimed at to curbing health and absentee costs: Chief Wellness Officer.
"I can do lifestyle coaching one-on-one or in group. I can help people reprogram their thoughts without being woo-woo or too much spirituality," she said. "But I can also be a business guide for a wellness company, because I get the business side."
But as she says, her heart is truly on the wellness and health side. Ultimately, she wants to help businesses and people make healthy choices and create good habits. That she can also help them become more financially sound is a bonus.
"It's scary as a CPA. This is so atypical of us," she said. "I shock people when they find out I'm a CPA. I understand the business side and accountants, and I need to get in and help them. But it's a big pendulum swing to change culture."