Editor's Note: This is part of a series of profiles highlighting the diverse interests and careers of VSCPA members. Know a member (including yourself) who would make for an interesting profile? Email VSCPA Communications Manager Chip Knighton.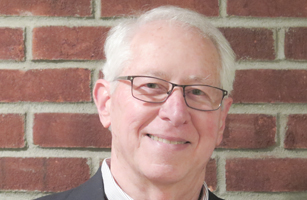 First and foremost, VSCPA member Larry Hurt, CPA, is a people person. That's a necessary trait in the line of work (commercial banking) in which he spent his entire career. Now it's serving him well in his current role as the chair of the VSCPA Political Action Committee (VSCPA PAC) Board of Trustees.
Hurt, who retired from his last job at Franklin Community Bank in Rocky Mount in 2012 is unusual among VSCPA members in that he never worked in public accounting and got his CPA license after he turned 50. The credential helped him earn the confidence of people who were relying on his expertise to make money-lending decisions.
"I always felt like the CPA credential was kind of a value-added thing when I was managing commercial relationships," he said. "When I was in the credit part of it, the background you have to have in evaluating business credit is a big part of it. I felt that that worked pretty well together."
The West Virginia native graduated from Virginia Tech despite his tenure at the school being broken up by a stint in the U.S. Air Force. He had thought he'd work in aviation, but a poor job market led him to give banking a shot. After graduating, he took a job with Dominion Bankshares in Blacksburg, launching a lengthy banking career in Roanoke and its surrounding environs that, as often happens in that industry, wound through numerous mergers and acquisitions.
Continuing education was one way Hurt looked to stay on top of the latest trends. He earned his master's in business administration from Radford University and, as previously mentioned, earned his CPA license in part because of the perception of the credential.
While Hurt spent most of his career trying to improve any way he could, one area where he needs no help is in personal relationships. That's a trait that's served him well as chair of the PAC board, where he's used those skills to try to increase contributions.
"I have tried to be somewhat proactive with direct contact with some of our members to ask them about contributing to the PAC or thanking them for their contribution and asking them to consider continuing giving the way they've done in the past," he said. "Toward the end of the year, I made several calls in that regard. Other board members have, too."
That kind of relationship-building is important in a banking and credit relationship, in getting people to contribute to organizations like the VSCPA PAC and in dealing with legislators for the benefit of the profession. The VSCPA has had a few setbacks in recent years on that last item, first with the retirement of one of its members, Sen. Walter Stosch, CPA, at the end of 2015, then with the defeat of numerous General Assembly incumbents last November, including many the VSCPA had established relationships with.
Events like CPA Assembly Week and other touch points between members and legislators are some of the most effective ways to build those relationships.
"Walter was an extraordinary person," Hurt said. "He had experience and he was well-respected. He decided to step back from his years of service, and I respect him so much for his commitment to that, but to lose an advocate for the profession and to lose someone who is as respected and knowledgeable about the profession as he was is a loss.
"In the last election, some of the people we did have a good relationship with were replaced. To me, it's human nature that you get to know people and get to develop some kind of a relationship, even if it's a business relationship. It's still important for people to know you and know how you can help them. Those relationships aren't built overnight."
While those relationships are crucial in a lending environment, Hurt still decided the CPA would be a boost for his career once he started to gain more experience. After going through a few mergers, he decided it would be in his best interest to branch out and add more accounting expertise to his tool set.
He never did get into public accounting, but he became active with the VSCPA, working with the VSCPA Board of Directors, the Society's awards program, the Financial Fitness Task Force and the Professional Ethics Committee before settling in with the PAC.
Since his retirement, the PAC has taken up a good deal of Hurt's free time, but he's also traveled extensively and volunteered with his church. He's also explored his interest in genealogy, tracing his and his wife's family lines as far back as the 16th century.
"I've learned that if you find a king in your genealogy, and I haven't yet, you're going to find knaves, too," he said. "Both of us have our family tree, at least in a couple of lines or more, seven or eight generations, back to the 1600s, and in a couple of cases the 1500s. That's been interesting.
"When you look at history, it's almost impossible to look at the way life was in the 16th, 17th, 18th centuries through 21st-century eyes. You just really can't evaluate. It's almost, in some cases, hard to conceive."