Editor's Note: This is part of a series of profiles highlighting the diverse interests and careers of VSCPA members. Know a member (including yourself) who would make for an interesting profile? Email VSCPA Communications Manager Chip Knighton.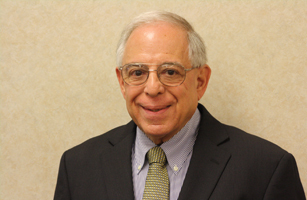 Art Auerbach, CPA, is perhaps the VSCPA's top tax source. He built his knowledge base over a lifetime of work in the accounting profession, from a quick rise in his first accounting job to his role helping educate CPAs on his chosen field.
Auerbach, now living in Atlanta and partially retired, credits the largest portion of his tax knowledge to his stint with AutoTax, a computerized tax preparation service owned by the Research Institute of America. Specifically, he wrote the final AutoTax manual from cover to cover.
"I had to explain every field on every input form that was being used on the software," Auerbach said. "I learned more about tax in those 18 months than I had learned in the 12 or 13 years before that."
That wasn't the career path Auerbach would have envisioned coming out of Pace College (now Pace University) outside New York, when he started out at a small Manhattan firm, Daniel D. Schwartz & Co. The titular Schwartz, the father of one of Auerbach's professors at Pace, admitted he couldn't pay what the Big Eight firms could offer, but said he would make Auerbach a partner as soon as he passed the CPA Exam. Three years later, a few months after fulfilling the New York work requirement, Auerbach passed the Exam and became the firm's managing partner.
Despite that fast start, the local firm life wasn't what Auerbach wanted. He got tired of the repetition of dealing with the same clients each year and made the move to Northern Virginia and AutoTax. But don't think that reflected any lack of interest in the issues he dealt with in tax.
"I think the tax side is unique in that every situation is a little bit different from the other," he said. "The way I like to describe it when I teach is that if I have a room of 20 people, I could pay each one of you the same amount of money, but you would all do something different with it, and that makes tax unique. In accounting, the debits are where the debits are and the credits are where the debits are."
After leaving AutoTax, Auerbach returned to public accounting and worked for several Northern Virginia firms before retiring from Goodman & Co. in 2011. But he turned his passion into a sideline in continuing education, teaching tax and ethics classes for the VSCPA, the American Institute of CPAs (AICPA), Surgent and other outlets. He also edits tax articles for the AICPA's Journal of Accountancy and The Tax Adviser as part of his role on the Institute's Tax Executive Committee.
Auerbach currently chairs the Georgia Society of CPAs' Federal/State Tax Task Force and also sits on the Georgia Department of Revenue Commissioner's Advisory Group. As mentioned before, he's semi-retired, but he keeps busy with tax controversy work with his business associate, Anson Asbury. It's all about continuing to stay sharp and learn new things he can pass along to his fellow CPAs.
It was really happenstance that got Auerbach into teaching in the first place. He had done some work as an adjunct professor at Pace after graduating, teaching intermediate and cost accounting, but took several years off from the classroom until a chance encounter pulled him back in.
At the time, he was running the tax practice at a now-defunct firm called Frantz and Co., led by a CPA named Jim Warrick, who was the chair of the Greater Washington Society of CPAs (GWSCPA) at the time. One of the GWSCPA's instructors got sick, and Warrick knew that Auerbach had taught at the college level and, as he puts it, said, "Here's the book. Go teach the course."
Two volunteers for the AICPA's Tax Division happened to be in the class that day, and they decided they wanted Auerbach to teach for them.
"You've got to have a little bit of ham actor in you to stand up in front of a room that much. But what I like is getting the knowledge out," he said. "I have a bit of a delivery system. If you sit in these classes and the guy in the front talks to you in code sections, you can fall asleep in five minutes.
"My philosophy is to give people something to take back to their office and put it into practice and generate enough revenue to cover the eight hours of lost billing. They have to get something to make up for what they lost in practice. That's what I try to do — impart something that somebody in that classroom can take away and turn into billable hours and recover what they lost."
When Auerbach retired from Goodman, he and his wife moved to Atlanta to be closer to their daughter, Alison, and their now-teenage grandson. They take advantage of their flexible schedules by taking long vacations each year, with Auerbach citing London, New Zealand and the Galapagos Islands as particular favorites.
"You see a lot of this stuff on TV, and it's great to see it in person," he said.