Editor's Note: This is part of a series of profiles highlighting the diverse interests and careers of VSCPA members. Know a member (including yourself) who would make for an interesting profile? Email VSCPA Communications Manager Chip Knighton. 
Like many VSCPA members, Henry Davis III, CPA, has spent most of his professional career pulling double duty with his day job and his side gig. Occasionally, that results in an almost unbelievable degree of overwork.
Most tax practitioners were well aware of the U.S. Internal Revenue Service's (IRS) electronic filing issues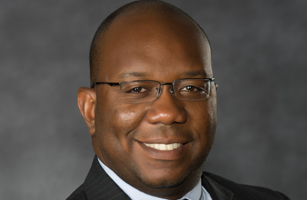 on tax deadline day last week, but not Davis. He was buried so deep in wrapping up tax season that he didn't realize the IRS had extended the deadline to allow for filing without penalty after its e-filing system went down.
"I didn't even know they extended it," he said. "I was just trying to get everything done. Clients were telling me, 'You've got an extra day.' I was like, 'I do?' I was so buried in trying to get everything done."
That was the capper for an eventful filing season for Davis and his fellow tax practitioners, who also had to spend a good deal of mental energy on the effects of the Tax Cuts and Jobs Act. And as mentioned before, tax preparation isn't even Davis's main job — that would be his work as director of finance and budget in Virginia Commonwealth University's (VCU) Office of Development and Alumni Relations.
The Sandston native is back in his home area, as he always planned, but he's not doing the work he envisioned when he enrolled at the University of Virginia (U.Va.) in 1993. Back then, he intended to become an electrical engineer, but lasted one year in the engineering school before deciding that wasn't his preferred path.
He remembered an accounting class he took in high school and decided to give it another shot, and it clicked. He transferred into U.Va.'s McIntire School of Commerce and earned his accounting degree before landing a job at KPMG's Richmond office, where he spent two years before transitioning into corporate finance as accounting manager at SMG, the management company for the Richmond Coliseum.
One of Davis's responsibilities at SMG was the settlement statement, where he would meet with promoters after events took place. Generally, that meant a meeting with a behind-the-scenes figure, but occasionally it would be a performer pulling double duty, such as when wrestling referee Dave Hebner filled the role on behalf of the World Wrestling Federation.
Davis spent two years at SMG before accepting a controller position at the Greater Richmond Transit Company, where he spent more than a decade, rising to the CFO position, before accepting his current job at VCU. He spent his first year there building an accounting system from the ground up.
"I was really attracted to that position because I knew that I could come in from the ground floor and build it the way I wanted to," he said. "When they had the initial interviews, they said they didn't have any idea how much money they truly had. My first year was just trying to build a system to account for everything, then once we had that, to set a budget for each of the departments."
The office of Development and Alumni Relations is tasked with raising money through alumni donations, and Davis helps decide how best to deploy its assets to better the university's financial standing. Those efforts are greatly aided by Davis's work to paint an accurate financial picture.
"It's very interesting. It's an area where I didn't think I would end up, but it turns out I really like it," he said. "I can see the impact of my department. They're really pushing to bring in money to help students."
And that job and his tax business aren't even the full extent of Davis's involvement in the profession. He's a vice chair on the VSCPA Board of Directors who chairs the Board's Learning task force, charged with the direction of one of the main strategies of the VSCPA2025 strategic framework.
Davis got started with the VSCPA through the NBC 12 Tax Call-In Program, where Richmond-area residents can call in with tax questions for VSCPA volunteers to answer. He says the greatest benefit of his volunteer work comes through his expanding professional network.
"It's so diverse," he said. "You've got people from public, from education, and if I had a question, I know I would be able to reach out to them without any hesitation. That's been a great benefit for me knowing I have that choice."
When he has free time after all those responsibilities, Davis likes to spend time with his three daughters, exercise and listen to old jazz music — a passion he first realized when taking a popular elective at U.Va. He often visits yard sales on weekends looking for old jazz records.
But that's not what he's currently doing, having dug out from under his pile of tax returns to close the book on this tax season.
"Usually, I take a couple of days where I just do nothing and mentally, physically, take a break. It can take a toll on you," he said. "I just do nothing. It's actually relaxing just doing nothing. You just sit on the couch, turn on the TV and do nothing. Or cut your grass. You just turn your brain off."