Editor's Note: This is part of a series of profiles highlighting the diverse interests and careers of VSCPA members. Know a member (including yourself) who would make for an interesting profile? Email VSCPA Communications Manager Chip Knighton.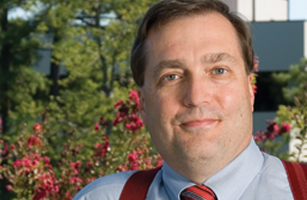 Harold Martin, CPA/ABV/CFF, ASA, CFE, went from an unplanned career in the specialized service niches of valuation and forensic accounting to the Hall of Fame. All it took was a career's worth of service to the profession.
Martin is a partner at Keiter in Glen Allen, where he heads up the firm's valuation and forensic services group and is a member of the Firm's Executive Committee. He was inducted into the American Institute of CPAs' (AICPA) Business Valuation Hall of Fame in 2012. Not bad for a guy who spent his college years reading Shakespeare as an English major at The College of William & Mary.
As many liberal-arts majors do, Martin initially started his career in banking after graduation, and that rekindled his interest in finance that had first piqued him to take some undergraduate accounting courses at William & Mary. He returned to school to obtain his post-baccalaureate certificate of accounting and master's in business administration from Virginia Commonwealth University, then started with Price Waterhouse in 1983.
The Martinsville and Henry County native started in audit at what was then a Big Eight firm, then moved into information technology consulting, where he managed large systems development projects. When the firm needed a manager who was both a CPA and information technology specialist for a litigation support project, Martin was the only one in the Richmond office who fit the bill.  
"I was either in the right place at the right time or the wrong place at the wrong time, depending on how you look at it," he said.  "As things have turned out, it was definitely the former."
In 1992, Martin moved to Coopers & Lybrand — this was before that firm merged with his original accounting employer — and headed up that firm's financial advisory services practice in Richmond with a focus on litigation and financial investigation work. Four years later, an opportunity at Keiter presented itself as the firm was seeking to start a specialty practice in the litigation and financial services niches, as well as in valuation. He's been there ever since.
"I've always told younger professionals that your career evolves," he said. "You may start out thinking you want to do one thing, but then the opportunity presents itself and you don't always know how it's going to turn out. Sometimes it's those unforeseen opportunities that wind up becoming career-making decisions. That's more or less what happened to me. I also advise young professionals to identify a career that they are passionate about and they will be successful."
Some of those career-making decisions came in the form of VSCPA involvement. Martin joined the VSCPA's Litigation Committee in 1992, later serving as its chair, and then formed the Business Valuation Committee and served as its first chair. It was then that he approached then-VSCPA CEO Tom Berry to propose a CPE day focused on valuation, litigation and forensics, which later evolved into the Society's annual Business Valuation, Fraud & Litigation Services Conference (BVFLS), which is now in its 18th year.
That success led to a nomination from the VSCPA to join the AICPA's Business Valuation Committee, where he impressed enough people for him to earn the AICPA's Business Valuation Volunteer of the Year award twice. Those honors stemmed from his work as an instructor for the AICPA's National Business Valuation School, as editor of the AICPA ABV e-Alert, and as an editorial advisor and contributing author for the AICPA CPA Expert. Martin also served as Vice-Chair and Chair of the AICPA's National Business Valuation Conference. In recognition of his lifetime achievements and contributions to the profession, Martin was inducted into the AICPA Business Valuation Hall of Fame in 2012.
Through it all, Martin continued his involvement with the VSCPA, chairing the BVFLS Planning Committee the entire time with the exception of a short hiatus in the mid-2000s and using his national contacts to bring world-class speakers to the CPA Center in Glen Allen. It's his way of helping the profession and giving back to people who helped him in his own career.
"It may sound a little cliché in talking about giving back to the profession, but I've been very fortunate. The VSCPA did a lot to help me develop professionally — giving me an opportunity at the state level, helping me to get the appointment to work at the national level," he said. "Doing what I do now is really a way of giving back. There's a younger generation coming up behind us. For example, I have four, soon to be five people coming up behind me at Keiter. I'm trying to lay the foundation for my successors to enable them to continue to continue to provide our clients with the highest quality of service after I retire.
"I have also encouraged them to be active in the VSCPA with the hope that they will have opportunities similar to what I had to enhance their professional development and growth."
It's his way of ensuring that Keiter and the community in general will be in good hands whenever he decides to retire.  "I consider this as part of my legacy to my staff, Keiter, the profession, and our community."
He's not resting on his laurels, though. He still uses the skills honed as a young English major as a member of the VSCPA's Disclosures Editorial Task Force — last year, he wrote an article on valuation in divorce proceedings. That's an offshoot of the work he did for the AICPA as an editor and contributing author..
"I enjoy writing. I've always done it," he said. "One of the reasons I enjoy what I do is that unlike, say, audit or tax, which are very specialized disciplines in and of themselves, the work I do in valuation and litigation really cuts across multiple disciplines. I get to use my accounting and tax background, but it also requires knowledge of finance, statistics, economics and, surprisingly enough, a lot of my English background because of the writing that's necessary to prepare reports."
All of that volunteer work and professional achievement — to say nothing of the travel required during his Big Eight days — didn't stop Martin from raising a family. He and his wife, Lela, have three grown children, Chris, Ben and Kate, and welcomed their first grandchild, Jack, in February.
He also finds time to play the guitar — he keeps two in his office to noodle on during slow moments (a Martin HD28 acoustic and a Fender Stratocaster) — but, believe it or not, we still haven't finished cataloging all his professional efforts. He's served as an adjunct professor at William & Mary's Raymond A. Mason School of Business, where he has taught forensic accounting for the past 14 years, and has also served as a guest lecturer at the Federal Bureau of Investigation's (FBI) Forensic Accounting Academy in Quantico. He hopes that's a preview of how he'll spend his "retirement" years.
"My ultimate career objective, once I retire from professional practice, is to transition to teaching full-time," he said. "My wife simply wants to make sure that I find something constructive to do to keep me busy and out of the house — except when she needs me to assist her in the garden. However, spending time with family and our new grandchild is now our favorite pastime."