Editor's Note: This is part of a series of profiles highlighting the diverse interests and careers of VSCPA members. Know a member (including yourself) who would make for an interesting profile? Email VSCPA Communications Specialist Chip Knighton.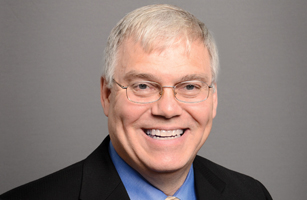 One major part of the VSCPA's advocacy efforts has been to position CPAs as experts on economic and tax issues on a national level, with a specific goal of getting more CPAs into public office. Member Gerald Geddes, CPA, attacked that goal head-on.
Geddes, a sole proprietor from Fairfax who specializes in tax, entered the competition for the Republican nomination for Virginia's 11th District seat in the U.S. House of Representatives, which covers parts of Fairfax and Prince William counties and the city of Fairfax. While Geddes didn't ultimately win the nomination — in the district convention in May, he finished second to nominee Suzanne Scholte, who will take on incumbent Gerry Connolly in November's general election — he hasn't given up on making a difference just yet. And he's plenty willing to shift gears when the situation calls for it.
Growing up in Stamford, Conn., a suburb of New York City, Geddes saw football as his meal ticket. An outside linebacker in high school, he earned interest from programs as big as the U.S. Military Academy, but chose to play at Norwalk Community College in Connecticut in hopes of improving his stock with colleges. He worked full-time and worked two jobs in the summer and was able to save enough money to pay for his final two years of college at Georgetown University.
"As all the guys got bigger and faster, I realized that football wasn't going to be the way up," he said. "A guidance counselor told me a good job to get a career in would be accounting. I didn't even know what a CPA was."
While Geddes obviously didn't choose Norwalk for the accounting curriculum, it turned out the school had a strong accounting department. He transferred to Georgetown University and stayed in the Washington area to work at what was then Becker, Weinstein & Kaufman, where he cut his teeth in the tax field.
He's spent the last 30 years doing taxes for individuals and businesses, and that experience gave him the insight and the motivation to try to use the tax code to make a difference for the U.S. economy.
'When I started my career, Ronald Reagan had just won [the presidency]," he said. "The first year that I was doing taxes the top individual tax rate was 70 percent. Reagan came in and lowered the top rate down to 50 percent and in 1986 as low as 28 percent. For business, there were faster depreciation write-offs and the 10 percent investment tax credit. It really made a big difference for the small businesses I was doing work for."
Geddes knows plenty about the life of a small business owner, as he's spent the majority of his career running his own firm. He's worked all across the employment spectrum, though, having worked several jobs to get through college, including a stint as a security guard in a hospital.
In fact, his first tax client Steve Young was a real-estate investor he met through doing manual labor, cleaning and painting apartments between tenants. He still does Young's taxes every year.
He also stresses that the U.S. corporate tax rate of 35 percent hurts the country in competition for multinational corporations. That's just one element of his ideas on stimulating the economy.
 "If countries around the world are lowering corporate taxes, we need to lower ours," Geddes said. "We've made it an unfair competition, to our detriment."
While his bid for elected office didn't end the way he'd hoped, Geddes said he "loved it, right up until the counting." He's now looking for other ways to get his message out and has gained an audience on social media, where he tweets to more than 10,000 followers from the @LessTaxingCPA handle.
"I tweet politically on there. I tweet on the right trying to find like-minded folks," he said. "I'm hoping that I can maybe influence an election somewhere in the country, if it's a close election, to get someone who's got conservative ideas over the top."