Editor's Note: This is part of a series of profiles highlighting the diverse interests and careers of VSCPA members. Know a member (including yourself) who would make for an interesting profile? Email VSCPA Communications Specialist Chip Knighton.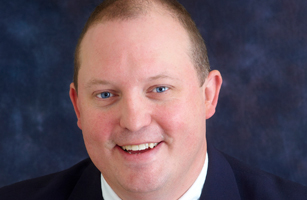 George Forsythe, CPA, embarked on his professional career with one singular goal: to become a U.S. Federal Bureau of Investigation (FBI) agent. That's not quite where his career ended up — and he couldn't be happier.
Forsythe, the managing partner at Richmond firm Wells, Coleman & Company, has immersed himself in the world of technology. The firm was an early adopter of cloud technology, chasing the twin goals of a better product and a better life for its employees.
Forsythe majored in business administration at the University of Mary Washington and applied for a tax-season job at Wells Coleman during his last semester, looking to get the experience needed to get hired by the FBI. He switched his classes to evening hours and made the trip from Fredericksburg to Richmond and back.
"I learned two things," he said. "No. 1: the FBI didn't want me. No. 2: I really loved the firm and the work that I was doing."
That was in 1996, and Forsythe has been with the firm ever since. Along the way, he picked up a master's degree in information systems from the University of Virginia, although he didn't get to use it the way he had planned.
"The technology bubble burst," he said. "We had done all this training and education in an area where there wasn't an opportunity to the firm to build revenue there. So I've leveraged that knowledge to help the firm's operations. I go out and consult on technology firms, but the real benefit is where our firm is technology-wise."
Forsythe's knowledge helped him carve out an unexpected niche at Wells Coleman. He has continued to search for new opportunities to drive the firm into the future.
"Shortly after going cloud-based, we started to go paperless," he said. "We're not 100 percent paperless, but we're at least 90 percent paperless. If I'm on a cruise ship in the Mediterranean, I can get on the internet and pull up our system and do things as if I were in the office. I probably wouldn't choose to do that, but I could if I wanted to."
The funny thing about Forsythe's career path is that his two younger sisters both work for the FBI.
"That just kills me every time I talk to them and they start telling me about their jobs," he said. "It's a constant reminder of the path I wanted to go. As thoughtful and planned and strategic as I was, I wound up somewhere completely different."
So while the FBI ship has sailed for Forsythe, he's found a new professional outlet.
"Every minute of every day is somehow tied to firm leadership," he said. "How can we be better leaders? How can we provide better opportunities for our partners and our staff? I am consumed with development. Leadership and firm development is how I live. I'm still very involved in the accounting and tax side, but my passion now is in firm management."
A big part of that passion involves challenging the ways Wells Coleman — and the industry at large — have gotten used to operating. Upon  hearing the time-honored phrase "work-life balance," Forsythe points out the increasing use of the phrase "work-life integration" as a way to make sure his firm's employees are working to their full potential.
And Forsythe doesn't just talk the talk. He's constantly connected to his work, whether he's in the office, at home or on the aforementioned Mediterranean cruise. He needed an outlet and found one in a cabin in the Blue Ridge mountains, where he goes often with his wife and two sons.
"It's the one thing that keeps me grounded considering that we're in a profession that's entirely connected," he said. "As accessible as we are, you need to have some downtime, whether it's a couple hours of the day or a couple of days of a month. We found that going to the mountains is our transformation. When we're out there, we're at peace."