Editor's Note: This is part of a series of profiles highlighting the diverse interests and careers of VSCPA members. Know a member (including yourself) who would make for an interesting profile? Email VSCPA Communications Manager Chip Knighton.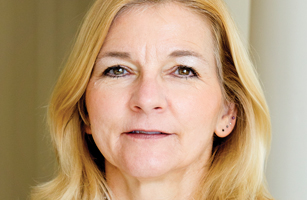 Like our last spotlight member, Gabriele Lingenfelter, CPA, has hopscotched around the country and the globe on the orders of the U.S. Army. Earlier in her career, she took the constant movement as a chance to reinvent herself, finding a home teaching tomorrow's CPAs.
Lingenfelter moved from her native Germany to Oklahoma and eventually to Christopher Newport University (CNU) in Newport News, which she and her husband, Michael, soon realized was the perfect spot to settle down. She marks her 25th anniversary as an accounting professor this year, the last 13 of which have been spent at CNU.
"I love the fact that it's very small class sizes," she said. "I do know all my students. We work very closely with the students. I have kids who are the same age now as these students, so I feel like I can connect with them really well."
Michael retired from the Army as a colonel in 2012, but by then, Gabriele was well established at CNU. It's a far cry from how she started out in the profession after following Michael, whom she met when he was stationed in Germany, to the United States.
Her first American home was Lawton, Okla., where she found her German degree in foreign languages (focusing on French and English) wasn't opening up too many doors. So she enrolled in the accounting program at Cameron University in Lawton, figuring she was good with numbers.
"The first year was hard," she said. "I was really homesick and always told my husband that if the flights back to Germany hadn't been so expensive, I might have left. But once I got involved in accounting and made friends through that, I was fine."
Despite her affinity for accounting, she had to be convinced to take the CPA Exam. It turned out to be the perfect move – she won the American Institute of CPAs' (AICPA) Elijah Watt Sells Award, given to the top performers on the Exam, after getting the second-highest score in Oklahoma in 1988.
"You feel like you were transported into a Western with John Wayne showing up outside your door," she said. "It was really a culture shock."
"I probably would not have gone back to school as quickly or changed what I was doing if my first spot was New York or D.C., where I could have done something with foreign languages. But in Lawton, nobody needed German or French, so I had to do something else. I had to change my complete outlook on what I was going to do with my life."
After her Exam success, the Lingenfelters once again moved with the military, this time to Leavenworth, Kan., where she found work at a tax firm. That life didn't work for her, and she soon transitioned to industry at Fermenta Animal Health in nearby Kansas City, Mo.
"I had great prospects there. They had offered me the internal auditor position, but I had to be upfront that we were leaving in six months," she said. "I knew after that that unless my husband retired, I couldn't make a career in industry."
So she got to work on a backup plan. She got her master's in business administration from Northwest Missouri State University around that time, then began her teaching career at Park College in Kansas City.
The flexibility of her work schedule initially attracted her to the professor's lifestyle.
"Whenever we moved, I could find a job without an issue and get my feet in the door," she said. "Particularly when you have small children, which I had when I started teaching, you can arrange your classes to the time they're in school. You can be home when they're home."
From there, Lingenfelter followed her husband's career to the Washington area, back to Germany and Lawton and then to Pennsylvania before Michael was transferred to Fort Monroe in Hampton. She fell in love with CNU and Virginia, and the academic opportunities were the right fit for her growing family.
That won't be an issue for too much longer. Her son is a senior finance major at George Mason University, while her daughter is enrolled at the University of Virginia and working on getting into the school's McIntire School of Commerce. Much like her children, Gabriele is still learning, making sure she's up to date on the latest accounting trends.
"Teaching keeps you on your feet," she said. "You have to stay a step ahead of your students."