Editor's Note: This is part of a series of profiles highlighting the diverse interests and careers of VSCPA members. Know a member (including yourself) who would make for an interesting profile? Email VSCPA Communications Manager Chip Knighton.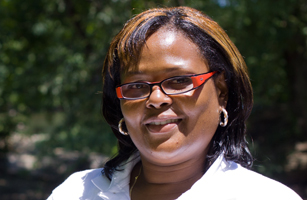 Coming out of college, VSCPA member Hope Cupit, CPA, felt shut out of many career opportunities. So she carved her own niche and embarked on a career that's seen her services prove vital to many Virginia communities.
Cupit, 47, is president and CEO of the Southeast Rural Community Assistance Project (SERCAP), a Roanoke-based nonprofit organization that helps low-income communities manage and improve their water and wastewater infrastructure and provides lending opportunities and loans for businesses, homeowners and localities for water needs in rural areas.
SERCAP is one of six such agencies covering the United States, Puerto Rico and the U.S. Virgin Islands. As such, their resources, which come from the government and private donations, are stretched pretty thin.
"The big challenge that we have is in telling our story," Cupit said. "Legislators don't want us to send them numbers. But they want to know how we made an impact, how we generated community development, what change was brought about due to our work. Our reporting needs to change."
Cupit, a Roanoke native, graduated from James Madison University (JMU) in 1991 and immediately got to work helping the nonprofit community in Virginia. She accepted an assignment with Peat Marwick (now KPMG) doing Head Start audits while working a full-time position with Saunders & White, a small regional firm operating in Roanoke and the Tidewater area.
"To be honest, that was the only opportunity for me," she said. "I wasn't able to get into any of the Big Eight at that time. I wasn't recruited for any of that."
From that job, she moved to the Lynchburg Community Action Agency in 1993 before taking a job as a financial analyst at Central Health Hospital. She was hired as the controller at SERCAP in 2006 and took over for the retiring CEO in 2009.
It's been quite a ride for Cupit, who had her eye on an accounting position as early as eighth grade at Berean Christian School in Roanoke. She was intrigued by the industry because of her precocious math skills, and it proved to be a good fit.
"I didn't think about anything else," Cupit said. "My mom wanted me to go into nursing because she's a nurse. She took me to work one day, and I told her I didn't have the patience for that. It was depressing. So I just stuck with accounting from the eighth grade on."
That persistence led her first to JMU, then to a career serving Virginia nonprofits and eventually to the corner office at SERCAP. The agency serves a region spanning the Eastern Seaboard from Delaware to Florida, helping rural communities overcome water infrastructure challenges.
"What we see a lot of them doing is not doing the maintenance," Cupit said. "Some folks are not paying the bills to keep the system up and running. We try to educate them on how important it is to pay the utility bills to keep the pump operating. Sometimes they don't do the maintenance on it, so the system fails and they have emergencies.
"We don't want to put a Band-Aid on it. We want to take a holistic approach to keep it operating at its full potential."
One current project for SERCAP involves a quarry in the small Greensville County town of Skippers, south of Emporia near the North Carolina border. A local quarry drilled deep enough for its own wells to eliminate the water pressure powering residents' wells, leading many to abandon their homes and one man to write SERCAP for assistance.
"The quarry's wells were drilled deeper, and it eliminated access to freshwater resources," Cupit said. "Some of the residents have actually given up out of frustration. Some did sell their homes. He said 'This is the epitome of corporate irresponsibility.' These are the issues we deal with."
Water issues came to the forefront of the news earlier this year with reports of lead-tainted water in Flint, Mich. (That story has its own Virginia connection, with Virginia Tech professor Marc Edwards relocating to Flint to lead research efforts.) While Cupit hates to see any community deal with water access problems – let alone one as large as Flint – she's grateful for the spotlight the disaster shone on water issues.
"People are finally noticing that this matters. For a long time, just trying to have the conversation was difficult," she said. "The conversations are happening about lead in buildings, parks, schools."
Cupit sees her expertise, and that of her fellow CPAs, as a natural fit for cash-strapped nonprofits and rural localities. Their financial know-how and trusted status can help localities, in particular, make tough money decisions.
"CPAs can help small towns by helping them understand their balance sheets and revenue collections and rate studies," she said. "…Budgeting, how to set a budget, how to review and read financial statements, how to forecast. Planning, all of that. CPAs can be a tremendous support."