Editor's Note: This is part of a series of profiles highlighting the diverse interests and careers of VSCPA members. Know a member (including yourself) who would make for an interesting profile? Email VSCPA Communications Manager Chip Knighton.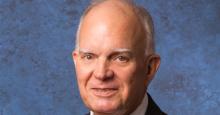 A small city faced with the loss of its key industries is a story that's played out across the country over the last few decades. How those cities have fared tends to depend on how leadership responds to those pressures. Chuck Snead, CPA, has been at the forefront of that story in his hometown.
Snead grew up in Danville and returned there after graduating from Delta State University in Mississippi. About 15 years into his career, he and other local business leaders took note of the city's declining population and job base with the cities' traditional industries — textiles, furniture and tobacco — declining and/or leaving town.
That's where Snead tapped into an interest he shared with the Danville Economic Development group — international business. Chasing international firms has had its ups and downs for the city, but it helped put Snead's career on a new path.
"I'm not saying that we were visionaries, but about 20 years ago, we knew we were going to have to do something here at the firm," Snead said. "We started seeing a lot of the textile business go away. We saw tobacco declining and furniture leaving. We looked at different practice areas and thought we could maybe create a niche, and I had always had an interest in international business. Fortunately, the economic development group here in Danville was trying to do the same thing.
"So a large company came to town from Canada, and we had a commitment to the development group here that if somebody was trying to come to Danville, I would spend some time with them and try to convince them that this would be a great place to be. Lo and behold, we got a client out of Canada, and that's what started it off."
That client, Intertape Polymer Group, worked with Snead's firm, Snead, Williams & Mayhew (SWM), until it went public. At that point, Snead and other firm leaders decided to continue in the international niche and sought out an international group to aid in business development.
The group they settled on was then known as H&L Group International and later changed its name to MGI. At its peak, it had about 25 American members and around 130 worldwide. Snead spent two years as the chairman of the group's international committee before resigning its firm membership last year.
Those international relationships proved to be crucial to the success of SWM. They've continued to work in that niche when international businesses — largely in the traditional Danville specialties of furniture and tobacco — have come to town, serving as advisors in addition to their traditional accounting work.
"Normally, when somebody comes in our area, it's not a large international group. It's a small group that wants to come in and we help them get here in terms of knowing what they need to do as far as local, state and federal regulations," Snead said. "We serve as an educational service as far as what they need to do. We've developed a network with attorneys, insurance and risk management advisors, banks, things like that, so we can help business get established here."
It's really a symbiotic relationship for the firms and Danville, and Snead always aims to help both sides get what they want out of the partnership. He grew up in Danville and graduated from Danville Community College (DCC) before transferring twice — first to Carson-Newman College in Tennessee where he started as a pre-law student, then to Delta State after switching his focus to business.
He returned to Danville after graduating and focused on his career, immersing himself in local volunteer opportunities like the Danville Reading Center and various civic organizations and local commissions and task forces. Lately, that's also included the VSCPA's Piedmont Chapter, where he currently serves as an officer.
Before striking out on his own and narrowing his focus to international business, Snead worked for an established Danville firm, Manning, Perkinson & Floyd, where he focused on audits of rural electric cooperatives, nonprofit organizations and construction companies. He saw his interests diverging as he gravitated more toward small businesses like the mechanical contracting company his father had run for most of his life.
"I felt like I could be more of a resource and more effective with small businesses in the firm that I was with at that time," he said. "My dad had a lot of contacts with other small business people, and I felt like I could help them and be somewhat successful."
While getting the firm off the ground, Snead supplemented his income by teaching accounting at Averett University, then Averett College, and Danville Community College. Once SWM grew to a point where it was viable, he stepped back from teaching to focus on providing value to his clients — first local small businesses, then international firms, although those companies tend to be small businesses as well.
"I'd say maybe 75 percent of the international work that we do is for small businesses," Snead said. "It might be a small manufacturer who has a specialty here in the United States or a group out of Australia is primarily interested in real estate. They like to set up partnerships and use them for investment schemes and retirement plans and things like that."
The membership in MGI was also a big part of SWM's success, allowing member firms to band together and compete with much larger firms. The firm is now looking for a larger international organization to deliver similar results and allow his firm to compete for clients across the globe.
"We're just fortunate," he said. "I see what's happening to other small firms and even firms bigger than us as they try to address the future. That's what we're trying to do."