Editor's Note: This is part of a series of profiles highlighting the diverse interests and careers of VSCPA members. Know a member (including yourself) who would make for an interesting profile? Email VSCPA Communications Manager Chip Knighton.
It's been a long, difficult ride for VSCPA member Christina Monfalcone, CPA, in the accounting industry, involving a deceased mentor, an undesirable work situation and one of the most difficult decisions she ever had to make. But she made it through and emerged as an industry leader in her region.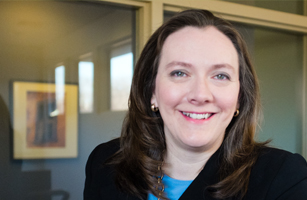 Monfalcone, 39, is president of Monfalcone & Garris, a small firm in downtown Charlottesville that offers audit, tax, bookkeeping, payroll and consulting services to clients including nonprofits and homeowners' associations. It's not her first time running a firm — more on that later — but it's certainly the most fulfilling, and it's a position she couldn't have imagined for herself several years ago.
"The past five years, there's been no time for anything because there's been so much change and flux in my life," she said. "Accountants are ingrained with 'No change.' A lot of people are like that, but accountants tend to be people who are uncomfortable with change. I thought I couldn't handle it. At times, I wasn't sure that I could, but it ended up being that I was OK with it, and now, sometimes I take it for granted that things change and just go with it."
The Clintwood native graduated from Clinch Valley College (now the University of Virginia's College at Wise) in 1998, and things went relatively smoothly for the first decade of her career. Starting out as a paraprofessional working for a small firm, she earned her CPA license in 2001 and worked her way up to the manager level before cutting back her hours in 2008 to spend more time with her children and address some slight burnout. When the firm's managing partner died, she was offered the chance to buy the firm, but wasn't interested in ownership at the time, so the firm merged with another local firm. The merger left Monfalcone as the firm's junior partner, and it wasn't the best fit
"That partnership was probably the best and worst decision I ever made," she said. "I thought it as the best choice for myself and the staff members and the clients and chose that path over another option. It was good because it led me to where I am now, but it was not fun."
After four years, she left the firm and struck out on her own. That move led her to undertake some client acquisition practices with which she wasn't entirely comfortable.
"I was at the point where I didn't want to be there anymore. I did not have a non-compete and didn't know what else to do," Monfalcone said. "I didn't want to go into a partnership with somebody else. I didn't want to go back to a staff position where I didn't meet clients and generate business, because I liked that part. So I went back on my own.
"I didn't want to. I fought it really badly, and for a couple of weeks after I left, I wasn't sure what I wanted to do. But as soon as I left, I basically smiled and dialed for a week. I know some people frown upon that, but those clients were friends."
Those phone calls led to a book of around 200 clients when she started the Monfalcone Accounting Group, and that number doubled by the end of 2014. But at that point, with her own firm showing such promising signs, another business opportunity was there to put a wrench in the proceedings. The owner of Garris & Co., another small local firm, was looking for a buyout and wanted to know if she was interested.
"This was in December, the worst time possible to think about that, but I decided I was going to give it a try," Monfalcone said. "It seemed impossible, but if I didn't do it, I knew I'd kick myself forever."
With that, Monfalcone & Garris was launched in February of last year. But even that opportunity didn't lead to a smooth transition.
"I went through a lot of turnover," Monfalcone said. "…It was frustrating, and with tax season on top of that, it was hard. I spent about eight months rebuilding and lost a significant amount of staff and some clients. But I've rebuilt with staff who want to be here and are committed to the clients."
She added: "I was part of the rumor mill at that point, which was weird for me. To be part of something that you always kind of hear about going on was kind of bizarre."
With so many twists and turns in the road, it seems miraculous that Monfalcone wound up in the position she's in. She's always been interested in taking a leadership role in the profession, having served as the president of the VSCPA's Thomas Jefferson Chapter from 2004–2006. But now, as one of the profession's leading female entrepreneurs in the Charlottesville area, she can't help but look back at what led her to this point.
"If I had made a different choice back in 2008, for instance, I don't think I would be here right now," she said. "And if I had left before when I did or a lot after then, I don't know that I would be here. The timing was just precise. It was totally just a chance, but those two events, I know I wouldn't be here if I had done something differently."