Editor's Note: This is part of a series of profiles highlighting the diverse interests and careers of VSCPA members. Know a member (including yourself) who would make for an interesting profile? Email VSCPA Communications Manager Chip Knighton.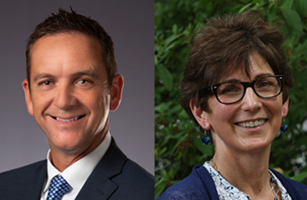 Susan Ferguson, CPA, is a college professor, a self-proclaimed "nerd at heart" and a veteran VSCPA volunteer. Brian Carson, CPA, is a CFO who has split his career between public practice and corporate finance. Together, they're the Virginia Board of Accountancy's (VBOA) class of 2015.
What Carson and Ferguson share is a flexibility that helped them advance as far as they have in their respective careers. That's a trait that will serve them well as they push their limits while protecting Virginia's taxpayers on the VBOA.
Ferguson, an accounting professor at James Madison University (JMU) in Harrisonburg, applied for the VBOA's educator seat after being asked, figuring she had no shot at the position. Months later, she's learning the ropes as a new member.
"That's kind of been my life," she said. "I never envisioned myself teaching, and here I am starting my 10th year at JMU. So I've kind of gone where the waters have taken me, but it's been an awesome ride. I really like everything I've done, and I feel like all the things I've done before have informed the things I'm doing now, and I really anticipate this being similar. Things have offered themselves as opportunities at opportune times, and they've usually been very enjoyable and fulfilling."
Carson, the CFO at GoldKey/PHR Hotels & Resorts in Virginia Beach, came to the profession in a similar manner, following his sister to Virginia Tech's Pamplin School of Business and into the CPA field. To him, the open-endedness of the profession should be a selling point to ambitious students.
"What I came to realize was that with an accounting major and subsequently obtaining your CPA license, really, the sky's the limit," he said. "You're only limited by yourself. With a background of understanding the financials and how businesses work, the cash flow and how they're financed, it really creates a great foundation if you have other business and leadership qualities. You can really do anything."
For Carson, that first led him to a local firm, Failes & Associates, from which he joined Goodman & Company, now Dixon Hughes Goodman, where he became the youngest person promoted to partner in 40 years. He moved from there to GoldKey, where he built on the knowledge of the hospitality industry he developed when working in that sector at Goodman.
But that knowledge didn't mean it was an easy transition to corporate finance.
"You really get into the business and operations from a much lower level, deeper than you do in public," he said. "In public, you're at the 100,000-foot level. You understand where the business risks are generally, but you don't understand what goes on on a day-to-day basis. When you get into business, you realize there are so many things that need to get done."
Like Carson, Ferguson didn't enter college dead-set on becoming an accountant. But when she was joining her fellow sophomores at the College of William & Mary in picking a major, she remembered what her father had told her many years ago.
"My father was a physician, and he had mentioned one day when his accountant made his monthly visit to my dad's rural office, 'That's what you should be when you grow up. He walks in here and out and charges me $100,'" she said. "I guess my dad wanted me doing that because it seemed like a secure future."
After graduating from William and Mary, she began her career in public practice at what was then Ernst & Whinney (now Ernst & Young) in Richmond. She made the move to Harrisonburg to join her husband where she worked in both the private and public sectors. At about mid-career she returned to school to earn a master's degree in tax consulting from the University of Virginia, and subsequently opened her own practice.
That went out the window once she taught her first class as an adjunct professor at JMU. She caught the teaching bug and accepted a full-time position, and she's been there ever since, falling in love with the school and the city in the process.
"The students are smart, but humble," she said. "It's a nice mixture of attitude. They're not overly impressed with themselves. In fact, some of them are improperly under-impressed with themselves. It's sort of refreshing."
Ferguson has ramped up her VSCPA involvement in recent years, joining the Society's Board of Directors in 2012 for a three-year stint that ended in April. She also authored the VSCPA's Virginia-specific Ethics course in 2013.
That involvement should serve her well in her new role.
"The Virginia Society's board — and the Virginia Society in general — and the VBOA are really in great communication, and they work well together," she said. "A lot of what [VBOA Executive Director] Wade Jewell shared, I had heard before, several times. Sometimes from Wade, sometimes from [VSCPA Vice President of Advocacy Emily Walker] or [VSCPA President & CEO Stephanie Peters] at updates. So I think I'm more familiar with procedure, process, what's important as far as keeping the public safe, which really means keeping CPAs on the straight and narrow."
Ferguson's role as the education representative gives her special responsibilities in helping assess the relevance of accounting courses at Virginia colleges and universities. Both new members will be tasked with enforcing the profession's standards — a task they both take very seriously.
"I believe in the role that accountants play in the public and private world. I believe in the fiduciary responsibilities and roles that the accounting team and the controllers and CFOs play within businesses," Carson said. "I believe that they put their livelihood on the line, personally, when they're signing financial statements and issuing reports. It's one of the backbones of the stability of our economy, having those types of individuals who are willing to hold their ethics, their integrity, their honesty, and stay true to themselves no matter what. No matter what their boss tells them, no matter what investor pressures may be, what the banks may say. Their job is to tell the truth, report it as is and deal with it.
"Sometimes that means there are consequences that affect them negatively personally, but it's their job to do that. I just think it's an honorable profession, and I want to be part of the group that helps maintain the integrity of that role. It's so vital in the economy and the world that we know that at the end of the day, there are people in business who have that responsibility and hold themselves at that level. When you're a CPA, you have to hold yourself at a different level, and I want to be a part of making sure that's maintained."