Editor's Note: This is part of a series of profiles highlighting the diverse interests and careers of VSCPA members. Know a member (including yourself) who would make for an interesting profile? Email VSCPA Communications Manager Chip Knighton.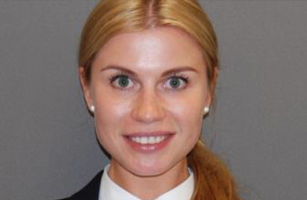 Alex Piskunova, CPA, came to the United States with the goal of working in international business. She's found a more local focus as a small- and mid-sized business consultant, and she couldn't be happier.
Piskunova is a self-employed consultant with ACA Compliance Group, a professional services firm in Silver Spring, Md., where she's dealt with topics as diverse as Accounting Standards Codification (ASC) 606 implementation, audit support and software migration. It's a far cry from where she envisioned her career going when she emigrated from Belarus in 2010, when one of one of her professors at Marymount University in Arlington, William Gray, gave her the advice that launched her career.
"I was sort of romantic about my future career in international business," she said, "thinking I could leverage knowledge of a few different languages and being an immigrant and do an internship in another country. He gave me the understanding that it was all very vague and I needed real skills, and that convinced me to change my major to accounting."
Piskunova, 30, started her education in international business at National Technical University in the Belarusian capital, Minsk. She decided to move to the United States and liked the Washington area enough to stick around anyway and became a U.S. citizen in September 2014.
She began her accounting career with Baker Tilly after graduating from Marymount in 2015, then left to become a financial controller at Squadra Solutions, a small value-added reseller of cybersecurity technology in McLean. She made the move because she didn't think she wanted to live the public accounting firm life and work up to partner, but decided to make another move into consulting late last year.
She credits those early jobs with training her on critical elements of her current role, from management and external financial reporting, small business administration and compliance to payroll to government contracting. She's motivated to do her best to ensure client's clear, timely and efficient financial reporting to protect general public and private investors' interest.
While she enjoys her current job and independence, her career path hasn't been without its drawbacks and tradeoffs. 
The job changes have destabilized Piskunova to a degree and placed her outside the support structure she had at Baker Tilly, leaving her without mentors and direct supervisors. She has maintained good relationships with previous supervisors, but has had to learn to be more of a self-starter on the fly.
"It's more independent," she said. "You have to do your own time management and make decisions that I didn't have to make before. I do like it. I feel like I'm growing professionally."
The move to consulting has necessitated adding new technology skills to her toolbox, from software migration to process automation. In that way, the job has provided its own motivation even without the influence of a direct supervisor.
"I have more flexibility and more responsibility," she said. "I'm more independent and I'm higher paid. There's also an opportunity to learn new skills quite frequently."
It helps that Piskunova came to consulting from a technology company and has specialized in technology since making the switch. In addition to being one of her passions, she views it as essential expertise for CPAs to provide to their clients — part of a well-rounded skill set of a modern business advisor.
"What used to take two weeks now takes four days," she said. "It's an important aspect for businesses to consider and for CPAs to consider to give good advice to their clients on technology in order to improve controls and automate processes.
"Even giving an audit report, you help them get access to capital financing, satisfy investors, grow and keep innovating and help make people's lives easier. I feel like it's part of general progress. It can't be done without good back-end support — finance team, consultants and auditors." 
Outside of work, Piskunova enjoys taking advantage of the wealth of entertainment options in Washington, including the scenery that colors her exercise routine. She's a distance runner and avid hiker, and she likes to get out of the city and ski whenever her schedule allows.
"Winter is usually a busy time for accountants," she said, "but if I get a chance to ski, that's a blessing. We keep long hours, which I don't mind because it keeps projects moving."
One of those big-picture projects is her own career, which has advanced in part because of her willingness to take risks. In that way, Piskunova is similar to her business clients, who put themselves out there to fill a niche in the market.
"I love that you have options here," she said. "Whatever lifestyle you prefer, whatever job you prefer, you can get there if you work hard and develop a strategy."