Editor's Note: This is part of a series of profiles highlighting the diverse interests and careers of VSCPA members. Know a member (including yourself) who would make for an interesting profile? Email VSCPA Communications Manager Chip Knighton.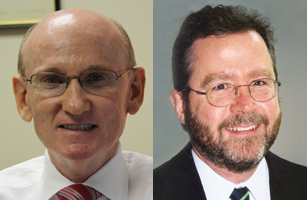 They joined the Virginia Board of Accountancy (VBOA) together, and they're cycling off together. And while Barclay Bradshaw, CPA, and Bob Cochran, CPA, made most of their changes around the margins, they say that's a testament to the hard, mindful work of those who came before them.
Bradshaw (left, at right), a shareholder with L.P. Martin & Company in Glen Allen, helped create the guidelines for CPA volunteers and pushed for improvements to the VBOA's communications to licensees. Cochran (right), an accounting professor at Longwood University in Farmville, focused his energies on defining what constitutes an upper-level accounting course for a CPA candidate.
The fact that those were the biggest issues to deal with, Bradshaw said, is a tribute to their predecessors on the Board.
"In Virginia, we're very fortunate to have a great staff and a great set of statutes that were totally rewritten a few short years ago. We're blessed to have a great operation," he said. "Our statutes are primarily evergreen. We don't need to constantly change them due to changes in accounting or regulatory matters.
"Other states aren't that fortunate. They're constantly having to change their statutes and they're very limited in how that can happen. My predecessors, who were able to rewrite those statutes and regs, they gave us a tremendous gift."
Bradshaw, who served as VBOA chair in 2014–2015, is officially done with his Board responsibilities. Cochran is on the hook to finish out his term as chair of the National Association of State Boards of Accountancy (NASBA) Education Committee, as well as serving as NASBA's Middle-Atlantic Regional Director, which both end in October. It's his work on the Education Committee that really gets him talking.
"NASBA spends a great deal of time, effort and thought dealing with the three Es of education, examination and experience," he said. "One of those Es is changing quite significantly, and that's education. Education, because of technology, because of market demands, is quickly moving away from the traditional education model, which is brick-and-mortar classrooms with a professor standing up in front of 30 students and lecturing, to online offerings."
And Cochran took his NASBA insight back home to Virginia, where both the VBOA and the VSCPA are examining different methods of providing continuing education.
"This evolution away from brick-and-mortar to more technology-based provision of education and more competency-based is going to happen," he said, "and nothing is going to stop it. It's incumbent upon the profession to ensure that even as models of delivery change, that they still maintain a level of quality that we've come to expect from the people that we licensed."
"Bob's passion for education and the CPA profession is enthusiastic and thought-provoking," VBOA Executive Director Wade Jewell said.
While work from previous members meant that the VBOA didn't have to blow up its regulations during their term, Bradshaw and Cochran had to make some smaller, but still important, changes. Most recently, the VBOA had to introduce and pass legislation changing the Virginia accounting statutes on firm licensure.
"We discovered that it was easier to be a licensed CPA firm in the Commonwealth for firms that resided outside the commonwealth versus firms inside," Bradshaw said. "We cured that. We didn't think it should be any harder to be licensed from outside, but we didn't think it should be any easier."
Both Bradshaw and Cochran attribute a great deal of importance to the enforcement process. Bradshaw views enforcement as the main role of the VBOA board (as opposed to the staff) and made it a priority to put enforcement cases front and center through a regularly scheduled newsletter.
"One big item that's communicated is the results of the enforcement cases, once they're all finalized," he said. "Our licensees can get a flavor of the violations of our statutes and the results of those violations. That reinforcement of the need to follow our statutes is a good thing."
"Barclay's passion for 'protecting the public' through the Board's Enforcement process has been unparalleled," Jewell said. "[The effort that is] dedicated to serving on the Enforcement Committee of the Board cannot be measured in hours alone."
Equally important for Bradshaw was an opportunity to clear up misconceptions about CPA volunteers. He worked with another VSCPA member and VBOA alumnus, Steve Holton, CPA, to create a guide (PDF) for CPAs who provide their services to nonprofits and community boards on a volunteer basis.
"It was a great service to provide information to those who provide volunteer services to the public and not have to worry about firm licensure and technical professional standards," Bradshaw said. "They didn't know where they stood when it came to providing those services. They didn't want to take the chance of violating either professional standards or Virginia statutes."
But it's still enforcement — specifically, enforcement of audit quality standards — that Bradshaw views as the most important issue for the VBOA and the profession moving forward.n
"The profession really is struggling with how to maintain, or ensure to the public, compliance with our audit and accounting technical standards," he said. "I started my term thinking that most of the enforcement cases would be the result of bad audits. To my pleasant surprise, most of the cases were not bad audits. Very few. Many cases for unlicensed activity or tax-related cases where the complainant would charge lack of due professional care with the administration of the tax code, but very few audit quality cases. I definitely see that not being the case moving forward."