Editor's Note: This is part of a series of profiles highlighting the diverse interests and careers of VSCPA members. Know a member (including yourself) who would make for an interesting profile? Email VSCPA Communications Manager Chip Knighton.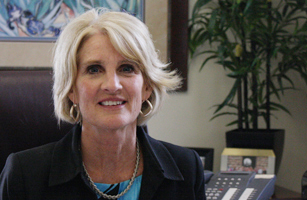 Since 2009, VSCPA member Anne Hagen, CPA, has been chief financial officer (CFO) of the Masonic Home of Virginia. The roots for that role were put down decades ago amid milk, vegetables and cuts of meat.
Growing up in Lynchburg, Hagen performed any supporting work that needed to be done at her parents' grocery store. That sort of "whatever it takes" attitude has served her well in her accounting career and her role at the nonprofit Masonic Home, which houses elderly Masons and their widows at a 90-acre complex east of Richmond.
"Growing up with my parents in a small store, if you didn't know who people were and if you didn't engage in conversations with people, they weren't coming back to that store," she said. "You had to keep it clean, and you had to be reliable, and you had to open on time and stay open until they were done. I think I learned a lot of that from them."
Hagen's current job is just the latest role in a career filled with work on behalf of nonprofit organizations. The main draw for her is the opportunity to work in support of worthy causes and make a real difference for the groups that make those causes their main focus.
"Usually, their focus is on their mission, and you hear people say, 'No margin, no mission.' A lot of times, they don't value the accounting structure and infrastructure that you need to operate that," Hagen said. "But if you understand that it's such a core piece, such a valuable piece, you can really contribute to the mission of the organization because of the financial discipline you can offer."
And the necessity of wearing many hats for organizations with limited resources appealed to her relentless desire to improve at her job.
"The neatest thing about being a CFO, in my opinion, is that we can easily transfer our skill set to supervise other non-accounting areas," she said. "How many people can really take on the accounting role? There are very few people out there who can be a CFO who are not trained. "
She added: "It's a lot easier to be a CEO or an operating officer or any of those other types of jobs if you've got the accounting background. But not everyone can go the other way. You can't always go into accounting. You have to have that specialized background, that education, to be able to do that."
For Hagen, that background largely came from the audit specialty she chose early in her career. After graduating from Virginia Tech, she started out at Continental Financial Services, then moved over to Glen Allen firm Gary, Stosch & Walls, where her passion for nonprofit organizations really took off.
"We had a lot of clients that were nonprofits in our community," she said. "They were great organizations and I really fell in love with them."
She spent time in the savings and loan industry and went back into public accounting for a short period before joining the Masonic Home. The nature of the Home's mission dumped her squarely into one of today's hot-button issues — health care, specifically for an aging population.
"We're still trying to get a handle on long-term care," she said. "All of us think we're going to live forever, and that we're going to live healthy forever, and that doesn't always happen. But it is remarkable to see the care that can be given when it's done well.
"The financial planning aspects are very helpful. Planning for retirement includes a couple of aspects – whether you're going to be healthy in retirement and doing a lot of traveling. Maybe, at some point, you might not be so healthy and you're going to need some other resources."
A career split between public accounting and industry gave Hagen a diverse base of experiences to prepare her for the CFO role. And her passion for her work clearly showed through in her daily life, because a partnership's worth of her children followed her into the field. Two of her sons entered the profession — Hart, a CPA and VSCPA member, is a senior associate at McGladrey in Richmond, and O'Neill is an audit assistant at Deloitte in Roanoke. Her youngest son, Connor, will enter Longwood University in the fall and is considering majoring in accounting.
"Every job I've ever had, I've really enjoyed," she said. "It's always been interesting and challenging, and I've always met good people, and I think they've seen that as we were raising them. And they've also heard me talk about how important the accounting field is and how once you have that background, you can really expand from that."
Including roles where you can truly make a difference for an organization that needs it.
"The CFO is a great position because it gives you the opportunity to make change," Hagen said. "You're in a place where you've learned a lot. You've earned the respect of that organization or you wouldn't be in the role to begin with. Therefore, your recommendations, if they make sense, are usually adopted. It's exciting to see something that's not going quite right, make some tweaks, some adjustments — sometimes they're small, and sometimes they might be larger — and really be able to make that happen."