Editor's Note: This is part of a series of profiles highlighting the diverse interests and careers of VSCPA members. Know a member (including yourself) who would make for an interesting profile? Email VSCPA Communications Manager Chip Knighton.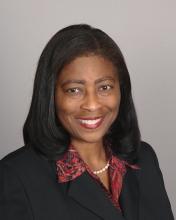 After two decades at the happiest place on Earth, Anita Collins, CPA, found herself newly married and moving to Virginia. Then she found the job that brought all her interests together.
For the past year and a half, Collins has been the learning & development manager at PBMares, a top 100 firm with 10 offices across Virginia and Maryland. She's based out of Fredericksburg but splits her time across the firm's entire footprint, managing its learning arm to include training on technical and nontechnical skills development and compliance with regulatory organizations.
Recently, that's included an increased focus on leadership development as well as developing skills to foster innovation. Collins has been proactive in addressing that trend, both at PBMares and with the VSCPA's Center for Innovation, where she sits on the advisory council. In both roles, she's working to push the learning and development function beyond the classic CPE model and into more business advisory skills development.
"For us to be a future-ready firm, we must shift our learning and development mindset beyond just compliance to develop more strategic advisors to maintain a competitive advantage," she said. "We must continue to ensure we're technically competent to perform the work, but the disruptive technologies looming over the profession are creating a much different dynamic from when I started in public accounting. 
"If we want to be the trusted advisor, we have to become consultative solutions developers. Those non-technical skills are becoming even more crucial for us to embed into the heart of our L&D programs."
That focus represents a marked shift from where the profession was when Collins was graduating from Rutgers University. She held several jobs before Disney — sales & use tax auditor with the Florida Department of Revenue, auditor and senior tax consultant at Ernst & Whinney, budget administrator for Orange County in Florida. Then she accepted a job at Disney, where she spent the next 23 years, first as a financial analyst, then focusing more on recruiting, human resources eventually leadership development at the Disney University.
Along the way, she earned her Master's in Business Administration from Rollins College, as well as her Professional Human Resources and Certified Professional in Learning and Performance designations. The latter is a particular point of pride for her, as she and several Disney colleagues were some of the first professionals to go through the certification process.
She began looking for jobs in Virginia when she moved here to be with her husband (retired military, now a government employee). As it happens, she found the exact opportunity she was looking for at PBMares. She's now working to instill leadership & innovation training into the firm's learning activities, along with other skills like emotional intelligence, unconscious bias, and inclusion. The goal is to help protect the firm's future by ensuring a steady pipeline of future-ready leaders.
"If we have leaders who take care of our team members and those team members feel engaged and empowered, our clients will feel PBMares is listening and delivering value to them" Collins said. "If you take care of your team, your team will take care of your clients — the business results will follow.  It all starts with great leadership."
She's extending that mindset to her work with the Center for Innovation, which launched last November and features resources, education and partnerships focused on the areas of technology and talent. Her background in learning and development, along with her well-rounded career experiences, made her a natural pick for the council.
"Part of what we as a profession are starting to embrace more is people from different backgrounds, from different thought processes, coming in," she said. 
She added: "When we start having these brainstorming sessions, the entire group is open. I'm not afraid to say something for fear that it's not going to be a good idea. I love teams like that."
A major part of Collins' current role depends on her objectives aligning with the strategic goals at PBMares. She says she's fortunate to have buy-in from firm leadership, along with a demonstrated willingness to put resources into her projects. That backing has allowed her to hit the ground running on her leadership goals and fulfill the firm's commitment to team members' growth and development.
"I love starting from scratch," she said. "I love creating things and making it my own and helping people get there.  It's going to require the entire team to do it, though."
Speaking of making things her own, Collins stays busy with her blended family — she and her husband have six children between them. And she's a new grandmother to a 2-month-old granddaughter. Combine that with her active volunteer life in her church and her leadership and mentoring efforts at PBMares and it's clear she's having an outsized impact on the next generations.
"Leadership development is a passion of mine. It's not just because I love people, but because of the impact it has on people and the team. At the end of the day, without people, you can't be successful," she said. "Whether it's the team or the client, those relationships are so important. It's something of a lost art with the technology that we have. 
"To be that great leader is where we will focus, and I'm fortunate to have the ability to do that here. Our goal is to create those forward-thinking, future-ready leaders who are inspiring and our teams just rave about working with them."