Editor's Note: This is part of a series of profiles highlighting the diverse interests and careers of VSCPA members. Know a member (including yourself) who would make for an interesting profile? Email VSCPA Communications Specialist Chip Knighton.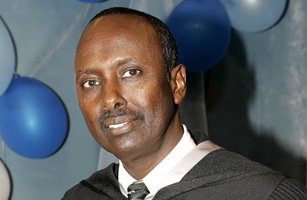 This is a story about one man's journey through the world. This is how Ahmed Ismail, CPA, made his way from rural Ethiopia to Arctic Canada — and picked up a connection with the VSCPA along the way.
Ismail is an accounting instructor at Nunavut Arctic College (NAC), a public community college in the remote Canadian territory of Nunavut. He teaches at the Kivalliq Campus, based in the 2,200-resident hamlet of Rankin Inlet. Nine months out of the year, his town is only accessible by air — just one reason why it's so remarkable he wound up there in the first place.
Ismail was born in 1954 in what is now the Somali Region of Ethiopia. When he was 11, his family moved to Balanballe, Somalia, to escape repression of ethnic Somalis following the war between Ethiopia and Somalia.  
He was originally rejected from his village's new school for being too old, but persuaded the school's only teacher to admit him. His education nearly ended at 17 when he reached the end of the educational opportunities available in Balanballe, but he was able to move in with a relative in a larger town with a school  to continue his education. Eventually, he earned his teaching degree and worked as a teacher until he was 30.
"After taking favors almost all my city life, I started giving for the first time," he said. "It was a rewarding experience to see the results of teaching children how to read and write."
Ismail is the only member of his family to obtain a formal education. His siblings all still live in Somalia, except for one brother who was killed in the Somali civil war.
At 30, disillusioned with Somali politics, he obtained a U.S. grant, took out loans and enrolled in an MBA program at Fresno State University. Several years later, he earned his master's in accounting from Kent State University.
"Besides making a living out of it, I enormously enjoyed the possibilities accounting afforded me to help others," he said. "Even though I have not been in public practice for a long time, colleagues, neighbors, and relatives seek my advice. I do not solve their problems all the time, but at the minimum, I send them in the right direction."
In between, fearing difficulties in renewing his U.S. visa, he sought asylum in Canada. He moved back to Toronto after graduating from Kent State and started a small tax and compilation practice.
That's when the teaching bug came back to bite Ismail, and he was on the move again — this time back to Africa. He spent the next seven years teaching at the University of Harare in Zimbabwe and the University of Fort Hare in South Africa before returning to Canada to teach at Mount Royal University in Calgary, Alberta, in 2000.
"I spent seven years teaching in Southern Africa and I enjoyed every bit of it except the British accounting textbooks I had to use," he said. "It appeared that they were written in a code that required an expert to decode."
Ismail spent less than a year at Mount Royal before accepting his current position. The move was a big change — Rankin Inlet is a two-hour flight from Winnipeg, Manitoba, the nearest major city. Its 3,000 residents are mostly Inuit, although there are expatriate communities of other Africans, Filipinos, South Asians and Europeans. NAC is the only higher education institution in the territory.
Needless to say, life there is quite different than what the average VSCPA member is used to.
"The hockey arena is the only significant place of entertainment," Ismail said. "There is no such thing as a movie theater. But we do have a small art gallery called 'the Matchbox' run by an American couple who settled here about half a century ago."
Despite the immediate culture shock, Ismail and his family — he and his wife have four sons and two daughters — have found common ground with the residents of their adopted home.
"I very much enjoyed living and working in the community, perhaps because of the nomadic background that I share with the Inuit," he said. "People do not lock their houses. My students never cheat. If one leaves his briefcase and laptop at the airport by mistake, he will come back three hours later and find them right where he put them."
Ismail's connection to Virginia is, in his words, "a loose one." After passing the CPA Exam as a Colorado candidate, he looked for a state with a reasonable cost for nonresidents to hold a CPA license. Virginia fit the bill, and he's held his license in the Commonwealth since 2008. He joined the VSCPA one year later, calling it "the best network that a Virginia licensee wants to have."
And that network reaches all the way up nearly to the Arctic Circle, where Ismail teaches accounting to a population in need, half a world away from his own humble beginnings. It's the latest step in a truly remarkable journey.
"My life is a product of historical accidents, luck, generous help from family, friends, educators and other institutions around the world, and a relentless effort from my part not to let an opportunity go to waste," he said.