Rick White, CPA, has always put his clients first, even at the expense of his own happiness. But it usually winds up working out for him in the end.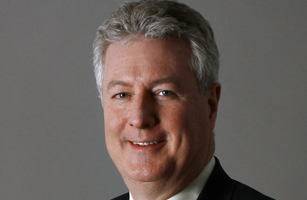 White, the new chair of the VSCPA Educational Foundation, found himself at a professional crossroads several years ago as managing partner of Fairfax firm Swart, Lalande & Associates. White loved the small-firm lifestyle and could have kept on happily, but felt his book of clients would be better off with the resources of a larger firm. So he did what was right for the clients and successfully sought a merger with regional firm Dixon Hughes Goodman in 2011.
It wound up being the right move, unequivocally. The increased resources and services convinced clients to stick around, and working for a regional firm has been much better than White thought it would be.
"I was not a proponent of merging with a bigger firm," he said. "I did not think I would like it, but it's been extremely rewarding for me, both personally and professionally. It's been rewarding for me, for the people who came with me and the client base. I've had very little client turnover in that regard.
"I didn't know what I didn't know. That's the cliché phrase, but when we first joined Dixon Hughes Goodman, the first week I was down in Charlotte at an industry meeting, I got to meet a number of people who, to this day, I talk to several times a month on various things. "
White has a history of changing his plans on the fly, with good results. An Alexandria native, he entered George Mason University (GMU) as a math major, but rethought that after his first semester of higher-level math courses. So he switched into accounting — following in the footsteps of his father and first employer, the late Donald White — and discovered it was the perfect career for him.
"I never thought in a million years that I would be able to do a tax return. They looked really complex," he said. "But my second semester in school, I enrolled in the introductory accounting class and ate it up. It made sense to me. So I changed everything into the business school and concentrated on accounting. It's been an extremely rewarding career."
That career started out in his father's firm before taking him to Swart for the first of two "tours" (his phrasing). In between, he worked as controller and then CFO at the Virginia Housing Corporation. He moved back into public accounting at Swart when the housing industry went south in the downturn of the early 1990s, armed with a new level of inside experience with the construction and real estate industries.
"I never wanted to be buttonholed into every industry early on," White said, "but as I got to understand it and all the special areas that go into it, it really was interesting work. I gravitated to it."
Now he takes over the Educational Foundation with the goal of increasing awareness of its activities and upping fundraising. He hopes to put Foundation board members in front of VSCPA members at every opportunity, with representatives at all the major conferences and CPE functions.
"We've had a record year of people applying for scholarships, so there's a need out there," he said. "It's an important thing. Our mission is to inspire and support future CPAs, and I want to make membership much more aware of what we do and how we affect the future of the professions."