Tommy Blackburn, CPA
Senior Financial Planner
Verus Financial Partners, Richmond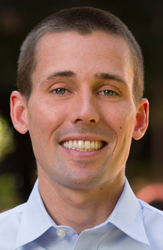 Tommy Blackburn didn't start college with his career track in mind. But it it didn't take long before he realized the path he needed to follow.
Blackburn, 30, is a senior financial planner at Verus Financial Partners in Richmond. Despite not being a public accounting firm, that name might be familiar to you from the work of its leader, former VSCPA Board of Directors Chair Jim Shepherd, CPA, the VSCPA's 2016 Outstanding Member of the Year and a major influence on Blackburn's career and outlook.
"He has set the tone for the organization," Blackburn said. "I've only known the firm under Jim, so I don't know how it's transformed under his leadership, but he sets the tone. There's never, ever a question that we're going to do what's right for the client, even if it's counter to our own interests. If we make a mistake, we're going to do everything we can to correct it and make sure the client is taken care of the whole way."
That kind of integrity, reflected in the firm's name — "verus" is Latin for "truth" — appealed strongly to Blackburn when he graduated from Virginia Tech. He felt drawn to financial planning as soon as he was exposed to it in college, and he quickly ascertained that the CPA credential was a great way to show his commitment to integrity and doing the right thing for his clients.
He interned at Verus during college, then accepted a job with PricewaterhouseCoopers in Charlotte, N.C., out of school. He spent about a year there before Verus reached out to him with an opportunity for the Prince George native to move back to his home area. Two years later, he was promoted to senior financial planner, and he believes he's exactly where he needs to be.
"When I came here, it was the professional way of doing things that I envisioned," he said. "It was exactly what I was looking for."
Blackburn entered Virginia Tech as a finance major with little idea of what he wanted to do with it. He describes the sum total of his financial knowledge at that point as "spend less than you make," but came to financial planning after an advisor recommended it as a way to help people.
"In that first class, I felt like the most uneducated person in the classroom," he said. "There was so much I didn't know and so many words being thrown around. I didn't want to feel like the stupidest person in the room, so I caught up, and then I started to love it. It's like a puzzle, bringing the technical expertise to help people achieve their goals."
He stuck with the program with the goal of becoming a CPA financial advisor with a strong background in taxation. He views financial advice as a natural outgrowth from tax planning and wants to be a one-stop shop for his clients, with the fee-only fiduciary responsibility serving as both a core value and selling point.
"A lot of the public thinks about their CPA doing their taxes and has an ingrained trust in their tax advisor," Blackburn said. "I think a lot are looking for financial advice from whoever handles their taxes. A lot of traditional CPA firms don't take it that far, but there's an ingrained relationship there.
"The entire idea of it is avoiding conflicts of interest. That's typically how a CPA is going to bill anyway. The only person that's paying you is the client. You're not getting a commission or getting kickbacks or anything that could influence your behavior. You have the relationship with the client, and that's what's driving you."
That same idea of unbiased advice led Blackburn to follow in Shepherd's footsteps as a volunteer for the VSCPA's NBC12 Tax Call-In program. He's participated in that program since 2013 and keeps going back because he enjoys helping callers so much.
"You can really tell there's a need for help," he said. "People express a lot of gratitude on those calls when you're giving them advice or helping them resolve their tax questions. It's gratifying to know that you're helping people."
Blackburn put in a quick appearance at the VSCPA's Leaders' Summit, but left for a pretty compelling reason — he's getting married May 12, two days after the VSCPA Honors & Awards. He and his wife, Jess, will honeymoon in Belize, then it's back to work giving his clients the integrity-based financial advice they need — just the way Blackburn wants it.
Carman Faison, CPA
Senior Manager
Mitchell Wiggins, Petersburg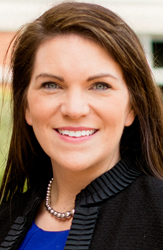 Family businesses are what Carman Faison grew up on and what she continues to deal with today. She's equally focused on both words and integrating them as well as she can — for herself and for others.
Faison, 35, is a senior manager at Mitchell Wiggins in Petersburg, where she focuses on family-owned, closely held businesses. It's a subject near and dear to her heart after she grew up working in her family's mattress manufacturing business in Hopewell.
"Knowing the blood, the sweat and the tears that go into building a small business, I can relate to my clients on such a personal level," she said. "I've seen my family go through certain transitions, challenges and obstacles. I have a unique perspective and really enjoy helping small, family-owned businesses."
Helping family businesses succeed is one of Faison's professional passions. The other is a little more big-picture in nature — helping women grow in prominence in the accounting profession and enter leadership roles while still raising families.
While that focus was always there for her, it took having children for it to truly snap into focus. That's why she's so pleased to have won the award — so she can showcase her own career path and how she's been able to advance at Mitchell Wiggins while still spending time with her family.
"I've watched this for a couple of years and I've seen a lot of younger people winning it who maybe aren't married or don't have children," she said. I think it's important to see women with children doing things like this, that there's time for it, that you can balance it."
It's something of an upset that Faison got involved enough to win the award because of the unique position of her firm. Mitchell Wiggins currently audits the VSCPA's financial statements, and that necessitates a degree of independence that limits how closely involved its employees can get in VSCPA governance.
Because of that, Faison has had to pick her spots carefully when it comes to helping the profession through the VSCPA. That has taken the form of work in student outreach, specifically in presentations to Beta Alpha Psi chapters across the Commonwealth, and CPE presentations — largely on the topic of time management, which is another area where she gained a degree of clarity after her children were born.
"The thing that challenged my time management skills the most, and improved them the most, was the addition of one child, then another child, into my life," she said. "Balancing a career and a family is very much a challenge. Doing this training gave me the skill set and I've really been able to put them into use. I use it not just for my professional career, but in my personal life as well to maximize the quality of time I spend with my children and my husband."
As it turns out, Faison's twin passions have a great degree of overlap. Effective time management is important for any professional, but doubly so for family-oriented CPAs who have to navigate busy-season stress while still having time for a life outside the office. The topic came onto Faison's radar at the behest of a Mitchell Wiggins partner, Bill Young, CPA, who mentored her and asked her to assist him in presenting on the topic at the VSCPA's Virginia Accounting & Auditing Advisory Conference.
Those kinds of early-career opportunities were one reason Faison chose to work at Mitchell Wiggins, near her Prince George home. She came to the firm after a brief stint in commercial finance, citing the ability to build more rewarding relationships with clients as a factor in the switch.
The ability to choose from a broad range of careers was one reason she majored in accounting at Longwood University, where she entered with a marketing concentration. Accounting came naturally to her and she continued taking classes, but it wasn't until a career presentation her sophomore year that she fully committed to the profession.
"It dawned on me how limiting a marketing degree was and how broad an accounting degree could be," she said, "all the different things I could do in accounting. That really opened my eyes and I decided to make the switch, which is still probably one of the best things that happened to me."
Kellie Fedkenheuer, CPA
Audit Manager
Cotton & Co., Alexandria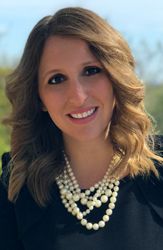 Kellie Fedkenheuer got into accounting — specifically, auditing — to make a difference in the world. She's teamed up with the VSCPA to find a new way to just that.
Fedkenheuer, 30, is an audit manager at Cotton & Co. in Alexandria, which deals mostly with federal agencies. She spends her work hours working on the firm's litigation support team, serving as a gatekeeper and check on the spending of taxpayer money, and teaches the VSCPA's Virginia-specific Ethics course in her spare time.
"Ethics is one of the most important CPE courses that CPAs take every year," she said. "We talk about this every year. People look up to the CPA profession. It's very important that CPAs are acting ethically and take this course every year to remind them of the importance of that."
Fedkenheuer started teaching Ethics in 2014 and credits the course for improving her public-speaking skills and helping her think more critically about the AICPA Code of Professional Conduct. It's also helped her expand her professional network, just like her other volunteer work with the Society — she's a VSCPA Ambassador at her firm and has served as a MentorMatch mentor and on the Business Valuation, Fraud & Litigation Services Conference planning committee.
"We have a thought leadership committee here that encourages employees to be involved in different organizations," she said. "The VSCPA is one that I've pushed and encouraged people to join and be more active in. The Ambassador program has helped me get more information to my employees about things that they can do. It helps keep me in the know about things, and I can pass that information around to them."
That inquisitive nature is a main point in Fedkenheuer's career in forensic accounting. She enjoys putting her audit training to work in solving a wide variety of problems and helping safeguard federal spending.
"A lot of the work we do is claims analysis," she said, "and we're auditing the claim and making sure the claim costs are allowable and the amount of money they're asking to be reimbursed for is reasonable. I saw value in working on the government side because you can help save taxpayer money and make sure it's being spent correctly.
"When the government is sued by a contractor, we want to make sure the government is paying the most reasonable amount possible. It's very interesting work. Every project is so different and complex. It takes a special type of person to work in it."
A Virginia Beach native, Fedkenheuer entered the profession with the goal of working as an auditor in public accounting. She graduated from JMU in 2010 and learned about Cotton & Co. at a career fair. She accepted a job at the firm after graduating and has worked there ever since.
Much of her work has been preparing reports into government contracting expenditures to be presented at trial. She hasn't testified in court yet, largely helping prepare others to serve as expert witnesses, but she recently took part in a deposition for the first time in a case that was settled one day before the trial was to begin.
"There's a lot of nerves there. You have to be very prepared," she said. "You have to know your opinions inside and out and all the documents you reviewed. You're being questioned by an opposing attorney who is trying to get clarification about your report. It's nerve-wracking, but I love it. I enjoy a good challenge."
The deposition is just one small part of the pre-work Fedkenheuer and her team must do for their clients. Weeks of document analysis must take place before her team gets its chance to testify or be deposed — often with another CPA sitting across from them.
"A lot of what we do is working with the attorney on preparing document requests and interrogatories to get information. Once we get that information, we'll do our analysis, which includes writing the report and going through depositions," she said. "Not only are we going through a deposition process where the opposing counsel will ask you about your qualifications and your report, but we'll do that as well. A lot of times, there's a CPA on the other side doing the same thing, and we're basically rebutting each other."
A good deal of Fedkenheuer's current work relates to contract expenditures on the wars in Afghanistan and Iraq. She does her best to avoid politics in those situations and ensure her team's analysis results in the most fair analysis possible.
"It's been very interesting to see how something 10 years ago is still affecting us and the taxpayers now," she said.
Brandon Pope, CPA
Senior Associate, Business & Advisory Services
Keiter, Glen Allen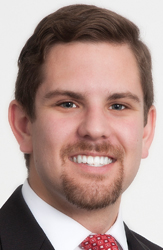 Following two years at Virginia Western Community College in Roanoke, Brandon Pope had enviable choices for the next step in his education: Virginia Tech or the University of Virginia. His decision came down to the values he saw in the school — values that have continued to inform his career.
Pope, 25, was accepted at both schools and toured both campuses before choosing Virginia Tech. He said he loved both schools but was won over by the people he met in Blacksburg, and he continues to try to live up to the university's creed.
"My parents instilled in me early that getting out and being involved and helping other people is really important," he said. "At Virginia Tech, the motto is Ut Prosim — 'That I may serve.' That was very evident in all the interactions I had there. When I graduated, I wanted to be able to give back, and I've been able to do that."
It takes an outlook like that to earn a spot in the Top 5 Under 35 at such a young age. Pope is the youngest person to win the award, and much of it is due to his enthusiasm for the profession and his willingness to get involved. He been a MentorMatch mentor and mentee, recently took over as chair of the VSCPA's Young Professionals Advisory Council.
He also volunteers on the leadership team for the Richmond Chamber of Commerce's Helping Young Professionals Engage (HYPE) program. And he's equally involved at his alma mater — he serves on Virginia Tech's Accounting and Information Systems Emerging Leaders Board and was nominated for the Recent Alumni Board for the university's Pamplin School of Business.
"It's really cool to dive right in and have a direct impact on the department," he said. "The department head and college dean attend those meetings and rely on the guidance and assistance we're able to provide."
Pope worked his way through school as a tutor and, later, a graduate assistant teacher. He interned in the internal audit department at the Norfolk Southern railroad in his native Roanoke, then completed an internship at Deloitte while getting his master's degree and accepted a job at the Big Four firm after graduating. He spent one busy season there before deciding a smaller firm was closer to what he was looking for.
The right opportunity for him came from Glen Allen firm Keiter, where he's an auditor in the firm's financial services group, working with investment funds and broker-dealers. The opportunity to take on leadership roles and branch at a young age was a major reason for the move.
"They don't just cherry-pick you to go on this one route," he said. "They say that if you're interested in going above and beyond, they'll provide you with opportunities, and they really put their money where their mouth is, literally and figuratively."
He's excited for the future of his industry of choice in Richmond, noting the increased number of investment firms in Richmond, Washington and Charlottesville, and says that Keiter's size — not too big, not too small — positions it well to make adjustments and capture that market.
"The size of the firm allows us to be that way. It allows us to not go through so much red tape and so many management channels that no progress can be made, but we're not so small that big changes are hard to accomplish," Pope said. "When you have something that you want to be intentional about, I feel like we're the right firm to try to make those moves."
He's also embraced the opportunities that have come his way through the VSCPA, which has facilitated some of the networking he credits for his impact on the profession at such a young age.
"I've met some of the most influential and overall impactful people in my life through the Society. For that, I'm eternally grateful," he said. "As a young professional, it's very hard to get a jump start on your career if you don't seek out those opportunities, and the Society does a really good job of providing ample opportunities for that."
Jonny Rosch, CPA
Audit & Assurance Manager
PBMares, Warrenton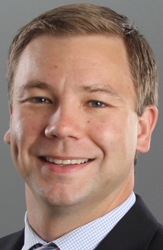 Jon-Michael "Jonny" Rosch grew up with a father who was devoted to the citizens of his hometown of Warrenton. Now he practices that instilled value of helping others as he works toward growing the VSCPA and creating a leadership legacy for himself.
The nonprofit community has been near and dear to Rosch's heart since he grew up watching his father, John, manage the day-to-day operations and outreach efforts for centers helping intellectually disabled citizens in and around Warrenton.
"Much of my youth was spent volunteering with my father's organizations and in the community, and I truly embraced he value of hard work and helping others," he said. "I learned at a young age the value nonprofits have to a community and that many of these organizations are working with limited resources. I want to use my education and thought leadership to help nonprofits best maximize their resources."
Rosch, 34, is a manager at PBMares in Warrenton, where he specializes in audit and assurance engagements and compliance and regulatory issues for nonprofit organizations. His service to the nonprofit community extends beyond client service as he currently serves as the board secretary for Pathway Homes, Inc., a nonprofit in Fairfax that provides housing and clinical services to individuals with mental illness.
Rosch graduated from Virginia Tech with a finance degree and accepted a job with a national homebuilder. He lost his job in the market crash, which led him to seek a career that would be more insulated from the vagaries of the market. He landed a job with a tax attorney in Blacksburg, earned his CPA license and moved back to Warrenton to work in tax and audit for a small firm, Scheulen, Patchett & Edwards.
In 2009, he moved to Fairfax firm Thompson Greenspon as a tax accountant in 2009, but quickly realized "all taxes, all the time" was not for him and switched to audit and assurance in 2011. When the opportunity came up in 2015 to join PBMares and work out of the Warrenton office, he made the move.
"Having the opportunity to work in my hometown again and serve the local community with the resources and the diversification of services like we have at PBMares has been such a blessing," he said. "I am also able to serve clients across the Mid-Atlantic on various engagements in support of state and local efforts. It really has been the best mix of a small office feel within a large firm."
As the VSCPA's Battlefield Chapter secretary, Jonny is working to help expand the chapter's activities throughout their footprint. His past experiences with the VSCPA's Young Professionals Advisory Committee helped him think differently about engaging the membership across a large geographic area. "We are working to figure out how we can better serve the needs of the membership while increasing engagement throughout the Battlefield Chapter," he said.
Jonny and his wife, Gina, have two children, a daughter, Dylan, and a son, Bennett, whom they're raising in the neighboring town of Haymarket.