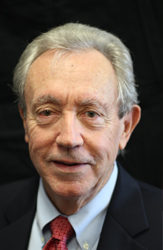 Hawaii or Hampton Roads? The new VSCPA Educational Foundation Board of Directors Chair Randy Spurrier, CPA, had a hard choice to make after leaving the U.S. Air Force.
Spurrier had a job lined up with what was then a Big Eight firm in Honolulu where he had worked during graduate school at the University of Hawaii (UH). While visiting friends in Hampton Roads, he did some research and called around for jobs in the area, where he made a fortuitous connection.
"I thought it would be a good idea to check around and see what the prevailing rate was for junior accountants, since I had no idea after being in the service for five years," he said. "It just happened that the managing partner at Peat Marwick had been in the Air Force and had been stationed at the same base I had been. They offered me a job with the same pay and since it seemed like a nice area with a lower cost of living than Hawaii, I took the job. Not really a well-thought-out career plan, but sometimes serendipity can be better."
After spending eight years with Peat Marwick, he went into industry as chief financial officer at local furniture retailer, and then worked as a financial consultant before joining Old Dominion University (ODU) as an accounting lecturer.
Spurrier joined the VSCPA in 1976 and has volunteered extensively for the Foundation and the Tidewater Chapter, where he has served as president and remains on the board. He stays involved at the chapter level to serve the local CPA community, but his work directly with students remains his greatest honor in the profession. Now he hopes to help future students afford their accounting education.
As a professor of accounting at ODU in Norfolk — he's one of two current VSCPA board chairs to teach at the university, as incoming VSCPA Board of Directors Chair Richard Groover, CPA, teaches there in an adjunct capacity — he's steered many of his students to Foundation scholarships.
 "Some of my students have gotten scholarships and it's been very helpful for them," he said. "The scholarships aren't really large in the grand scheme of things, but it really helps them out. Every little bit contributes to their education so they don't have to work as many hours and can spend more time on academics, community service and with our accounting clubs."
In addition to his regular classroom duties, Spurrier also serves as a faculty advisor for ODU's Beta Alpha Psi chapter. It's his way of paying it forward after being steered into the accounting profession when attending college at UH.
"The positive effect that you can have on the students is why I'm so interested in the Educational Foundation," he said. "I can also see that if you give the right advice and the right motivation, you can positively affect the students' lives. I've had them come up to me afterwards and say 'You said this, so that's what I did.' I say 'What?', because you never know how you touch a student's life."
This passion for helping students is why Randy's main goal for his year in charge is to increase the percentage of VSCPA members who donate to the Foundation, "so we can help more students."