Richard Groover, CPA
Shareholder, Wall, Einhorn & Chernitzer, Norfolk
Get to know Richard Groover, CPA, now, because you're going to be seeing a lot of him over the next couple of years. In addition to accepting his Top 5 Under 35 award at the Leaders' Summit in May, Groover was also installed as chair-elect of the VSCPA Board of Directors. That means he'll be in charge of the Board in a year's time.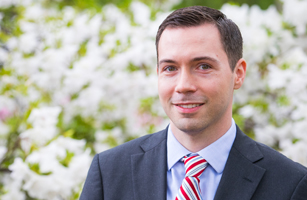 It's been a rapid rise for Groover, 32, who is on the audit side at Wall, Einhorn & Chernitzer (WEC) and serves as an adjunct professor of accounting at his alma mater, Old Dominion University (ODU), in his limited free time. He credits the leadership at WEC — the only firm he's ever worked — for encouraging him to spread his wings and build his career his own way.
"I'd love to take all the credit myself," he said. "But the biggest thing is that two of our founding shareholders, Marty Einhorn and Alvin Wall, preach is giving back to the community and finding organizations you can put your whole heart into.
"I'm excited to engage with the VSCPA, and I think that shows. I want to give back and I'm excited for every opportunity to do so, I think that's moved me up faster than average."
Groover's role as vice chair gave him a front-row seat and a major role in the Society's VSCPA2025 project, where he led a task force that helped shape the VSCPA's new long-term strategic plan, mission and vision. As an audit leader at WEC, he's had plenty of experience in spearheading the push for quality that's a major part of VSCPA2025.
That's just part of what Groover hopes to give to the profession he loves.
"I think I am incredibly fortunate to have found this profession," he said. "It lets me one day work with a restaurant chain and the next day work with a team developing a manufacturing operation in China for pool toys. Every day is a new adventure.
"It's interesting. I'm never sitting at my desk thinking I've done something 20 times before and I'm bored with it. It's always a new, novel issue, a new industry, or helping a client do something that's new to them, often with a unique twist."
Groover grew up in Virginia Beach and attended ODU while living at home as a way to save money, a path he's brought up as a presenter at the VSCPA's You Can Afford College workshops. He originally intended to get his master's degree at Virginia Tech, but connected with WEC at a job fair and decided to stay in Norfolk. He then got his master's in night school at ODU and has been there ever since.
"You get so much appreciation from your clients," he said. "I never thought I'd find an industry where you send a bill for your time and you get a call to thank you for what you've done for their business. I couldn't have asked for a better career."
Outside of work, Groover enjoys spending time with his family — his mother and stepfather still live in Virginia Beach — as well as working out and spending time at Hampton Roads' impressive array of beaches. He also likes to snowboard, but acknowledges that he picked possibly the worst career and living place for that hobby.
"I enjoy snowboarding, although that is quite possibly the worst thing to enjoy and be a CPA," he said. "The time that the snow is on the ground anywhere convenient to Norfolk, Virginia, I'm in my office 12 hours a day."
Stephen Kimberlin, CPA
Tax Manager, Dixon Hughes Goodman, Richmond
It's no secret that Dixon Hughes Goodman (DHG) prioritizes involvement in professional organizations, including the VSCPA. (You'll note that this isn't the only place the firm is mentioned in these award winner profiles.) Stephen Kimberlin, CPA, is taking full advantage of that emphasis at DHG, and he's trying to pass those lessons on to his team.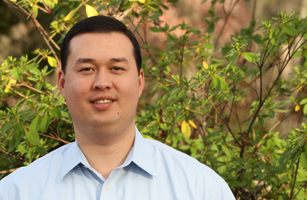 Kimberlin, 30, is heavily involved in the VSCPA's Young Professionals Advisory Council (YPAC) and Firm Ambassador program. He also volunteered for the Society's Nonprofit Pro Bono Assistance Program for several years and is a graduate of the VSCPA's Leadership Academy. He credits those programs and the assistance he's gotten from DHG mentors as a major reason he's been so successful early in his career.
"Leadership training is extremely important, especially at the point in my career," he said. "I'm a manager and have people I'm directly responsible for in an official capacity, with their evaluations and career mentorship. It's helped me in that regard.
"You can certainly be promoted to manager without having a lot of leadership or personal skills, but the great ones have that. I'm still developing that, but conferences like Leadership Academy help in forming my leadership style."
Kimberlin started his career at Keiter in Glen Allen without having made the age-old "tax or audit" decision, and the firm had positions open in both departments. He had taken only one class in each field and hadn't yet decided which was right for him.
He wound up being offered (and accepting) the tax position, and he points to his continued interest in tax after nine busy seasons as proof he made the right choice.
"As time goes on, what I do like about tax is that you're able to be a client advocate more so than an auditor," he said. "As an auditor, you have to have a level of professional skepticism, whereas in tax we are allowed to get the best result we can for them, finding the best strategies to fit their needs."
Kimberlin, a Newport News native, stayed on the Peninsula to attend the College of William & Mary. He had always been drawn to business, but didn't make the decision to focus on accounting until he was already in college.
"I wasn't going to be a great marketing student," he said. "I'm not overly creative, so that wasn't a fit. Finance seemed interesting, but I knew I'd likely have to go to New York and live near there, and that didn't appeal to me.
"Accounting seemed like a good choice to provide a nice, stable career and allow me to work with numbers and end up where I wanted to after college."
Seeking a new environment, he sought out jobs in Richmond after graduation and wound up at Keiter. He also reconnected with his future wife, whom he had dated in high school. The two have a nearly 2-year-old son, and their second child is due in June.
With his family growing, Kimberlin is focused on being present for his children and developing his leadership abilities as a manager. True to form, the VSCPA is a big part of that.
"Right now, a big focus for me has been getting more professionals involved with the VSCPA and seeing the value of the organization," he said. "We're pretty heavily involved at our upper management level, but underneath that partner level, we still have a ways to go in getting our younger folks involved in the organization. That's been a goal of mine, getting our staff involved and attending events and letting them know what opportunities are available."
Nick Preusch, CPA
Tax Manager, PBMares, Fredericksburg
Nick Preusch, CPA, is a tax practitioner through and through. That interest has informed his entire career, led him to become a published author and even helped him nail down his wedding plans.

Preusch, 32, was working for the U.S. Internal Revenue Service (IRS) in 2013 when the government shut down over the debt ceiling debate. Not enthused by the prospect of being out of work and eager to get closer to his then-fiancee's family in Richmond, he decided to move to the private sector and found work with PBMares in Fredericksburg. That left only one outstanding matter — the wedding.
"We decided to split the difference and get married in Fredericksburg," he said. "We had to get married by the end of the year or pay a ton more in taxes, so we decided to have a wedding/new house party for our friends."
Preusch began his IRS career as a revenue agent before moving to the national office as an enforcement attorney for the Office of Professional Responsibility (OPR). That position allowed him to use all three of the degrees he held at the time — a bachelor's in accounting and business from Carthage College in Wisconsin, a master's in accounting from the University of Connecticut and a law degree from Case Western Reserve University in Cleveland — and paid for a fourth, a master of laws in taxation from Georgetown University.
Tax remained his focus the entire time, leading him to co-author a book he describes as "very large and very expensive," Tax Preparer Penalties and Circular 230 Enforcement. That book, which he helped to co-author, helped launch his career as a tax expert.
"It's helped with research on the tax preparer penalty side and springboarded a lot of the tax ethics stuff that I do," he said. "That's what got me into my writing, and the writing is what got me into public speaking."
His interest in public speaking has extended to his volunteer work with the VSCPA, where he's in his first year as an instructor for the Virginia-specific Ethics course. He's also an adjunct professor of accounting at the University of Mary Washington and written for the Journal of Accountancy, Tax Advisor and the Journal of Tax Practice and Procedure, and his interest in taxation hasn't waned.
"It's just fun," he said, "especially the international aspects. I have a lot of clients that are overseas. One of them is my brother, who is overseas in Hong Kong right now. It's fun to see things that go on internationally, along with the more complicated rules that come with international tax."
Having moved up his wedding for favorable tax treatment, Preusch and his wife are the parents of an 18-month-old daughter. They spend as much time as possible as a family, both in Fredericksburg and on their frequent travels, but he never leaves tax far behind now that he's found a stable comfort zone at PBMares.
"Every day, you're doing something new," he said. "A lot of jobs, you just do the same thing over and over again, but here, no two days are the same. One client might have one issue and another client might have a completely different issue."
Brett Sinsabaugh, CPA
Manager, Business Assurance and Advisory Services, Keiter, Glen Allen
Accounting was always in the back of Brett Sinsabaugh's mind, even before he entered the industry. All it took was a slight push from the outside to get him to make it his career.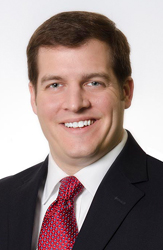 Sinsabaugh, 32, graduated from Christopher Newport University (CNU) with a sociology degree with a concentration in criminology. After graduation, he worked for a general contracting company in a non-accounting role. That was in the mid to late-2000s, when the construction industry wasn't a great place to be.
Sinsabaugh always had accounting in the back of his mind, so he made the jump and obtained his post-baccalaureate accounting certificate from Virginia Commonwealth University, joining the VSCPA as a student member as a way to connect with the profession.
"I always thought that this was a good way to start getting involved and understand the profession," he said. "As a student in college, I didn't know a lot about public accounting. Through my VSCPA membership, I learned about public accounting at a high level, which helped me develop expectations to better prepare myself for my future career."
He landed a job at Keiter and has thrown himself into the profession with gusto, recently finishing his first busy season as a manager. 
"It's been my favorite position I've had here at Keiter," he said. "I like that I am challenged with everyday management of client engagements, staff development, and opportunities to assist in business development.  I love the all-around communication and being in a position of greater responsibly for the outcome of my engagements."
Sinsabaugh has gotten equally involved with the VSCPA, particularly with the Society's Political Action Committee (PAC), where he sits on the Board of Trustees. He's been interested in politics since a young age and is a devoted CPA Assembly Day attendee. It's all part of maintaining the high standards that attracted him to the profession in the first place. 
"It's important for me to give back to my profession," he said. "I take pride in being a CPA, and it's important that we advocate to keep the designation at a high standard." 
He added: "It's always been important for me to be involved and to give back. Whether that's to a nonprofit, my profession, or other cause, I like to be involved. Keiter has really embraced my desire to be involved outside the firm, and has provided the flexibility and freedom to let me do that."
Outside of his work for Keiter and the VSCPA, Sinsabaugh serves as treasurer for the Richmond Society for Human Resource Management (SHRM) and is active on the board of his neighborhood association.   He enjoys playing tennis and spending time with his wife and two young children.
"Public accounting is challenging and demanding, but I want to give my kids and family the attention they deserve," he said.
Lauren Soles, CPA
Recruiting Manager, Vaco Richmond
From her undergraduate degree to her master's to her early career, Lauren Soles, CPA, has slowly carved out her ideal position, keeping the parts she likes while refining the parts she doesn't. Now she finds herself in the perfect spot.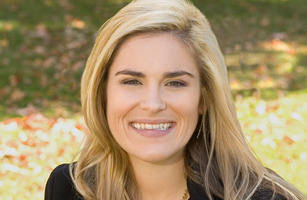 Soles, 29, is in her second year as recruiting manager at Vaco Richmond, an accounting, finance, information technology, and administrative consulting firm. The role has allowed her to build on her skill set by moving into a more business-oriented function.
"Due to the very technical nature of the early stages of a career in public accounting, I know I wouldn't have had the opportunity to focus on and attain the skill sets I have gained in my current role." she said. "It's the other side of the spectrum. It's mainly soft skills, and purely relationship-driven. Having the MBA program behind me and learning about the HR side, the management side and communication, I've gotten to use that in this job. It's the other side of a business, which I have come to be very passionate about."
Soles graduated from Randolph-Macon College in 2009 and immediately began working at Glen Allen firm Keiter, where she had interned as a student. While she started out working in audit, she helped out on the tax side during busy season and realized that type of work appealed to her more.
She made the move to the tax department and spent four years there while getting her Master's in Business Administration from the College of William & Mary. That degree program drove it home for her that she was more interested in exploring the client-facing part of her skill set.
"I started to realize that my favorite part about public accounting was the client relationships," she said. "I enjoyed getting to know my clients and understanding what their struggles were. Once I realized that, I knew I needed to be in more of a client-facing role where I could spend more of my day with people developing relationships."
That new focus allowed Soles to stay tapped into the Richmond accounting scene. She helps pair accountants with companies' needs, which forces her to keep feelers out around the area for positions and people looking to make a move.
"I really enjoy learning about the different companies around Richmond, and then hearing about where they're headed, their business strategy, and the growth plans they have in place. Once I get to know one of my clients, I feel like a true business partner to that decision maker and become excited to help him/her in many ways. At that point, not only do these companies trust me to help them find their most valuable assets, their people, they also come to me with other asks as well."
The Gloucester native has now built up a strong business network in Richmond and plans on sticking around for the foreseeable future. In addition to her work with the VSCPA's Young Professionals Advisory Council, she's also gotten involved with several charitable organizations, notably Impact 100, a women's giving circle that gives out $100,000 grants each year.