There's no doubt this year's Top 5 Members Under 35 honorees are the most geographically diverse bunch to win the award. Three winners currently ply their trade outside Virginia, with Northern California-based Aditya Yerramilli, CPA, taking the crown as the farthest-flung winner.
The thing is, those three winners never left the VSCPA and still clearly care deeply about the organization. All three have kept up their involvement in VSCPA program planning in the areas of online education, leadership development and Disclosures magazine. The other two winners have worked tirelessly in running the VSCPA's biggest chapter and helping the firm reach new levels of Society engagement. Read on to learn more about these upcoming stars (pictured, from left: Keith Gray, CPA; Melisa Galasso, CPA; Yerramilli; Carolanne Petrusiak, CPA; Bo Garner, CPA).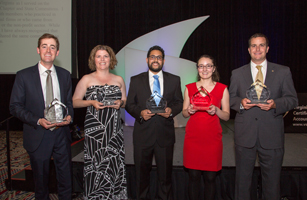 MELISA GALASSO, CPA
Audit Senior Manager
Cherry Bekaert, Charlotte, N.C.
Melisa Galasso has always kept a local focus in mind in planning her career. But that hasn't stopped her from staying heavily involved in Virginia, even though she hasn't lived in the Commonwealth since 2011.
Galasso, 35, got her start with the VSCPA in the Northern Chapter after graduating from Georgetown University in 2003. She's continued to stay involved in the profession at the local level, currently serving as past president of the North Carolina Association of CPAs' (NCACPA) Charlotte Chapter.
"I think it gives you that first opportunity to learn to lead," she said. "I started out just attending meetings, then got involved with the chapter committee. Two years later, I was on the board of the Northern Chapter. It just gives you opportunities to practice leadership in small doses and in the right forum so you can learn."
But she's still stuck with Virginia, and the VSCPA is reaping the benefits. She currently serves on the VSCPA's Online Programs Planning Task Force, where she has played an instrumental role in the rapid changes the Society has made in the online arena. She has also written for Disclosures as recently as this year, and she took on numerous community engagement opportunities when she still lived in Northern Virginia.
"It was the start in getting involved. I felt like I owed Virginia because they gave me that initial push," she said. "I've never thought twice about keeping my membership for that reason."
Galasso's most recent Disclosures article covered upcoming changes to nonprofit financial statements, and it's just one way she tries to better the profession by informing her colleagues, as well as those just starting out in the profession. She's taught CPA Exam classes for Becker since 2008 and was named as one of the company's top 25 instructors nationally in 2015.
She says she especially loves to teach difficult, technical topics that others might shy away from. It's a way for her to express her love and interest in the profession that grabbed her when she took her required introductory accounting course at Georgetown.
"I love what I get to do," she said. "I know it's funny, because a lot of people can't imagine doing what I do every day. But I got the opportunity to go to a FASB [Financial Accounting Standards Board] roundtable in Norwalk, and I thought it was the most amazing experience. I love writing exposure draft comment letters. Participating in the future of the profession excites me."
BO GARNER, CPA
Manager/Co-Leader, Not-for-Profit Services Team
PBMares, Newport News
Bo Garner loves the VSCPA, and he wants you to love it, too. So he focuses on helping his firm take advantage of everything the Society has to offer.
Garner, 30, is a VSCPA Ambassador for PBMares. He works closely with firm administrators at the firm's Virginia offices to disseminate information and opportunities quickly.
"It can be simple stuff," Garner said. "Maybe there's some breaking information or some additional resource that the VSCPA puts out, and I make sure I can do my part to spread that throughout the firm."
The lifelong Suffolk resident also serves on the VSCPA's Young Professionals Advisory Council and has been a volunteer and champion for numerous one-off events, including the Nonprofit Finance Summit in April and several speaking opportunities. He also worked on the task force that helped launch the VSCPA's MentorMatch program last year. He took on the MentorMatch cause largely because of the help he's gotten from mentors at his own company.
"Even for young CPAs working at firms, you want to have a mentor outside of your own firm so you can see what it's like from a different perspective," he said. "I'm fortunate that my bosses have always been there for me to answer any questions that I have. I have the personality where I don't have difficulty walking into anyone's office and asking for advice, but a lot of people don't have that."
That's not Garner's only volunteer cause that sprung directly from his own professional experience. He has helped develop and publicize numerous VSCPA nonprofit events in Hampton Roads after seeing the help and exposure those organizations often need. He spends a significant amount of professional time working with nonprofits as the co-leader of the nonprofit team at PBMares.
"I was put on some nonprofit audits, and I came to realize the extreme reliance nonprofits have on their CPAs," he said. "I was on some really messy audits, and I realized that I'm not just checking a box on a report to meet compliance needs. These people really need our help."
"Being able to work with some of these nonprofits that serve the community and need the help to get their operations and personnel in order was very, very eye-opening for me."
That passion extends to Garner's non-VSCPA volunteer work. Some of his philanthropic work is sports-related, befitting his athletic background — he pitched on the baseball team in high school and at Randolph-Macon College before getting his MBA at the College of William & Mary. After graduating, he was treasurer of the board for the Nansemond Suffolk Pop Warner football league and is currently on the committee for the Suffolk chapter of Ducks Unlimited.
He recently joined the North Suffolk chapter of Rotary International, as well as the Hampton Roads chapter of the Association of Fundraising Professionals, where he serves on the membership and publicity committees.
"I don't want to say yes to an organization and not give it 100 percent of my focus," he said. "Three or four volunteer organizations are probably all that I can manage at one point in time and stay fully committed."
KEITH GRAY, CPA
Tax Consultant
Arlington Family Offices, Birmingham, Ala.
Keith Gray isn't forgetting about the VSCPA despite a recent move to a tax consulting position in his native Alabama. Gray, 28, is a member of the Disclosures Editorial Task Force and is continuing that work from afar.
Part of that is that he enjoys writing and keeping abreast of professional issues. But it also speaks to his belief in the work the VSCPA was doing and the opportunity he got as a volunteer with the Society's Roanoke Chapter.
"It was a chance to lead when someone in my position wouldn't usually have that opportunity," said Gray, who was working for the Roanoke office of Brown, Edwards & Co. when he joined the chapter. "Being new to the chapter, new to the state, new to the Society, you wouldn't usually have the opportunity to lead. I was at the point in my career where I was ready for something like this. The firm was big enough that that sort of opportunity was hard to find, so it provided a gateway to leadership development that I might have never gotten."
The Roanoke Chapter threw Gray into the fire right away. As soon as he rose to the level of chapter vice president, he was placed in charge of the chapter's annual two-day CPE event. It's that kind of responsibility that Gray credits with helping develop his leadership abilities.
"You can get out what you put in," he said. "It forced me to go in there and rather than being a figurehead, I had to get in there and move around some things and make some decisions."
That responsibility helped Gray grow as a professional within Brown Edwards and develop qualities he's taking into his new job at Arlington Family Offices, a boutique multi-client family office that provides comprehensive investment and financial services to a small set of multi-generational families. He's also looking forward to getting a perspective different from that of a public accounting firm.
"There are obviously CPAs serving the tax and accounting functions of the firm, but there are also CFAs, financial analysts, on the investment side," he said. "There's also a trust side with former bankers and attorneys. It runs the gamut of financial professional credentials, which is neat. It's refreshing. I've been in a world primarily filled with CPAs for the last five or six years."
That kind of branching out is nothing new for Gray, who has run the gamut of non-work interests in his life. Like Bo Garner, he's a former college athlete — he met his wife, Jennifer, when both were playing on the golf teams at Birmingham-Southern College. The pair got involved with the golf nonprofit First Tee upon moving to Virginia and coached golf at the middle school level in Lexington, where they lived until recently.
And they're not just jocks — both Grays grew up playing music in their churches, and Keith continued down that path. He plays piano and bass and spent his college years playing in a cover band, Moose, that played the fraternity circuit in Alabama.
"It's funny how it still sort of ripples through our lives," he said. "All three other members were in my wedding and are very good friends of mine. Whenever we get together, we rehash old stories about those days. We've talked about possibly getting together and playing a wedding or two in the future."
CAROLANNE PETRUSIAK, CPA, CFE
Tax Manager
PBMares, Fairfax
Like Melisa Galasso before her, Carolanne Petrusiak is making her mark on the VSCPA's Northern Chapter. The 30-year-old tax manager at PBMares' Fairfax office took over as chapter president on May 1 and is excited for the challenge of leading the VSCPA's largest subgroup.
But before that, growing up in Markham in Virginia's horse country, she was the daughter of a small business owner. Her mother owns Richard McKay Used Books in Manassas, and the experience led Petrusiak to focus on helping the owners of similar businesses.
"They're the stakeholders. They want to focus on the unique services they can provide," she said. "They're not as interested in where the debits and the credits go, so I can help with that."
Petrusiak works primarily with owner-managed businesses, helping with their audit, internal controls and planning needs. She supplemented the training she received at the University of Mary Washington and in studying for the CPA Exam by obtaining the Certified Fraud Examiner (CFE) credential from the Association of Certified Fraud Examiners (ACFE).
It's all in the service of helping small-business owners build their businesses and achieve their dreams.
"I love helping them grow their business and to provide assistance so they can focus on what they do best and I can focus on what I do best," she said. "It's a good synergy with our clients."
In the process, she helps small businesses tighten up their books and get their financial reporting in order.
"Some of the smaller ones really don't think about internal controls and are relying on trust within their organization," she said. "I try to help them with establishing those controls."
It's been helpful for Petrusiak to build her network through her chapter involvement. She has seen how the chapter has helped aging members connect with younger colleagues to pass along their book of business, but for her, the greatest value is in consulting with colleagues.
"Special interest groups get together for networking and consulting," she said. "We have groups for international tax, forensics and valuations, CFOs and controllers, nonprofits, government contracting, management of an accounting practice and young professionals. They discuss the hot topics within that specific area — things that don't necessarily come up on your radar day to day. It helps me to stay current and be able to bounce things off people.
"I think the most valuable is just being able to sit down and say, 'Have you guys ever seen this issue?'"
ADITYA YERRAMILLI, CPA
Forensic Program Manager
Google, Mountain View, Calif.
People around the world use Google to supplement their knowledge. Aditya Yerramilli is doing it from the inside.
Yerramilli, 28, made the move from the Big Four to corporate compliance and ethics when he took a job at Google in 2014 after five years in the forensic practice at PricewaterhouseCoopers (PwC) in Tysons Corner. He had come up with PwC, dating back to an internship as a junior at the University of Maryland, but felt it was time for a new challenge.
The biggest reason for the move? To expand his forensic accounting repertoire by taking on a new role.
"Firms do a great job of teaching you how to get quality work done, the methodology," he said. "What's challenging is sitting on the side of the consultant, having only that training. It doesn't give you the full picture of what it's like to be the client. What are the different expectations and pressures for that client?"
Yerramilli is a forensic program manager on the tech giant's legal team. He is in charge of global transaction monitoring and forensics focused on mitigating Google's regulatory risk around the world.
"I collaborate closely with internal audit and our travel and expense teams to understand what Google is paying for globally," he said. "What transactions should we review as part of our compliance activities?"
He's banking on the client-side experience proving helpful if he ever makes the move back to public accounting. He's also enjoyed the more freewheeling environment at Google and in Silicon Valley — including the famous on-site food selection, but also extending to the implication that nothing is impossible.
"One of the things that hasn't changed between PwC and Google is that both organizations are filled with extremely intelligent, extremely high-caliber folks," he said. "The difference is that Google feels like an academic environment. Everything is approached with the mindset of 'How can we help you do this better?'"
Yerramilli clearly agrees with that mindset and takes it to heart in his own dealings with the VSCPA, which have most recently taken the form of his work on the new LEAD initiative. He's part of the LEAD task force, which took on the mammoth task of assessing the VSCPA's current leadership opportunities, determining how to package them and identifying resource gaps.
One leadership tenet Yerramilli clearly identifies with is the idea of employee autonomy. That's one of the factors he enjoys the most at Google.
"You're looking for ways to improve your processes. They don't expect you to get it right the first time," he said. "The idea is that if you're constantly looking for ways to improve what you're working on, you're doing the right thing."