There's potential for great collaboration and great confusion with the 2015 Top 5 Under 35. Four of the five winners work for two companies, albeit in different offices in one case. And if you get them in a room and ask for Brian, three of them will turn around, although one spells his name with the "Y" variation.
The other quality these five rising stars have in common? An intense dedication to the profession and the communities where they live and work. Read on to learn more about this year's Top 5 Under 35.
Brian Burns, CPA
Senior Manager, Dixon Hughes Goodman, Glen Allen
Brian Burns has a career story you've heard before. The senior manager in Dixon Hughes Goodman's (DHG) forensic and valuation services practice didn't go to school looking to become an accountant. But once he found out how the credential could help his career, he was all in.

Burns, 31, initially thought about law school after completing his bachelor's degree in finance at Virginia Tech. He accepted a job in the valuation practice at Keiter Stephens (now Keiter) in Glen Allen, then decided that an accounting certificate would help him advance in the field and enrolled in night school at Virginia Commonwealth University.
"It just seemed to make sense to have that background and have the CPA credential," he said, "just because it carries so much weight, particularly in disputes if you're trying to qualify as an expert witness."
The Texas native came to DHG in 2014 and cites the day-to-day variety in his work as the most satisfying aspect of his job.
"One of the best aspects of it is that each case, while they can have similar issues, really involves a variety of different facts and services," he said. "We don't have many recurring clients, so you really get to learn a new client and industry on every engagement. Each engagement is an introduction to a new industry or a new issue that you might not have encountered before.
"It's not just plugging and chugging and doing the same thing over and over again. That's what keeps me on my toes."
Burns is an avid golfer and exercise buff. But he devotes most of his non-work time to his family — he and his wife, Sarah, welcomed their first child, Olivia, last year.
"Parenthood is one of the most challenging things I've ever done in terms of patience with an infant," he said. "But it's probably the most rewarding as well. There's really nothing like holding your own child and knowing she's your flesh and blood."
Bryan Campbell, CPA
Senior Manager, Dixon Hughes Goodman, Norfolk
Bryan Campbell is nothing if not a collaborator. When he found out he'd won a Top 5 Under 35 award, his first thought was that he would be accepting on behalf of around 30 people who had helped him in his career. That's why he's so focused on bringing people together to better the Hampton Roads community.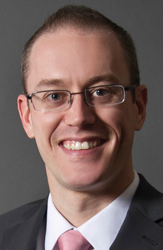 Campbell, 31, started an initiative called Innovate NVB (the acronym stands for Norfolk/Virginia Beach) to spur creative thought within Tidewater-area accounting professionals. Based on the pillars of camaraderie, community, innovative thought, creativity and enthusiasm, the group brings together area professionals with the goal of enhancing the local business community. The only rule: no pens and paper.
"We're doing that all day," he said. "So I have mini chalkboards and sidewalk chalk, and that's what people have to use."
Community involvement has been a staple of Campbell's life since he moved to Norfolk after earning his bachelor's degree from the University of Mary Washington. He is president of the Business Consortium for Arts Support and previously served as vice president of Toby's Dream Foundation, and he earned his master's in business administration from Old Dominion University along the way. In addition to his financial acumen — he's the third CPA in his family, joining his grandfather and stepfather — he also tries to enhance those organizations with out-of-the-box thinking.
"I think that the CPA is such a great profession and a well-respected designation that once you have it, it's immediate credibility," he said. "I think a lot of organizations need that, and CPAs can bring such awesome insights to various community boards, to help them as they're trying to accomplish their goals, not just with numbers, but to think differently."
Campbell credits much of his mindset to a previous boss, Bill McCormick, who hired him in college to work for his company, DS3 Data Vaulting. He jumped into that job with both feet and is especially happy he had the chance to get the responsibilities he had at such a young age, which prepared him to give meaningful advice to his clients as a young accountant.
"I got to sit in incredible meetings I always felt overwhelmed in, which is a good position," he said. "…Where else can you go work that you get to go right out of school, be 22, 23, 24 years old and get to talk to CEOs at companies and have them ask you your opinion about things?"
People are still seeking Campbell's opinion, but he's discovered he can be more effective by hearing what they have to say.
"People are calling you in a constantly changing business and economic climate," he said. "There are always new things going on, new ideas, and if you can be a really good listener, you will open up so many doors because people will want you to be involved in things."
Brian Deibler, CPA
Senior Tax & Accounting Manager, Malvin, Riggins & Co., Newport News
Brian Deibler thought he had his public accounting career right on track when he moved to Charlottesville firm Garris & Co. in 2009. Then life intervened.

A family medical issue (thankfully, since resolved) forced Deibler, 34, to pull up his stakes and move back to his native Hampton Roads and into a position in private industry. He's now back in public, and he says his skills are all the better for the detour.
"Really seeing what businesses who now are my clients, what they deal with on a day-to-day basis," he said when asked about the benefits of his stint as CFO and controller at Bluewater Yacht Sales in Hampton. "Insurance, worker's comp, payroll every two weeks. Really getting into the details on how companies operate has put me in a better position when I'm meeting with clients and advising them. I know what they go through on a daily basis, and that's a huge benefit."
Deibler spent three years honing his skills at Bluewater before an opportunity to move back into public presented itself in the form of a job offer from Malvin Riggins. He moved over in 2012 and has been there ever since.
"I'm definitely a public accounting CPA," he said. "It was originally, 'Tax season is a bear, let's see what's on the other side of the aisle.' It was a good run, but the company that I was working for was a family-run company. Unless your last name was their last name, I was going to be maxed out. There was pretty much nowhere to go, so I went back into public."
Further filling Deibler's plate are his responsibilities with the VSCPA, including a spot on the VSCPA Educational Foundation Board of Directors and his new position as president of the VSCPA's Tidewater Chapter, which he took over May 1.
It's the latest evolution in a career that has taken twists and turns since Deibler decided to study accounting at Radford University. He followed in the footsteps of his older sister, Tracy Tingen, CPA, at Radford and Malvin Riggins.
"I was always a math guy," he said. "This is going to sound awful, but in high school, I got to math class and it was 'Maybe this is time for me to rest my eyes and take a nap' because I was so good at it."
Deibler and his wife, Ruth, have a son and a daughter, and he's starting to get involved in coaching his son's tee-ball team. They also like to spend time outside hiking and camping.
Aaron Peters, CPA
Corporate Controller, LivingSocial, Washington
While Brian Deibler bounced between public and industry, Aaron Peters has found a way to keep a toe in both. In addition to his day job as the corporate controller at online marketplace LivingSocial, he and his wife, Meghan, run their own practice providing accounting and tax services to around 400 small businesses in the Washington area.

"A lot of businesses can't afford to go out and use a big accounting firm, so we cater to that," he said. "Giving a high level of service and a true professional look, from an accounting perspective, at a rate a lot of small businesses can afford."
Peters, 33, is uniquely positioned to understand the accounting needs of a small business through his experience at LivingSocial. He started at the company in late 2011, when it was in a period of major growth fueled by an investment from Amazon.
"When I started, it had just taken all this money and really gone from this small startup — a company using QuickBooks for accounting — to being required to do a public-company level of financial reporting because of the relationship with Amazon and getting ready for the potential of an IPO," he said. "It was a process of learning and understanding the growing pains of the company."
LivingSocial has since dialed back that growth, pulling out of most of its international markets and holdings. It's been a learning experience for Peters, a Wisconsin native who moved to Washington after graduating from Marquette University in Milwaukee in part to satisfy his interest in politics and government. He started his career at PricewaterhouseCoopers, where he met Meghan, before moving over to LivingSocial.
 "It's fun to be near the center of all of that, in an area where there are a lot of young people," he said. "At that point, in 2005–2006, there were a lot more in the way of job opportunities in this area. I figured I'd come here for a couple of years, and I've been here for 10 years now."
Peters has indulged that interest in politics through his VSCPA volunteer work. He spent time on the CPA PAC Steering Committee and the Legislation Review Task Force before taking a step back when he joined LivingSocial.
Through it all, he's burnished his industry credentials while still keeping a toe in the world of tax through his side business. And in addition to the growth and divestment in LivingSocial, his own family has gone through some growth of its own — he and Meghan welcomed a son at the beginning of the year.
Peters is an avid baseball fan and has season tickets at Nationals Park. He also enjoys travel, although that's gotten more difficult with a young baby in tow. And they stay close (and busy) through their tax work.
"We have very interesting dinner conversations," Peters said.
Kim Ruiz, CPA
Senior Manager, LivingSocial, Washington
Rounding out the Top 5 Under 35 is the second LivingSocial representative. Kim Ruiz is the company's senior manager for indirect tax, which allows her to focus on her interest area of state and local taxation. And while LivingSocial isn't the international behemoth it once was, there are still plenty of technicalities in different states and localities to keep her busy.

"There are a lot of intricacies with state and local tax," she said. "Not only are there a bunch of taxes, but all the other states have different interpretations of everything. There are a lot of different things to keep you intrigued."
Ruiz, 34, didn't even enter school with the intention of becoming an accountant. The Cleveland native originally planned to become a physical therapist, but an application mix-up prevented her from getting into that program at Duquesne University in Pittsburgh. Accounting was where she landed.
"Something happened to my application and it got lost," she said, "so I went into health management, which is a mix of health care, data management and IT services. I thought I could do a lot with that. Then I joined a performing group, and there was a girl there who was an IT accounting major, and she pointed me in that direction."
Before joining LivingSocial in 2014, Ruiz worked at SC&H Group, a regional accounting firm in McLean. She focused on Virginia taxes there before switching jobs at the behest of a former coworker.
She makes use of her interest in taxation as a member of the VSCPA's Tax Advisory Committee. She previously volunteered on the VSCPA's Young Professionals Advisory Council and on a taxation committee at the American Institute of CPAs (AICPA). For her, the Tax Advisory Committee is a way to stay engaged with her professional specialty.
"I did the AICPA State & Local Tax Committee for maybe a year, but I thought it would be more beneficial to help on the Virginia side," she said. "It's good to stay in touch with the changes and know if something comes up. It's really neat to be part of a group that has that kind of influence."
In addition to spending time with her husband and son, Ruiz is a fitness buff. She taught Zumba classes before her son was born and enjoys bicycling.
But her true passion is dance, her main interest as a child. Ruiz, whose family comes from Eastern Europe, started with Croatian line dancing when she was 5 years old, and she performed with an Eastern European folklore ensemble at Duquesne.
"They try to compare the show to a riverdance," she said. "Obviously, riverdance is more for Irish dancing, but it's something sort of like that. We do a lot of kolos, which are circle dancing. Croatian is a lot slower compared to Bulgarian and Macedonian, which is more high-impact, high kicking."