Total operational excellence can be achieved. It just takes a committed approach.
By Mike DellaRipa, CPA, MBA, CGMA 
In today's business climate, industry consolidation and technological improvements are creating stronger competition. Companies must ensure the right culture is in place to foster innovation and continually improve. An innovative continuous improvement (ICI) culture, as shown by three companies below, can establish a foundation leading to total operational excellence — in which every facet is focused on meeting customers' current and expected future needs, while significantly improving income. 
This article shows one path of culture change based on the best common practices of the three companies and their CFO's key role. (For proprietary reasons company names cannot be disclosed.)  
To achieve the goal of total operational excellence, these companies applied innovation through seven stages: commitment, planning, 
communication, training, implementation, measuring results and recognition (see Exhibit 1).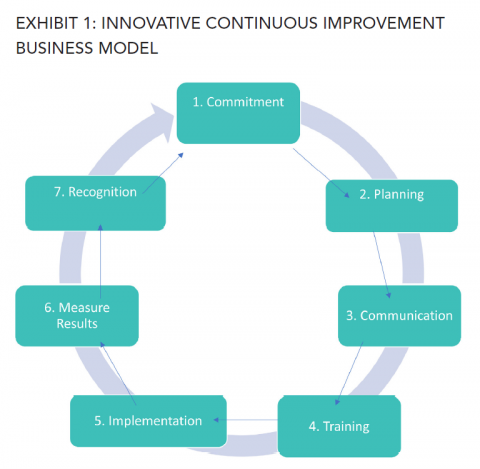 COMMITMENT AND PLANNING 
Getting started, these three companies each had an innovative CEO who had a vision to transform the company culture to one of ICI. The Board of Directors gave the CEO authority to make changes and a commitment of their support of at least three to five years. Everyone understood that patience was required, because a dramatic culture change often causes disruption before it shows positive results. In return, the CEO committed to the Board to deliver improved financial results.    
The CEO then ensured there was an innovative CFO in place, followed by the same for the balance of the senior management team. The CFO had the important role of being the facilitator, or catalyst, supporting the culture change and also acted as the company's primary information resource. The CFO had the necessary skill to be able to interpret large amounts of data and then present it as meaningful metrics that the CEO and the management team could act upon to lead to operational excellence.  
After the CEO and senior management team completed their vision and mission statements, they started the annual strategic planning process. The CFO facilitated putting together the strategic plan by working with the senior management team and then presented the consolidated plan to the CEO for approval, which was then sent to the Board.  
In helping develop the strategic plan, the CFO understood the importance of identifying what markets the company competed in and was brutally honest as to its competitive position. The CFO acknowledged what customers' specific needs were when buying, and how the company could satisfy and fulfill those needs. The CFO knew to avoid the mistake of trying to be "everything to everybody," and focused on where the company had strong product demand or expertise in unique operational capabilities versus their competitors. It was important to confront reality and define where the company should be positioned so that it could excel where it competed.  
The CFO designed a financial accountability reporting system to identify if the company was on track and see where are the planned results were not occurring. The CEO and CFO then established incentives for achieving results and were not tolerant of continued poor performance, reflecting the expectations of customers. 
COMMUNICATION  
The CEO then rolled out a company-wide communication plan explaining the need for change to an ICI culture supported by participative, not autocratic, management. The primary focus was on the goal of attaining total operational excellence in relationship to satisfying the customers, current and long term.  
ICI is a tool to reach that goal, not an end in itself. During the communication process, the CFO acted as a facilitator to ensure the message was understood and, when necessary, gave confidential feedback to the CEO as to how to be more effective.  
The communication explained the requirement of everyone focused on a common goal and that working in a silo of excellence in each department was not acceptable. Working independently was going to be replaced with working interdependently to create efficiency. Employees learned why the change was necessary and the benefits to each person — this last point being very important.  
All departments would be managed with input from everyone affected as to how best to improve efficiency — especially before changes were made. Management were trained on how to effectively gain consensus within a team with different solution ideas. Innovation would require an atmosphere of psychological safety in meetings to solve problems, with people free to make any suggestions or disagree respectfully.  
Everyone was advised to expect "the only constant will be change," and there would be no hidden agendas. People would be given the tools, time, training and resources necessary for change, but if people chose not to change, it would become necessary, as a last resort, to change people. There would be no "sacred cows" in the company.  
In summary, messaging established they would be on a continual journey for a defined competitive position with their customers: that the company was a strategic business partner able to supply information as well as "worry-free" products and value-added services. Achieving operational excellence through ICI would be only one point in a never-ending journey.  
TRAINING 
After the initial communication to all employees, the CEO and senior management were trained on how to lead a team using a participative approach. Training covered how to encourage participation, generate innovative ideas and gain consensus on the direction to proceed. They learned ICI principles such as focusing on process before people and knowing the importance of internal and external customers.  
The CEO and senior management then trained middle management and sales managers, thereby sending a strong message of the required commitment by all management to the ICI culture — a very important step in the training process.  
Producing consistent quality products by reducing process variability was critical to operational excellence. Training in statistical process control was taught in a brief, clear and concise manner to achieve these goals. This training led to data-based decision making and eliminated "pointing fingers" at people.  
Other training included using Enterprise Resource Planning software, vendor partnerships, effective communication and listening, forecasting and succession planning. The CFO monitored the training processes to ensure the right people were properly trained and the ICI culture was in place to generate results. Training was continual and played a key factor to the success of the companies.  
IMPLEMENTATION 
Implementation started by establishing ICI teams in every department of the company. Some of the examples of success teams had are below.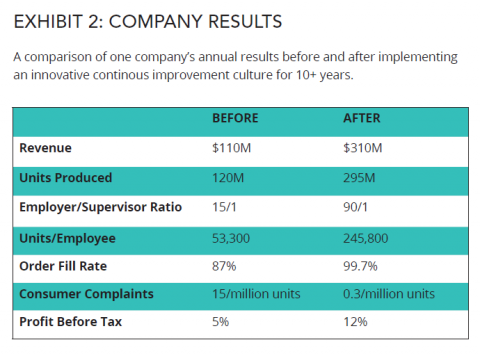 As manufacturing was a major cost component of the three companies, that team had a first assignment to fully document the processes being used to ensure consistency as to the bills of material and product specifications. This ensured consistent, quality products were produced regardless of who was working or when or where the products were made. Once this step was done, the manufacturing team then innovated and took on the larger task of continually reducing waste and improving processes, which resulted in large cost reductions saving more than hundreds of thousands of dollars annually. These results were important to the CFO, as they led to more accurate product costing and competitive pricing — growing sales.  
The concept of empowering the hourly workforce and self-directed work teams became part of the new culture and, in one company, a ratio up to 90 hourly workers to one manager became the norm.  The new manager standard was "managers manage processes, not people." To ensure efficiency, process documentation was also done for all other business processes, such as receiving and processing customer orders, issuing purchase orders and all other administrative processes. No stone was left unturned.  
Satisfaction measures were reported back to the CEO and CFO for purchasing, IT, human relations, accounting and customer service, which were tracked and expected to continually improve. Fixed overhead costs decreased without layoffs as cross training was employed and used where possible when employee attrition took place.  
One company implemented a monthly, cross-functional internal partnership meeting between middle managers in sales, operations, purchasing and finance. Together they improved customer and item profitability, forecast accuracy and resolved many other unmet customer expectations, contributing to sales divisions growing by millions of dollars. Management realized quickly that those closest to the problems usually have the best solutions. After five years, one company reported annual cost reductions in the millions.  
While the implementation results in total were impressive for all three companies, it should be noted a key reason to one company's success was that the CEO, CFO and senior management team went on site to each business location at least a few times per year to ensure process improvements were in place, check that the results were real, evaluate management and meet with and listen to employees. It was also a morale boost to hourly employees to see the CEO and senior management team on the "front lines."  
MEASURING RESULTS 
At a formal monthly review meeting, the CFO would explain the financial results and state if the company delivered the forecasted results. There was little acceptance of the "bad forecasting" excuse or those responsible not achieving their targeted sales and income. The company wisely made use of documented contingency plans by the CFO to implement when and if income performance did not measure up to targeted expectations. 
A research and development team would then report on current products being improved and new products in development to meet expected future demand. The majority of the meeting was led by the CEO to discuss delivering on forecasted sales and income and to answer: "Was the company prepared to meet the future needs of customers the next 12 to 36 months?" 
All three companies were successful after implementing an ICI culture and achieved total operational excellence resulting in significantly improved income and higher customer satisfaction, even to the point of some customers agreeing to be a reference.  See Exhibit 2 for one company's success story. All stakeholders of the business realized a benefit. Most importantly, these three companies were now on a path with a more secure future.  
RECOGNITION 
As author Jim Collins states in his book Good to Great, "the right people in the organization make the difference,"1 and management took steps to ensure those people received recognition.  
While changing to an ICI culture to achieve total operational excellence was challenging at times, the determination, persistence and results of the teams and their leaders were recognized and celebrated with the local management frequently. The CEO and senior management team also recognized and celebrated the cost reductions and process improvements of teams during on-site visits. Sometimes customers were brought in to give recognition, which was very well received.  
Recognition steps ensured enthusiasm for team innovation continued and maintained the momentum of the new ICI culture, with the company-wide expectation of "never being satisfied." This required management discipline to continue to follow the same steps of the success cycle already in place without taking shortcuts.  
CLOSING SUMMARY 
We can all learn from these three companies. Creating an ICI culture was necessary to achieve total operational excellence. Culture can fluidly blend the intentions of top leaders with the knowledge and experience of frontline employees.2  
The CEO, CFO and balance of the senior management team were strategic and innovative in their approach as to where they should compete and where they should not. They were careful to make not only tough, but more importantly, smart decisions, especially regarding opportunities for mergers and acquisitions, where the CFO played a major strategic and advisory role. The CFO, with support from the CEO, was also able facilitate change. Being one who understood the business and customers, the CFO was able to work with the management team as a catalyst. Without taking over, the CFO accelerated process improvements throughout the company. 
Innovation requires creativity, bold leadership and the willingness to take risks. The Amazon warehouse in Chester, Va. now uses a four-day, 10-hours-a-day workweek to give employees three days off per week. Televerde, a technology-focused B2B marketing firm, has experienced an 8.5 percent growth rate by employing 650 people, 425 who are inmates, by showing them respect and not seeing them "as another orange suit."3 
With the emergence of artificial intelligence (AI), companies will have to embrace this change into their culture and address the probable concerns. Leaders need to reassure workers AI will enhance, not diminish their roles. Relationship managers who pride themselves on being attuned to customers may reject the notion that a machine could have better ideas about what customers want.4 
In closing, Mandy Ginsberg, the successful CEO of Match Group, said it best: "Perhaps the biggest lesson I've drawn from this experience is that companies need to innovate constantly — with technology, pricing, products, product features and business models — to stay ahead of competitors and continue to grow."5   
Mike DellaRipa, CPA, is president of Mike DellaRipa LLC in Mechanicsville and was a controller and facilitator/catalyst in a company division that implemented ICI and achieved total operational excellence. He was also formerly a CFO for two companies. He can be reached at dellaripa67 at comcast.net. 
---
Collins, Jim. Good to Great. HarperCollins Publishers Inc. 2001.

Groysberg, Boris, Jeremiah Lee, Jesse Price & J. Yo-Jud Cheng. "The Leader's Guide to Corporate Culture." Harvard Business Review. January-February 2018.  

Rogers, Kristie. "Do Your Employees Feel Respected?" Harvard Business Review. July-August 2018. 

Fountaine, Tim, Brian McCarthy & Tamim Saleh. "Building the AI-Powered Organization." Harvard Business Review. July-August 2019.  

Ginsberg, Mandy. "How I Did It: Match Group's CEO on Innovating in a Fast Changing Industry."    Harvard Business Review. July-August 2019.