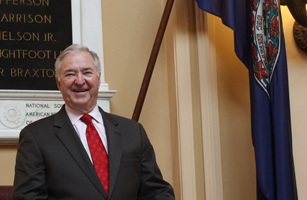 Virginia Sen. Walter Stosch, CPA, isn't one of a kind, but he's close. The VSCPA life member spent the last 33 years serving Virginia, in both houses of the General Assembly, and will retire when his current term ends. His departure will leave a void in the Assembly, both in statesmanship and in accounting and business expertise.
Stosch, a Republican from Henrico, is one of just two CPAs to serve in the Virginia legislature. (The other was Kevin Miller, a VSCPA life member and fellow Republican from Harrisonburg, who retired in 2002.) His accounting background made him a natural choice to deal with tax and financial matters in Richmond. But to hear him tell it, even that experience pales in comparison to a willingness to listen to problems and provide solutions.
"The credential is symbolic of our background and experience," he says. "But the more important aspect is whether or not we can provide assistance to resolving problems. That's basically what the legislature is all about. It's a matter of analyzing choices and making the best choice."
Given that analytical nature, it's fitting that Stosch, a man trusted as an economic expert by his decorated General Assembly colleagues, sought counsel from respected mentors before making the two choices that shaped his professional career. The first instance came when he was serving in a field hospital in the U.S. Army Medical Corps and sought counsel from his commanding officer, Maj. Gerald Champlain, a doctor who detailed the educational requirements of the medical field.
Maj. Champlain also clued Stosch in on the fact that he would owe the Army two years of service for each year of education he received on the military's dime. After doing the math and coming up with "a number that wasn't satisfactory," he spent some time thinking about the Major's other suggestion — accounting.
He enrolled at the University of Richmond after being discharged, then circled back to accounting at the suggestion of a friend whose father was in the profession. The fact that he entered college at all marked a major victory for Stosch, who was, let's say, a disinterested student at Warsaw High School on the Northern Neck.
"When I grew up, there was very little likelihood that I would ever have the opportunity to attend college," he said. "I was lucky to graduate from high school. I thought I was a pretty good student until my children found one of my old report cards in the attic. I was not a good student in high school, in part because I didn't try. And I didn't try because I could see nothing after high school other than driving a truck or working on the farm."
While at Richmond, a professor put Stosch in touch with a CPA who was looking for part-time help. That's how he met Bob Gary, a former accountant with Southern States Cooperative who hired him in part because of his military background — but not for the reason you'd think.
"I thought that he had looked at my credentials and looked at me and my academic record and all those things and concluded that this was going to be a great employee," Stosch said. "I found out later that he was mad because his only employee had gotten drafted, and I was not eligible for the draft because I had been in the military."
Regardless of the reason for his hiring, Stosch fit right in with Gary. He worked part-time for two years before joining full-time in 1959 for $350 a month, and the two joined forces with a third CPA to form Gary, Stosch, Walls & Co. two years later.
Stosch cycled through various partnership roles at the firm — audit partner, tax partner, and finally managing partner after Gary retired — and served as the firm's primary recruiter throughout, although he describes his recruiting strategy as "hire the top two students at the University of Richmond and [Virginia Commonwealth University] in the junior classes every year." In 1988, the firm was acquired by Touche Ross, which became Deloitte a few mergers later, but Stosch had taken on an added role by then.
In 1982, Stosch was approached by former Gov. John Dalton and a friend, Dave Kaechele, who recently retired from the Henrico County Board of Supervisors, who asked him to run for a newly created seat in the House of Delegates. Stosch initially declined, arguing that he was an integral part of his firm and that his employees depended on him: "Their careers are in my hands. I'm personally, professionally and financially more successful than I ever thought I would be when I left that little farm in the Northern Neck. So why would I want to do that?'"
Stosch relented and agreed to run for the seat after considering that even if he won, he would only be committed to two years of service. It also helped that Dalton appealed to his altruistic side.
"Gov. Dalton's response, which has always been a motivation for me to serve, was, 'It's because you've been successful in business,'" Stosch said. "I'd already told him that my children were educated in the public school system and on the way to public colleges. He said, 'It's because of all of those things that you have a duty to give back.'"
Stosch defeated the Democratic incumbent, Rob James, and two years turned into a successful re-election campaign, and another, and then another. Soon there was talk about moving to the Senate, and he won that election, too, defeating Charlotte Armstrong in 1991 to take over the seat held by former Virginia first lady Edwina Dalton Phillips. And of course, with the victories came the committee assignments — House Finance, naturally, due to his accounting background, and then Senate Finance after moving to that body. When the Republicans took control of the Senate in 1998, he became the first GOP senate majority leader in Virginia history.
Through it all, he never lost his desire to make Virginians' lives better, any way he could.
"One person can make a difference," he said. "Once you get here, once you find out how to make things happen, once you find out how dependent individuals and businesses are on the legislature, it become a motivation in itself to be able to help people solve those needs."
One opportunity to do just that came toward the end of his time in the House of Delegates, when the Tax Reform Act of 1986 created a windfall for Virginia estimated at $300 million due to discrepancies in the capital gains tax rate. Stosch and his colleagues used that revenue to overhaul the Virginia income tax system and return that money to taxpayers in the form of income tax credits.
Even if you weren't a Virginia resident in the late 1980s, you've still likely benefited from a Stosch initiative. Until 2001, the Virginia Board of Accountancy (VBOA) operated under the supervision of the Virginia Department of Professional and Occupational Regulation (DPOR), which controls the regulation of beauticians, realtors, tradesmen and other occupations. That didn't sit right with many Virginia CPAs, and Stosch sponsored a successful bill that spun the VBOA into its own independent organization.
Stosch sold the bill, in part, by stressing that the VBOA could run sufficiently on license fees and would not cost Virginia taxpayers any extra money. But the main reason for the change was to protect those taxpayers in another way — through more effective regulation of the CPA stewards of their money.
"There was a feeling that a separate board of accountancy could better protect the public," Stosch said. "That's the sole purpose of regulation in accounting. It's not to look after a bunch of CPAs. It's to protect the public, to ensure that the services delivered by CPAs are ethical, competent and all the things that go into making up a profession."
And that dovetails beautifully with the qualities CPAs bring to elected office, on the rare occasions they run and win their election. Just 11 members of Congress are CPAs, and 104 CPAs hold elected and appointed positions at the state level, according to the American Institute of CPAs (AICPA). Once Stosch was elected, he quickly rose through the ranks and earned justified responsibilities because of his extensive financial experience.
"Analytic ability, research ability — all of those skills have been important to my career here," he said. "Our members are doing a good job of interacting with CPAs in their local communities, so we're thought of in those terms in high esteem.
"I've had an opportunity to work closely with members of the House and Senate over the years, and I've done everything I can to help them understand complex financial matters and tax matters. That has allowed me to develop a certain reputation and relationship with the other members. Any of our colleagues could do the same."
Stosch retired from full-time practice shortly before embarking on his Senate run, but he wasn't completely done with accounting. He had started the forensic accounting practice at Gary, Stosch & Walls, and he founded his own boutique forensic accounting firm after retiring from Deloitte. The current principal of that firm, now known as Stosch, Dacey & George, is his son, David, who followed a similar path into the profession after finding a mentor in John Sperry, the former chair of the Virginia Commonwealth University (VCU) accounting department.
"My son is very handy, so he would do a lot of work for Dr. Sperry, hanging pictures on the wall," Stosch said. "All of a sudden, he started previewing textbooks and proctoring exams for Dr. Sperry. One day, Dr. Sperry didn't ask him. He said, 'You're going to major in accounting.' He said, 'Yes, sir.'"
Stosch describes David as "a far better practitioner, more talented than I am in all aspects of accounting." And he'll soon have another family member in the profession for comparison, the third generation of Stosch accountants is about to enter the workforce. Walter's granddaughter, Kelly, is currently going through the accounting post-baccalaureate program at VCU.
All three accounting Stosches took somewhat non-traditional paths to the profession. David was adamant growing up that he didn't want to be a CPA, and Kelly initially focused on psychiatry and psychology before switching her focus.
That, and the way Stosch began his own accounting career, is why he's so focused on providing educational opportunities to students who might not otherwise receive them. In 1983, he and an educator friend, Dr. Ray Gargiulo, founded the Greater Richmond Area Scholarship Program (GRASP), which later changed its name to the Great Aspirations Scholarship Program after it outgrew the Richmond region.
"It was pretty important to me when I realized that part of my package from the army included the GI Bill," he said. "With the GI Bill, even though it was a pittance compared to the cost of attending college, it was enough of a boost for me to say, 'I can make it.' I made up my mind that if I were in those circumstances and a little bit of help made the difference, maybe that was something I should do."
GRASP is a charitable nonprofit that helps students and their families navigate the financial aid process, awards scholarships and supports students through post-secondary education. One of the organization's greatest strengths is its network of professionals who work with disadvantaged students to develop a game plan for after they graduate high school.
Last year, GRASP served 76 schools and helped 7,000 students with their educational plans, leveraging $70 million in financial aid.
"There's always an opportunity for us to identify young people who, just like me many years ago, had no thoughts of moving beyond high school because of the barriers," Stosch said. "And we can break down the barriers for these people."
And as Stosch himself proved 60 years ago, you never know what those young people can become. A young man with no aspirations beyond military service and working on a farm turned himself into a partner in a regional accounting firm, a successful, respected elected official and the founder of a meaningful charity.
"I'm sure that others may have been able to achieve more than I, but I've achieved most everything that I think I'm capable of," Stosch said. "I ended up being the head of a very large independent firm, and was able to leverage that into a partnership with a major firm, and then retire from that firm. I've had that experience of working with a three-man firm, a 135-person firm and then an international firm. All of those were great experiences.
"I can look back with a certain amount of satisfaction in saying I did the best I could."