Three CPAs, all of whom currently or formerly worked in government. Three voices speaking out against the increasingly out-of-balance federal deficit. While fiscal responsibility has been adopted by candidates for offices big and small, these three CPAs are taking action in the effort to bring the federal budget back into balance.
Ernie Almonte, CPA, spent 16 years as Rhode Island's auditor general. Among the changes he made in that office was requiring all audit reports his office produced to be made available to the public on the Auditor General's website. He was the first public servant elected as national chair of the American Institute of CPAs (AICPA) and is currently the chair-elect for the Institute's National Financial Literacy Commission. He is currently running for governor of Rhode Island.
VSCPA member Ed Mazur, CPA, is the senior advisor for public sector services at CliftonLarsonAllen. He previously served on the Governmental Accounting Standards Board (GASB) and the U.S. Federal Accounting Standards Advisory Board (FASAB) and headed the Office of Management and Budget's (OMB) Office of Federal Financial Management. He served as Virginia's state comptroller from 1980–1991. He recently won the Association of Government Accountants' (AGA) Author Award for his article, "Our Nation's Governors — Walking a Tightrope Without a Net" (PDF), which appeared in the Journal of Government Financial Management's summer 2011 issue.
Dave Walker, CPA, served as U.S. comptroller general for 10 years while also heading the Government Accountability Office (GAO). He recently wrapped up his 10 Million a Minute Tour — the name refers to the rate at which the federal budget deficit is growing — which included stops in Springfield, Richmond and Washington, D.C., among many other locations. The tour is the successor to the Fiscal Wake-Up Tour, which Walker began during his time at the GAO. He currently serves as founder and chief executive officer (CEO) of the Comeback America Initiative.
The VSCPA spoke with Almonte at a Society event in September and caught up with Walker at the 10 Million a Minute Tour stop at the University of Richmond in October. Mazur came by the VSCPA office in October to give his take. Read their stories below and visit the VSCPA's Fiscal Responsibility Resource Center to learn what you can do to help spread the word.
Ernie Almonte, CPA
VSCPA: How did your experiences as auditor general shape your views on fiscal responsibility?
Ernie Almonte: For 15 years, I was the auditor general for the state of Rhode Island. In those 15 years, we issued reports — public reports — on our findings and how the state spent money. In the state of Rhode Island, about $8 billion a year is our budget. About half of that comes from the federal government.
I would always look at trends and say, "Well, if you had a business and almost half your money came from one customer, you'd be concerned about whether you'd be able to survive or not."
So we started looking at how the federal government handled their money, and it was a scary picture at times. You would see that the deficit was growing and growing. Maybe five years into my role as the auditor general, I met David Walker, the comptroller general for the United States, and I started working with him and the GAO to look at those numbers. … The way he would describe it would be to put the light on the subject. The light would create heat, and the heat would cause action. That's what our reports really did — they put the light on the problem
VSCPA: Can you go into more detail about the financial relationship between the states and the federal government?
EA: Every state, no matter what state it is, gets a substantial amount of money from the federal government. If we're worried about the federal government's total deficit — which we should be, because it's over $60 trillion — people talk about $16 trillion. That's just what's on the financial statements. There are other liabilities that are not included in that. The rough number is about $60 trillion, so the federal government will have to fix the problem.
They probably could fix it one of three ways: Raise revenues or taxes, cut services — which is less money to states, cities and towns — or some combination of the two. We always talk about how water flows downhill. If water does flow downhill, what's the impact to states? If a substantial amount of their budget will shrink, how are you going to deal with that? How are you going to plan for that? How are you going to take care of your taxpayers and provide services if some of that money goes away?
VSCPA: You mentioned the light creating heat and the heat creating action. Is that a "sunlight is the best disinfectant" sort of philosophy?
EA: The common theme now is about transparency, but I believe in the sunlight piece to this. You can have all the bureaucrats have the numbers, but if the outside doesn't see it and doesn't challenge the government, I don't believe it will be fixed. That's why we, as citizens, also have a role — to be more informed of our government and to read these documents.
VSCPA: As someone who has been on the government side of things, what's the biggest obstacle to achieving that kind of transparency?
EA: I believe that the biggest obstacle to achieving transparency is that a lot of times, people that are holding office at the time are afraid of delivering bad news. I always talk about how we have the responsibility to have courageous conversations. That's telling people what they need to hear, not what they want to hear. You might get a bad reception when you tell them, "I can't build that soccer field for you. I can't build that new school. I can't pave this road because we don't have the money." Because sometimes, the people on the other side — us, as citizens — are just like, "I want the soccer field. You figure out how to pay for it." A good financial decision and a good political decision, a lot of times, butt heads.
VSCPA: Do you feel like CPAs are uniquely positioned to make the tough financial decisions?
EA: I do believe that CPAs are uniquely positioned to help in an environment like this. What we have today is federal deficits, budget deficits, trade deficits. But one of the largest deficits of all is the leadership deficit. As CPAs, we're trained to handle all the fiscal problems. We help clients with governance issues. We run firms. We're CFOs, we're controllers. …
I think it would be a great step to have more CPAs in office. They have the skill set to solve financial problems. They have the ability to step back to the balcony and observe things without being emotionally involved in it, the same way they've done for their clients their whole career.
Ed Mazur, CPA
VSCPA: You've talked about how complicated the lawmaking process is. Is that an indication of why we need more CPAs in office?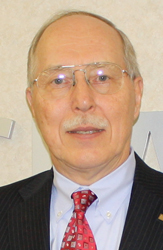 Ed Mazur: One of the responsibilities of a Certified Public Accountant is to grasp and understand the full complexity of an organization, whether it's a small business or some of the largest corporations in our country or, certainly, our largest governments. In part, that means you have to comprehend cause and effect relationships. What drives revenues in the case of government? What drives expenditures? How are policies being carried out? Are they being carried out in compliance with the law? How about performance? Are the programs of government really working on behalf of the people, or are they not hitting the mark?
The CPA has the experience and has the duty, really, to develop a comprehensive understanding of how all of that works and whether quality outcomes are being produced.
VSCPA: What makes government such a complicated beast?
EM:  State and local governments  are required to approve a balanced budget and to have maintained a balance between revenues and expenditures  by the end of each year. That means that the policy positions and the attitudes about what's important on behalf of the people  can differ among individual legislators, county supervisors or  members of city council.. But at the end of the day, they have to accommodate each other and compromise in order to produce an outcome and a level of services for the populace that stays within the resources that the populace agrees, through their representatives, is appropriate.
The tremendous disadvantage we have in the federal government — and it's been building, sadly, for 45 years — is that there is no stop sign. There is no balanced-budget requirement for the federal government. As a result, the members of Congress has learned that they can borrow and borrow and borrow the funds that it takes to have the programs they establish in law. These programs include entitlement programs like Social Security and Medicare, health programs for the needy such as Medicaid, and a host of other programs that bring to Virginia transportation and safety monies, unemployment funds, university research grants, agricultural support payments, K-12 school funds,  and so forth. The big problem we have right now, and you've heard it called the fiscal cliff , is that we are wildly out of balance between what the American people, through their representatives, have indicated they would like to have in the way of services, benefits and programs and what they have been willing to pay for. …
The Congress has abused, I think, its capability to call upon the United States to borrow to fund programs. That has placed this country in true jeopardy. Our rate of debt in this country is way beyond what it should be. We have borrowed to fight wars. We have borrowed to support payments for entitlements. This has gotten way out of hand.
VSCPA: You've spoken about the interconnectedness of government and dependence on the federal government as a major issue. Has that exacerbated the problem?
EM: There needed to be attention raised to this issue of what I call "intergovernmental financial dependency" — the fact that one layer of government receives funds from other levels of government and that the operations and activities of the Federal government all occur within the jurisdiction of a state and specific local government. So you have this very significant  integration among the three levels of government.
Last spring, with the encouragement of my colleagues at CliftonLarsonAllen, we came out with "Intergovernmental Financial Dependency: A Study of Key Dependency Measures for the 50 States" (PDF). It was the first study of its kind. We drew heavily on information from the states themselves, drawn from  their comprehensive annual financial reports  and from reports required under the Single Audit Act. … On average, across the 50 states, 40 percent of all revenues that come into a state government and its discretely reported component units, comes from the federal government0. So as the federal government  seeks to sustain or doesn't sustain its capacity to continue those flows, state governments and local governments will have a very serious resulting challenge..
When you expand your consideration from  indirect  federal flows to state governments to include the indirect flows that, for example, go from the federal government directly to local governments, for  purchases by the federal government from businesses operating within the state, and to federal flows to individual citizens for Social Security payments, Medicare coverage, retirement in the case of military or former civilian federal employees, then the average value of all of that, across the 50 states, equates to 27 percent of state GDP. …
We have a window of opportunity in the United States, particularly over the next few months and certainly all throughout 2013, to set aside partisan bickering, to look at the cold, hard facts, and to adopt a balanced approach.  An approach where the American people can help advise members of Congress as to what they think is important and what can be, at least for a while, set aside. I think the governors of this nation have an incredible opportunity to participate in and stimulate that dialogue. The one advantage the governors have that members of  Congress do not have is that they , together with their legislatures,must keep the books in balance. As a result, they're constantly in the position of going in their citizens and saying, "Here's what we're able to do. Here's what we're not able to do. This is important, but we can't afford it right now." They're used to making that case. And, with very few exceptions, if you think about the last couple of years when state governments have had to reduce expenditures to keep in balance, there have not been riots in the street. People have accepted that knowledge and information. That kind of dialogue and straightforward talk with the American people is what is needed now in addressing the lack of sustainability of the federal government.
VSCPA: How can CPAs make an impact on this issue?
EM: I think there's a wonderful way CPAs can be involve in addressing the federal fiscal crisis. It will cause some expenditure of time and effort.but  CPAs can take the annual financial statements of their local government. They can take the annual report of their state government. They can take the annual report of the federal government. In each of these reports, there is a management;'s discussion and   section. You don't have to read a 250-page report, but you want to spend some time with, maybe, 25 pages. Even in the federal government's case, they have a citizen's guide to interpreting that report, which is only 10 or 12 page long. If a CPA even spends a casual evening reading the highlights of those reports and then goes to their elected representative — be it a county supervisor, a member of the General Assembly here in Virginia or their congressman — and sits down and says, "This means something to me. What does it mean to you? How do you interpret these predictions that we are on an unsustainable course?" And sit there and have a conversation that gets away from platitudes and talking points and hopefully leads that elected representative to begin to cope with and decide their personal commitment to ensuring the ability of our governments to serve for the long term.
Dave Walker, CPA
VSCPA: What was the genesis of the bus tour? What led you to take this route?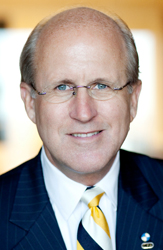 Dave Walker: The reason that we did the bus tour was that I've had a hypothesis. Namely, that the American people are a lot smarter than many politicians believe. They're very disgusted with the lack of action in Washington. They know we're in trouble. They can handle the truth, and they're willing to accept tough choices about spending and taxes if they're part of a comprehensive plan that they deem to be fair. We're proving that hypothesis to be true throughout the United States. 
VSCPA: How did you arrive at that conclusion?
DW: I arrived at the conclusion as a result of my efforts since 2005. We were here at the University of Richmond near the end of the 10 Million a Minute Tour, and the so-called Fiscal Wake-Up Tour started at the University of Richmond in 2005. Since then, the situation has gotten much, much worse. Through all of my experiences since 2005, I've come to that conclusion, and I wanted to try to be able to find out whether it was the case, and I wanted to do it at a time that mattered — namely, a general election campaign for President, and in places that mattered, primarily swing states.
It was kind of a happy accident that it got started in Richmond. The Concord Coalition was one of our primary partners for the Fiscal Wake-Up tour. They're also one of our primary partners for the 10 Million a Minute Tour. Concord has a pretty good base of supporters in Richmond, and the University of Richmond invited us to come here. We had a pretty good community event, along with business executives, and we also had an event with students here as well.
VSCPA: How did your time as a CPA affect your views on fiscal responsibility?
DW: As a Certified Public Accountant, obviously, I'm pretty good at numbers. I'm a believer in transparency and accountability. As the comptroller general of the United States, I was, in effect, the auditor general of the United States — the chief accountability officer. I found that the evidence was clear and compelling that our financial condition was much worse than politicians were willing to admit, that it was deteriorating rapidly, and that nothing was being done about it. My view was that I needed to do something about it as the auditor general. If I didn't do it, I didn't know who was going to do it. Obviously, the politicians aren't interested in doing it. The Federal Reserve chairman really doesn't view it as his job. He views his job as monetary policy. The administration, obviously, whoever it is, whether it's the Bush 43 [George W. Bush] administration or the Obama administration, they really didn't want to talk about it too much. That didn't leave anybody but me. I decided to pick up the mantle, and I'm glad I did.
VSCPA: What kind of a response did you get from the government?
DW: In Congress, at first, there was some resistance. "Why are you speaking out on this?" I said, "Because I'm the auditor general of the United States, the de facto chief accountability officer. If I don't do it, who's going to do it? If not now, when? If not me, who?" Now I get a lot of accolades. A lot of people say I was ahead of my time. I'd rather be ahead of my time than behind my time. As far as the people, at first, they didn't understand how bad the situation was, in part because the politicians didn't want to tell them how bad it was. But now, especially after the 2008 financial-services meltdown, after the problems in Europe, people know that we've got big problems and they know that something has to be done about it. They're ahead of the politicians. They're starved for truth, they're starved for leadership, they're starved for solutions, and they need more of all three.
VSCPA: What needs to occur to get the movement to reach critical mass?
DW: We need for both Presidential candidates to get specific about what they propose to do and what needs to be done. They need to have a specific goal. They need to talk about the principles and values that guide their decision making, what their priorities are, and to give some concrete examples of how they propose to reform the tax system and the health-care system so they have more credibility. Whoever wins needs to be able to use the power of the presidency, the bully pulpit, to go directly to the American people and make the case that we're on a burning platform, that we've got to make tough choices, and provide a way forward.
And then, the first three words of the Constitution have to come alive — "We the People" — to put pressure on Senators and members of the House to work constructively with the President, to defuse this ticking debt bomb, before we have a debt crisis here. We have more time, but we're not exempt from the laws of prudent finance. We don't have unlimited time.
VSCPA: Do you think that having more CPAs in public office would help to get a better sense of the financial situation?
DW: First, I think we have more CPAs involved in this fight. CPAs are knowledgeable, they're respected, they're credible. They have a unique opportunity and obligation to be involved in this fight. …
I think it also would be helpful to have more CPAs in public office. There aren't as many. Frankly, we need more people with real-world experience. We have too many career politicians, and that's part of our problem. That's one of the things that we're going to have to address through political reforms.
VSCPA: What is it in the CPA mindset that can help in solving our fiscal problems?
DW: First, CPAs are good at math, and the U.S. is not top 25 in the world at math. In Washington, frankly, they're not top 100. Secondly, CPAs think very logically. They're very results-oriented. In addition to that, they tend to be more pragmatic. They don't tend to be ideologues. They tend to be very professional in what they try to do.