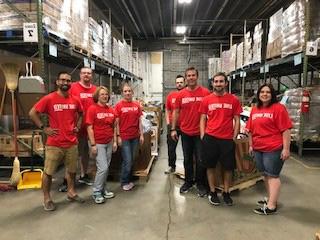 At right: In September 2019, employees of Rutherford & Johnson showed how #CPAsgiveback as part of the 2019 United Way Day of Caring in the Northern Shenandoah Valley. They volunteered at the Blue Ridge Area Food Back to sort food and household items that had been donated.
Last week was Virginia CPA Week, as proclaimed by Virginia Gov. Ralph Northam. The VSCPA and CPAs across the state acknowledged the value CPAs offer the Commonwealth as trusted business advisors. Through the #CPAsGiveBack social media campaign, CPAs and their employers across the state can showcase how they undertake service projects to enhance and support their communities.
Service to the community is ingrained in the core description of the CPA profession. It's right there in the name — "public accountant" calls to mind accountability to the public. CPAs put their names and reputations on the line to assure citizens that financial statements are correct, thereby protecting taxpayers, businesses and markets. 
To help communities, though, it's necessary to connect to them. That's where the more traditional form of community service comes in. For the past decade, the VSCPA has promoted that through its recently discontinued CPA Day of Service, held in September at the end of Virginia CPA Week. The Society ended the standalone Day of Service last year to focus on its year-round #CPAsGiveBack initiative. 
 "It's an ever-growing focus of ours because it becomes more and more important to give back to the community," said VSCPA member Bo Garner, CPA, nonprofit team leader and partner at PBMares in Newport News. "It's something that's great for building teams. We have a very large nonprofit practice, so we can truly partner with some of our clients.  
"We don't take it lightly. We don't just run through the gamut. We are focused on it." 
Garner's employer runs its own firm-wide event, PBMares Cares Day of Service, where the firm closes business, pays its employees normally and sends them out into the community to volunteer. Each year, in order to maximize impact, the firm chooses a specific issue to focus on with its volunteer efforts. The past two years, that's been food and hunger in the firm's footprint. 
PBMares is just one of many Virginia firms focused on making an impact in the community. Here's why those firms do what they do and how your own organization can be recognized for the community service it provides. 
Making an Impact 
A big part of creating a successful service initiative is making it clear to your employees that you mean what you're saying. Paying employees to go out and serve during business hours, as PBMares does, is essentially throwing away a day of productivity for your company. Making that kind of commitment is a clear sign that you mean business. 
Another firm with a similar policy is Deloitte, which held its 19th Impact Day on June 8 of last year. A firm as large as Deloitte can obviously make a major difference with that kind of a project — in 2018, 24,000 employees donated nearly 190,000 collective hours on Impact Day projects in 80 cities. 
Even with those massive resources, the key to the success of Impact Day is the local focus. Impact Day projects are planned in local offices, with junior professionals often tabbed to organize the efforts to gain leadership experience. The local planning means that individual offices can focus on the needs of their particular communities. 
"If it was driven top-down, maybe it would be 'These are the five organizations we're going to support,' and they would likely be national organizations," said VSCPA member John Sliman, CPA, a partner in Deloitte's Richmond office. "There's nothing wrong with that approach, but we also realize that needs within local communities may vary greatly and so we choose to empower those who live and work locally to identify the organizations that may benefit most from our assistance." 
The beauty of community service is that it doesn't take the resources of a Big Four firm to pull off a successful project. Firms all the way down to sole proprietors were a mainstay of CPA Day of Service throughout its existence, with the VSCPA going so far as to match individual CPAs up with larger projects to help them maximize their impact. (We'd be remiss if we didn't give our chapters some love here — most of them organize thoughtful, high-impact projects year after year.)  
The Benefits of Service 
Smaller firms can have just as much of an impact in the community. Fairfax firm Homes, Lowry, Horn & Johnson (HLHJ), like many firms, tended to try to find outdoor projects for CPA Day of Service to take advantage of the pleasant late-September weather. Its professionals cleaned up parks, painted fences for low-income families and volunteered at the Habitat for Humanity ReStore, which takes donations and sells furniture, appliances, building materials and more at affordable prices. 
Volunteer projects are good for morale for firms of any size, but the benefits are especially noticeable for local firms like HLHJ, where everyone knows everyone else. Service efforts shake up existing cliques within the organization and put everyone on equal footing. 
"It builds camaraderie and takes you out of that office professional working environment," said VSCPA member Ravann Sowa, CPA, a senior manager at the firm. "You're talking and finding out more about each other. It's a combination of team-building and doing something for the community. Doing something to give back, whether it be for a specific person or the planet, makes you feel good and accomplished." 
HLHJ started its community-service push in 2008 when its current president, Kathy Poorbaugh, CPA, joined the firm. That kind of buy-in from leadership is important in getting a service initiative off the ground and establishing it as a core tenet of a firm or organization. 
"Over time, a culture of service becomes ingrained in the organization," Sliman said. "That doesn't happen by accident — you need unwavering commitment from leadership to reinforcing the message and championing the benefits. 
"There's always been consistent messaging that starts far in advance of Impact Day, reminders of the real difference a day of service can make along with the benefits to both our firm and our communities. We take participation seriously." 
But as Sliman intimated, planning and participation has to come from all levels of the org chart. 
"We sought the input of people at all levels of staff, all the way to the top," Garner said. "If you only keep it at a partner-manager level, you're not going to have the same vision or ideas as when you solicit everyone's ideas. We try to get everybody's fingerprints on what we're trying to accomplish, whether it's the success of the firm or a community service project." 
Proper Partnerships 
Working with regional community service efforts can help provide more bang for smaller firms' buck, so to speak. When Poorbaugh joined HLHJ and began emphasizing community service, the firm initially partnered with VolunteerFest, a Northern Virginia-wide event held every October by Volunteer Fairfax in conjunction with National Make a Difference Day. Later, the firm changed the date of its event to coincide with CPA Day of Service. 
PBMares has also taken advantage of partnerships, working with VOLUNTEER Hampton Roads, a huge part of the philanthropy community in the Tidewater area, which honored the firm with a Good Corporate Neighbor award last year for its hunger relief projects. In 2016, PBMares raised more than $5,000 and collected more than 3,000 food donations good for more than 19,000 meals. In 2017, the firm donated 180 volunteer hours toward hunger relief efforts. 
Garner played a major role in that success through his work as the firm's nonprofit team lead and says the affirmation he gets from his job is a big reason he took on his role. 
"The whole reason I'm still in public accounting and run our firm's nonprofit team, is the intrinsic value that I get from working with nonprofits," he said. "At the end of the day, when I get home, I need to realize that I did something for somebody. I want to feel like I've helped an organization succeed or get through a difficult situation or achieve their goals. I need to feel like I've been part of it." 
CPAs are natural fits for organizing service projects because they're so often involved with nonprofits on a more traditional volunteer basis. The standard request from a local church or charity — "Can you be our treasurer?" — is so common as to be an accounting cliché. But a successful community service day takes your role beyond the traditional finance focus and gives you a chance to try some new things. 
That was a focus for former VSCPA Board of Directors Chair Jamie Walker, CPA, when he helped push for the launch of CPA Day of Service in 2009. Walker, now a tax partner with Cherry Bekaert in Richmond, said: "Often, certified public accountants are pigeonholed as the treasurer of an organization. But they have so much depth and breadth about them. They have so much more to offer. It is very important as individuals and citizens to give back and for the CPA community to step out of what they would normally do." 
Sowa said: "Every first Friday of the month, we do jeans day for charity where you can wear jeans and donate money to the selected charity for the month. I get comments that it's great to donate money, but it's better to be out there doing something. People prefer to be out there. Either way, everyone at HLHJ is excited to help in some way." 
Even if you haven't taken that step yet, chances are you're still involved with a charitable cause in need of some help. Maybe you did answer the call as a treasurer or member of an audit committee. Maybe you've volunteered yourself and want to bring your coworkers to help. Or maybe, like Garner, you have a practice's worth of nonprofit clients that could use the help. 
No matter how you find your community partners, a properly planned service event can boost employee morale, build camaraderie and improve your organization's reputation. 
"It helps keep us connected to the community," Sliman said. "Especially nowadays, our people want to make a larger impact, and they want to be associated with a firm that is making a larger impact and contributing to the greater good. To the extent we can help foster that environment everyone wins; it's great for the organizations receiving assistance, it's great for the firm, and it's rewarding for our people, who are making a real difference."