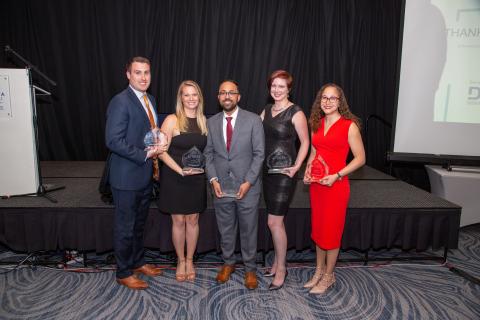 (L–R: JJ Edmunds, CPA, Beth Seger, CPA, Asif Charania, CPA,
Genevieve Hancock, CPA, LaKrisha Watson, CPA)
Asif Charania, CPA 
Senior Manager, Valuation and Forensic Services 
Keiter, Glen Allen 
Just over a decade out from the 2007–2008 financial crisis, it's clear that many millennials had their careers curtailed by its effects. Asif Charania is not one of them. 
Charania, 32, graduated from James Madison University (JMU) with a degree in finance in May 2008, at which point it was exceedingly clear that the job market was not a welcoming place for recent graduates. He knew he was going to have to work all the connections he had to jump-start his career, and those connections led him to one of the VSCPA's most decorated members: Harold Martin, CPA, valuation and forensic services partner at Keiter. 
"I was envisioning a corporate finance role" coming out of college, Charania said, "maybe going back and getting my MBA and pursuing a career in investment banking or private equity. Over time, I got to meet folks in that industry, and what I really came to learn is that it requires a certain skill set to do that, and I think my background is more analytical. I'm somewhat lucky that I sort of fell into the position that I'm currently in. It fits my natural skill set." 
Charania needed to become a CPA, so he took night classes at Virginia Commonwealth University to get his accounting certificate, then passed the CPA Exam in 2012. At Martin's advice, he got involved with the VSCPA, starting with the Young Professionals Advisory Council, which he chaired, and working his way up to the LEAD Task Force and a spot on the committee for his mentor's pet project, the Business Valuation, Fraud & Litigation Services (BVFLS) Conference committee. 
Just as Martin did, he's also volunteered for the American Institute of CPAs' (AICPA) national business valuation committee. It's all part of his desire to give back to the profession while continually honing his skills. 
"No single valuation engagement or forensic engagement has been the same," he said. "Everything has a unique set of facts and circumstances that you have to deal with and adapt to. You have to be a little bit nimble and be able to assess those facts and circumstances, do research on new industries, new valuation methodologies and put that together when you're coming up with your conclusion. It's an industry that's kept me on my toes for 10 years and reminds me every day not to rest on my laurels." 
Charania grew up in Hanover County and has spent his entire life in the Richmond area outside of his years at JMU. He's watched the growth of his hometown intently and makes it a point to try every new restaurant and brewery he can.  
That interest has helped him provide value to Keiter in one of the major non-technical areas of his job — business development. He's always got a good idea for somewhere to take a potential client. Another non-technical skill he's been focusing on relates to communications skills as part of his work as an expert witness. 
"It required a significant amount of training," he said. "You focus the initial part of your career on technical skills, and right now you're honing in on those soft skills to get your message across to a judge or a jury. It's not as intuitive as you think. It requires a whole other skill set." 
JJ Edmunds, CPA 
Audit & Assurance Supervisor 
PBMares, Richmond 
JJ Edmunds likes to joke that accounting is in his blood. His father works in accounting and he has two cousins who are CPAs. So it was a natural move for him to dip a toe into the profession and take accounting classes at Christopher Newport University (CNU)."I took a couple of classes because that's what everyone in my family did, but I ended up really liking it and enjoying it."  
Edmunds, 29, is a supervisor in the financial institutions niche at PBMares in Richmond, where he splits time among outsourced and co-sourced internal audit, cyber security and external financial statement auditing. While he had an easy time finding his way into the profession, he knows this is not the case for most students. 
That's why he works hard to help protect the CPA pipeline by teaching students about the profession and what CPAs do. He is a big part of the recruiting program at PBMares and has helped the VSCPA by participating in the CPAs in the Classroom program in addition to making annual visits to campus accounting clubs. 
"A lot of people have the misconception that CPAs are just number-crunchers who only do taxes," he said. "But my job, as an internal auditor, doesn't even really deal with numbers at all. I deal with internal controls and process improvements. The CPA profession, in general, is so wide-ranging — there's so much you can do." 
A Midlothian native, Edmunds fell in love with CNU on a campus visit and was fortunate to have VSCPA Board of Directors member Gabriele Lingenfelter, CPA, take him under her wing. Edmunds first introduction to the VSCPA was when Lingenfelter selected him for the 2011 Leaders' Institute at Virginia Tech. 
During his time at CNU, Edmunds interned at both a small local tax firm and a large regional public accounting firm. He was drawn to PBMares because of its small firm feel, with big firm resources. He enjoys the opportunity to travel to clients through the country, while still being able to make an impact in his local community. 
Edmunds currently volunteers on the leadership team for the ChamberRVA Helping Young Professionals Engage (HYPE) program, and is the incoming vice chair of the VSCPA's Young Professionals Advisory Council.In addition to leading an annual webinar for the Association for Credit Union Internal Auditors (ACUIA), he is also a regular speaker at several regional ACUIA conferences. 
Edmunds has worked to give back to the VSCPA since becoming a member, most recently helping the Society lobby for tax conformity legislation at CPA Assembly Week this year. That helped close the loop on one of his childhood experiences. 
"When I was 12, I was a page in the House of Delegates," he said. "It was cool to be able to go back to the General Assembly and remember what it was like to be that wide-eyed 12-year-old boy who had the whole world in front of him." 
Edmunds is excited about the future of the CPA profession, and cannot wait to see the impact that will have on his career. 
Genevieve Hancock, CPA 
Corporate Revenue Recognition Leader 
Brown and Brown Insurance, Daytona Beach, Fla. 
Genevieve Hancock knows what she wants and what she likes, and she's not afraid to make moves in succession to get it. That's why she's back in Florida as a newly minted CPA after a year in Virginia, working on a topic she knows front to back. 
Hancock, 32, has spent the past few months working at Brown and Brown, an insurance brokerage headquartered in Daytona Beach, Fla., helping lead and streamline the recent revenue recognition changes. She had spent the past year at Trader Interactive, a web and digital marketing firm in Norfolk where she had worked on similar prospective accounting standard projects. 
"I loved Trader, but when this job opportunity came along, I couldn't turn it down," she said. "Trader is a great company and I really enjoyed working with the team and the opportunities the position provided. I took on more responsibility outside of what I enjoy the most to make it a challenging position for myself. Getting back into the public compliance arena was a priority, and I was thrilled to be given the opportunity with Brown and Brown." 
Those kinds of major moves have been a theme for Hancock, who grew up in Williamsburg and New Orleans and started out at Tulane University in creative writing. She's written a couple of novels and self-published one, and she helps fulfill that part of her personality by working on the Disclosures Editorial Task Force and coordinating a bimonthly column targeted at, and written by, young professionals. Then the university began cutting programs and scholarships after Hurricane Katrina, and Hancock took the opportunity to take a long look at what she wanted her future to be. 
By that time, she was a single mother. Her son, Joshua, is now a 10-year-old technology whiz, and she says their house is "filled with robots." She had worked along the fringes of the accounting field before she had him, reconciling the books at International House Hotel in New Orleans. Once she became a mother, she needed something more stable and lucrative. 
"I had three part-time jobs as well as a full-time job to make a reasonable amount of money," she said. "I wasn't going to continue working these not-as-skilled trade jobs and try to raise my son by myself at the same time. I knew I had to finish my degree, and as I got back into school, I focused on accounting rather than general business management, where I had prior experience." 
She moved back to Williamsburg to raise Joshua in a more family-friendly city and started classes at Thomas Nelson Community College with an eye on her dream school, the College of William & Mary. She got in there, graduated with her degree in accounting with a concentration in process management and consulting and all the requirements to sit for the CPA Exam. She landed an internship, then a full-time position at PricewaterhouseCoopers, followed by a job at BDO USA, before moving to Florida for the first time to work in the financial reporting department at Disney. 
Through it all, while she was taking on major implementation projects, there wasn't time to become a CPA. She finally carved out enough time over the past few years and became officially licensed in January of this year. 
She stayed the course and advanced in her career out of a need to provied for her son, yes, but also because those projects motivated her. She's trained colleagues on new standards since her time at Disney and works hard to maintain her expertise on new standards and U.S. Generally Accepted Accounting Principles. 
"I'm passionate about the research aspect and digging into things people haven't ever seen before," she said. "I like to be challenged. Rather than working so many hours a day, I prefer to proactively plan. I love the mentoring aspect. I like teaching people the why, not the what, and I've tried to bring that into my accounting career." 
It hasn't always been an easy road for Hancock, but she's found an endless source of motivation in her son, Joshua. She wants him to know that he can do anything if he puts his mind to it.  
"I think it is important for my son to see me go after what I want so that he knows he has the ability to do the same," she said. "I believe there is no limit to our success except our willingness to work for it."  
Beth Seger, CPA 
Managing Consultant 
Berkeley Research Group, Washington, DC 
There's never a dull moment for Beth Seger, and that's what she loves about her career and her jobs — even when she feels the need to make a move. 
Seger, 30, recently started a new job as a managing consultant at Berkeley Research Group, a litigation and global consulting firm in Washington, DC. She loved her previous job at Veris Consulting, where she had spent the previous six years, but was looking for a change a little closer to her home in Washington.  
"I had a wonderful experience with Veris, but was looking for a little bigger firm atmosphere, which is certainly what I have here," she said. "With that comes a different level of exposure and resources that I was looking for in this middle tier of my career." 
The Centreville native is now more focused on technical accounting issues after having focused more on damages and insurance work at Veris. It's been a change, but she finds her new job just as intellectually stimulating. 
"I really like the logic puzzle component of accounting in general," she said, "but forensics and litigation consulting has the added legal component, which I thought was super interesting. I enjoy being able to think in that litigation mindset and the added challenge of approaching an accounting issue from a legal perspective. I enjoy being a part of the conversation about strategy and applying my technical background to a whole variety of industries." 
It's helpful that Seger's work involves the finances of some pretty interesting cases. The ever-changing day-to-day of her career helps keep her fulfilled. 
"I've worked on cases involving mega-yachts, and nuclear power plants and front-page Wall Street Journal financial institutions," she said. "I never thought I'd learn the ins and outs of some of the more obscure industries, but assessing the accounting components of them is really cool." 
Seger had worked at Veris for her entire career after earning her master's degree from JMU in 2012. She settled on accounting in part because of seeing firsthand the aftermath of the 2008 financial crisis on the job market, pushing her toward a specialty with strong job prospects. 
Seger said. "I saw firsthand how important it was to have a career and not just a job when there's so much uncertainty in the marketplace and people aren't hiring inexperienced folks like they used to. It's comforting to know there's always a need for accountants." 
It was at Veris where Seger picked up her penchant for community service work. She was the point of contact for the firm's school partnership program, working with elementary schools on extracurricular and beautification efforts. She's continued that focus at BRG, working with high school students on their resumes and conducting mock interviews. 
When she's not investigating financial records or helping students, Seger is an avid cook, a lover of live music and a diehard fan of the Washington Nationals, who play just a few blocks from her apartment. 
LaKrisha Watson, CPA 
Tax Manager 
Dixon Hughes Goodman, Richmond 
LaKrisha Watson knows what she likes and how to get it. In her life, that means Richmond, accounting and Dixon Hughes Goodman (DHG), in no particular order. 
Watson, 29, has spent her entire life in Richmond, focused her professional and educational energies entirely on accounting, and has been at DHG ever since. Even her niche of taxation has helped her indulge her creature-of-habit tendencies. 
"A lot of times, I come to the office on most days and I like having my normal day-to-day being kind of the same, where in audit, they're in a different place every week," she said. "I like being in the office with my team, but I also enjoy going to work with my clients in their workspaces, too." 
She's even focused on the same industry her entire career, based on what she was assigned her first day at DHG. She was told she was going to focus on nonprofit organizations — specifically, that she was going to be "the [Form] 990 expert" — and she's delivered on that promise. 
Part of her focus on nonprofits has been proving herself professionally, but she also relishes the challenge of helping nonprofits state their business on the 990. 
"A big part of the 990 is to tell the organization's story, because the 990 is a public document," she said. "Anyone can look online and see the 990. It's important for an organization to be able to tell their story, what their mission is, what they've accomplished. I try to help organizations do that." 
Watson grew up in Richmond and matriculated at the University of Richmond after graduating from Hermitage High School. She made the unusual move of switching sides in the Richmond rivalry and attending Virginia Commonwealth University (VCU) for graduate school, but otherwise, she's found her niche and stuck to it. 
With such deep Richmond roots, Watson has made it a priority to get out and involved in the community. She's a regular at the South of the James farmer's market and at the Diamond for baseball games. And she loves to put her financial expertise to good use for the students whose shoes she was in not that long ago. 
"I work a lot with Junior Achievement of Central Virginia," she said. "I'm on their young professional board. I volunteer a lot at their Finance Park. I just feel that goes kind of hand-in-hand with what I do with finance.  
"Just seeing the kids try to learn these concepts at such a young age and knowing how much it will help them when they do become an adult and have bills, and seeing them have those 'A-ha' moments when their parents ask them to do stuff and they kind of understand why." 
She's also found that sense of community at DHG, where she's spent the last six years since graduating from VCU. Her colleagues are a big part of why she hopes to build a career at the firm. 
"I feel like most public accounting firms pretty much do the same thing. All of us have busy seasons and all of us work really, really hard," she said. "At the end of the day, it's about the people you work with, who you're spending all of your time with. They have become like family to me. Just having that integration has been really important for me."