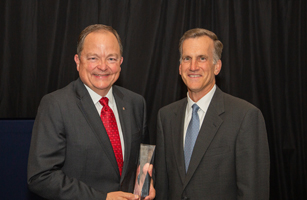 The VSCPA passed a quiet milestone the morning of Feb. 7 when Jim Cole, CPA, wrapped up his portion of the first run-through of the VSCPA's Virginia-specific Ethics course. Once he closed out his section ("Services to the Public Beyond Vocation"; the last item was about preparing financial statements as a volunteer), it marked the end of an involvement in the course that dated back to its inception in 2003. 
Cole had written portions of the course for the past five years and taught it from the beginning, but even that doesn't truly reflect his contributions to the VSCPA's educational efforts. He taught his first course for the Society in 1996 and has taught more than 375 courses, seeing nearly 40,000 students, since then. It's incredibly appropriate, then, that he's receiving the VSCPA's first Impact Award, because it's hard to imagine a way to have a greater impact on the profession. 
By the way, those numbers just reflect the VSCPA courses that Cole has taught. Factor in his work for various firms and other organizations that have had him teach CPE to their employees and the numbers skyrocket. 
"I actually kept track for a while of all the different courses, presentations, speeches and talks and all of that that I did," Cole said. "When it reached 1,200, I gave up counting. Really, when you say it's over 1,000, that's pretty good for a career. And that was several years ago." 
That's all been a labor of love for Cole, whose day job as the CEO of the Masonic Home of Virginia in Henrico County keeps him plenty busy. He's been there since 2002, and before that, he'd spent nearly the same amount of time (just under 18 years) working for the Virginia Tech Foundation. He started his career at Brown Edwards, then Ernst & Whinney after graduating from Virginia Tech in 1980. 
That's not his only degree, though. He received his master's in education in 1993 even with the CPE work continuing to serve as a sideline in his career. That's the dedication he's brought to making sure the professionals who learn from him get the best possible instruction. 
"The time I enjoy most about all of these classes and presentations and things is from about five minutes before it starts until I drive away from the place," he said. "The few minutes right before, people who have watched me a while see that I literally start to bounce on my feet a little bit.  
"And I've noticed that in other people. Some of the presenters that I've been around, but also performers that I have observed in those last few minutes, they have to kind of psych themselves up, so to speak." 
Cole's teaching career dates back to his first at Ernst & Whinney (now Ernst & Young), when a manager volunteered him to give a talk on cash management controls at a chapter meeting of what was then the National Association of Accountants (now the Institute of Management Accountants). The group asked him back to give a presentation on bankruptcy, and his teaching career was off and running. 
"I guess they called me back because there was still nobody to do these things," he said. "And then somebody there suggested that I do one somewhere else, and then it sort of started picking up steam." 
Those presentations led to Cole's involvement with the VSCPA through the CPE Steering Committee and speaking gigs at the Society's Nonprofit Conference. He eventually chaired that committee and also led the Business & Industry Conference Committee until a few years ago. That's just a sampling of his VSCPA volunteer roles, which also include a stint on the Board of Directors from 2005–2007. 
None of that has been as much work as his role on the Ethics course, which stemmed from a friendship he started at Ernst & Whinney with fellow VSCPA member Jim Brackens, CPA. Brackens, now employed by the American Institute of CPAs (AICPA), wrote the VSCPA's first Ethics course and brought Cole in to teach. It wasn't the smoothest start. 
"It was the driest course that I ever had to teach in my life," Cole said. "The first time I taught it was over here at this Marriott, and the course at the time (the slides were black writing on a white background) was like 'Interpretation 101. Interpretation 101-3.' And it was that, and that was it — very little interaction.  
"People were like, 'Oh, it's awful.' They were just dying in the class and I was dying teaching it. That was the hardest material that year of anything I've ever tried to teach in my life. I enjoyed doing the classes, but it was awful material. And I don't mean that to be negative toward Jim or anybody. It's just the way it was. That was the first one out of the box." 
He stayed on to help shift the course toward the more engaging material it encompasses now, helping guide the Virginia Board of Accountancy (VBOA) in that direction through providing and interpreting feedback on its initial iterations. 
Cole also helped spearhead the VSCPA's education efforts for nonprofits and has led numerous nonprofit seminars for the Society. That's an extension of a niche that he's filled since his earliest days in public accounting, but it scratches an itch that developed well before that. 
He's dialed that back over the past few years, along with the consulting business he ran on the side, in an effort to spend more time with his growing family. He has five grandchildren, the youngest of which was born on the eve of that final Ethics class at the CPA Center. 
He cites his most memorable teaching experience as an Ethics class at the Virginia Accounting & Auditing Conference at the Hotel Roanoke that included a video featuring VSCPA President & CEO Stephanie Peters, CAE. That particular course didn't quite go as planned — the sound went out on the video in question, but Cole decided to press on. 
"We're going through it and we get up to her video," Cole said. "And I said, 'Now, what Stephanie is going to tell you is A, B and C, and she's also going to say…' and I forget what it was I said, but as soon as I said it, the sound came on and that is exactly what she was saying. And I got this huge ovation from everybody in the room because I literally had nailed it to almost within the second. Someone told me afterwards, 'Obviously you've taught this course too long if you're doing that.'" 
You'll never hear anyone at the VSCPA say that. But we're happy that Cole is moving to the next stage of his life and grateful for the impact he's had on the profession.