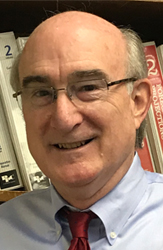 To hear Harry Dickinson, CPA, tell it, his life and career turned on a couple of recommendations and a chance encounter. Those inflection points proved to be a boon for a generation of accounting students and the profession as a whole in Virginia, and they're what put him on the path that led to his selection as the VSCPA's Outstanding Member of the Year.
Dickinson, 66, is a retired partner at Bishop, Farmer & Co. (formerly known as Bowling, Franklin & Co.) in Fredericksburg, where he had worked since 1994 after a lengthy career as an accounting professor at his alma mater, the University of Virginia (U.Va.) and Virginia Commonwealth University (VCU). But he would have gone into public accounting right out of school if he hadn't run into a mentor at the right moment.
"I was on my way to call a CPA firm and accept a job after graduation," Dickinson said, "and a professor stopped me and said, 'Before you make that phone call, come talk to me.' He talked me into staying at U.Va. an extra year and teaching at the [McIntire School of Commerce]."
Dickinson started out as an economics major and needed a class to fill out his schedule. He chose accounting on the advice that "everybody should take an accounting class," and it took less than a month for him to switch his major and career path.
"About three weeks in, I changed majors," he said. "I had found where I wanted to be in life."
That advice — from another Outstanding Member of the Year honoree, 2012 winner Whit Broome, CPA — set Dickinson on the path to a career in academia. He got his doctorate at the University of Georgia, then spent the better part of two decades teaching at U.Va. and VCU.
Spending his entire career at large Virginia public schools meant he had ample opportunities to set students on their own accounting path. He estimates that he taught 5,000 students, which means he has a difficult time even traveling abroad without seeing a familiar face.
"Our kids used to get so frustrated. We couldn't go anywhere without people coming up and saying 'Mr. Dickinson,'" he said. "We had two different people come up to us at the airport in London."
But that influence, while massive, is just a small data point when it comes to the impact Dickinson made on the profession. He's served on the boards of directors for the VSCPA (1991–1994) and the VSCPA Political Action Committee (1994–2001). We barely have the space to list the committees and task forces he's helped — the Professional Ethics, Strategic Planning, Membership and Insurance committees, the Accounting & Auditing Advisory, Disclosures Editorial and Young Professionals task forces.
Dickinson's work with the profession at the regulatory level is even more important. He was appointed to the Virginia Board of Accountancy in 2002, working with Broome again there and helping spearhead the rewrite of the Commonwealth's accounting regulations and the institution of the Ethics CPE requirement.
"That was the time when Enron and HealthSouth and a few audit failures led to some not-so-good publicity for the profession," he said. "It was a really interesting time to be involved in the Board of Accountancy.
"It was time-consuming, but somebody's got to do it. I commend everyone who does."
Time was something that was already in short supply for Dickinson. By that point, he had moved into public accounting at what's now Bishop Farmer, a 20-person firm with offices in Fredericksburg and Stafford, with all the busy-season pressures that entailed. He has served as founding board member, president and treasurer for his local community foundation and on the governing board of his church, Trinity Episcopal in Fredericksburg. He's volunteered for the local Boy Scout committee and served on the advisory board for the Commonwealth Governor's School in Fredericksburg.
Dickinson's willingness to help has become something of a running joke among his friends and colleagues.
"I'm a professional volunteer," he said. "Mike Gracik at Keiter and I took all of our accounting classes together, roomed together for the Exam. I run into him and he puts his finger on my forehead, and he says 'Yep, still flashing. Nice guy, can't say no.'"
A man who's given so much of himself and his time to his profession does well to find efficiencies, and Dickinson is no exception. His wife, Doris, is a CPA, a manager at Bishop Farmer and a VSCPA member whom he met at a meeting of the Society's Blue Ridge Chapter. (Speaking of chapters, it says something about Dickinson's helpful nature that we still haven't rattled off all of his professional involvement — he's an Ethics instructor for the Battlefield Chapter, as well as Bishop Farmer and other CPA firms.)
His daughter, Elizabeth Witt, is also in the profession as a non-CPA accountant for U.Va. His only immediate family member working outside the profession is his son, William, who is currently enrolled at Yale Divinity School.
"He's definitely in the right place. He's found his calling," Dickinson said. "Getting into Yale graduate school's not exactly easy. His call is very, very strong. He's going to make a great priest one day."
Even that call can be traced partly to Dickinson, who raised his family in the church and allowed his children to find their own paths, just as he did at their age. His influence on the profession is as undeniable as the success of the students he's taught.
"I used to say to folks all the time that I would get to the end of an academic year and if I felt like I had a positive influence on a few people's lives, it was a really, really good year," he said. "It's nice to see former students who became partners in firms or chief financial officers or worked in government. The education process is really, really important."