Gary Thomson, CPA, is a man who, as the saying goes, loves it when a plan comes together, both in everyday business decisions and in investing in the careers of others. That dedication to the long view has shaped his entire career, from opening his own practice to his current role in as a regional leader at Dixon Hughes Goodman. In public accounting and in life beyond work, he strives to make a positive difference for people around him. Thomson has also been a tireless advocate for the CPA community in state and federal policy outreach efforts.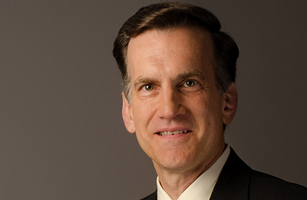 Many organizations and clients have approached Thomson for guidance through policy and legislative changes to determine how those changes will affect businesses and the accounting profession. Thomson's dedication to advocacy and leadership for the CPA profession are a major reason why the VSCPA is honoring him as its 2017 Outstanding Member of the Year.
"From both Richmond and Washington, we all benefit from being CPA professionals," he said. "Sure, we laugh sometimes about the 'other' side of this profession, being boring and all those things, but people view us as being knowledgeable, informed and impartial. The public accounting brand is powerful and precedes us. It brings a level of credibility that's very strong."
Thomson, 53, has followed the political process closely since his days growing up in Virginia Beach, when he would help a school principal pass out literature for campaigns or causes. He attended Bob Jones University in South Carolina, graduating in 1985, then moved to Atlanta, where he worked at Arthur Andersen as an auditor of publicly traded technology companies.
He spent three years at Andersen before moving back to Virginia to work in a family business and to eventually start his own practice in Colonial Heights. In 1992, he took his practice to Petersburg firm Erny & Mason, starting the chain of events that would eventually land him at Dixon Hughes Goodman (DHG).
Erny & Mason merged with Goodman & Co. in 1995, and Goodman merged to become Dixon Hughes Goodman in 2011. By that point, Thomson had been regional managing partner for five years, overseeing the Richmond area, and since then, his firm leadership has broadened to include the entire Mid-Atlantic region.
"In some ways, I've essentially worked for the same person since I started my own CPA practice 27 years ago," Thomson said. "When you're on your own and you're making payroll on your own, you feel a different level of pressure around practice management than if you've always been in a larger firm. Billing and payroll were real for me. If you needed to call a client, go down the road and pick up a check, you would do that."
It was striking out on his own that led Thomson to the Chamber of Commerce, where he's been involved for a quarter of a century, serving as chair of the Colonial Heights Chamber of Commerce on two occasions and as chairman of the Virginia Chamber of Commerce in 2014. He was also involved with the Colonial Heights Kiwanis Club, which served as a community outreach organization, a business development tool and the source of strong friendships that helped mold him into the professional he would become.
"In our profession, people don't like changing CPAs," he said. "Even though people may know you and like you, they want to make sure you're not a fly-by-night guy, that you're going to be around to help them through strategic decisions. I thought when I started my own CPA practice, people would come flocking to me. But they want to see you in action, being consistent.
"That was a great lesson for me. There was a point when the floodgates opened, that people realized I was going to be around. It made me a more patient person. I've also learned a great deal about being a sponsor to younger people in our profession, guiding them through their careers. Helping both men and women work through career and life decisions has truly made a positive impact on my own life and, I also hope, in the lives of others."
Part of the reason Thomson became involved with local party and then state party politics was to make a difference in his community and the Commonwealth of Virginia.  The connections he's made over the years are ones that he calls on often when advocating on behalf of the public accounting profession.  Through his advocacy work with the VSCPA and the VSCPA Political Action Committee — he's served on the boards of both, and recently finished a term as a vice chair of the VSCPA Board of Directors.  
In organizations like the Chamber of Commerce, he's advocated pro-business initiatives such as Blueprint Virginia, the Chamber's long-term statewide economic development and business growth plan. He's developed close friendships with numerous Virginia legislators, notably Del. Kirk Cox (R-Colonial Heights) and former Delegate Sam Nixon (R-Chesterfield).
"It's an honor to know the dedicated public servants that tirelessly work to make Virginia a better place to live and to have a business," he said.
Family has been a major motivation for Thomson's decisions throughout his career. He and his wife, Janice, have been together since both were teenagers, having met in a church youth group. Now they've been married for 32 years and have one adult daughter, Morgan, and a son-in-law, Ryne.
Faith drives Thomson's actions and defines his mission in life and work.
"Faith and involvement around my faith are tremendously important," he said. "…I credit our belief and our confidence in our faith as a major reason why I've been able to do what I've done. That's a huge part of who I am."
Thomson's other interests include being an avid golfer and a diehard sports fan, focusing on Duke basketball and, especially, the Pittsburgh Steelers. He has Steelers season tickets and has been known to wear a Troy Polamalu wig and a pair of black and gold pants believed, but not confirmed, to be of the infamous Zubaz variety.
"I closely guard those pictures," he said. "They only come out in Pittsburgh, but otherwise, they're closely guarded."