As a leader in the recruitment process for his firm, Tom Crutchfield, CPA, is well suited to assess the crop of accountants coming out of college. He hopes to bring that perspective to his tenure as the chair of the VSCPA Educational Foundation.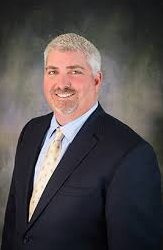 Like his predecessor, Randy Shapiro, CPA, Crutchfield is a partner at a Northern Virginia firm — Burdette, Smith & Bish in Fairfax. In addition to the usual business development responsibilities, he focuses on audit and financial reporting for for-profit industries, primarily construction, technology and government contracting. He also focuses on recruitment and retention, and those efforts have him feeling good about the future leaders of the profession.
"I think they're really engaged. I'm very impressed with their drive and initiative as they come out," Crutchfield said. "If you go back 10 or 15 years ago, longer, when I came out, you were sort of pigeonholed into a certain job and there was a certain progression and that was how you made it in the profession. Nowadays, a lot of them are more engaged. They want more responsibility. They want to learn faster. They want to move up."
You can draw parallels from that to Crutchfield's own career, which saw the Hopewell native take a chance and move to Northern Virginia after graduating from Radford University during the recession in 1992. He moved north to find a better job market and eventually landed a gig with the Society of the Plastics Industry, a trade association, before skipping back and forth for several years between government contracting and public accounting as a federal auditor at KPMG.
In 2001, after working in internal audit for a government contractor, Crutchfield struck out on his own. Two years later, he merged with two other sole practitioners, who would eventually be acquired by Burdette, Smith & Bish.
Even though he entered the firm as a partner, Crutchfield still keeps a toe in client services.
"I think when you work in a smaller firm, you retain a little bit of that ground-level work, so to speak," he said. "While bringing in business is one of our key focuses, the overall servicing of our clients, adding value to what we need, is still a daily task."
Crutchfield got his start with the VSCPA through connections with the Loudoun County Chamber of Commerce, where he had gotten involved after moving to Northern Virginia. He started out with the Northern Chapter, where he met former Foundation chair Brad Nicklin, CPA, who got him involved with the Foundation board.
As chair, he hopes to continue the Foundation's fundraising successes of the past few years while expanding firm donations.
"Our goals really are to continue what we've been doing over the last couple of years, which is really driving the individual giving into our funds," Crutchfield said. "I plan to keep that focus going, as well as driving a bigger focus on firm giving. I think we've really focused on the individual goals, and now it's kind of time to go to the firms and see if we can get commitments for long-term giving in a fund they're going to benefit from eventually."
The reason for that should be self-evident: Firms need a steady supply of accounting graduates to fill future staffing needs. Foundation donations help provide scholarships for top accounting students in Virginia, up to and including the doctoral level.
"The number one issue among a lot of accounting firms now is hiring and retaining," Crutchfield said. "In order for us to do that, we have to foster a better environment to get more high school kids and college kids involved in the accounting profession. And it goes one step farther in that we need to support the doctorate-level folks so that we can keep the academic area fostered with great professors."