At first glance, Staci Henshaw, CPA, might seem like an unusual choice for VSCPA Board of Directors chair. After all, she works for the state government, away from the rank and file of the traditional public accountant — even in a tower (albeit not an ivory one).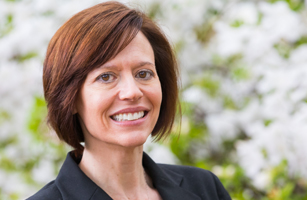 That's just part of the picture, though. The other part is that Henshaw's agency, the Virginia Auditor of Public Accounts (APA), is every bit as invested in a strong CPA profession as any firm you could find. The APA is the external auditor for all Virginia agencies, colleges, universities and city and county courts and performs a vital oversight role for expenditure of all taxpayer dollars.
"We work with a lot of local CPA firms because our office has oversight over all the audits that go on at the local level," Henshaw said. "Being able to have the Society there as another way for me to communicate and network with other firms is very important."
Henshaw, 46, is second in command at the APA, where she has worked for most of her professional career. After graduating from the University of Virginia (U.Va.), she went to work for Coopers & Lybrand for a short period. As luck would have it, she worked for some government and not-for-profit clients during her time at Coopers before a random encounter changed the course of her career.
"I had a chance encounter with a friend at a wedding who worked here," she said. "I gave her my resume, she brought it in and that was pretty much it. I wound up at APA and stayed here ever since."
She started out as a staff auditor at the APA, working in the field and analyzing Virginia agencies and programs. As she's risen through the ranks tod, she's taken on more administrative responsibilities including budgeting and billing for audits and is responsible for "cold" reading every report that goes out the door.
Henshaw took on her current position in 2013, when current Auditor of Public Accounts Martha Mavredes, CPA, moved up from that role to replace the retiring Walt Kucharski, CPA. Her administrative responsibilities puts a significant dent in her field work, but she chooses to stay on a couple of her own audits to keep her skills sharp.
"I like to keep a few audits to make sure I stay up to speed on what's going on in the profession and the standards that are out there today," she said. "It's really neat to be able to see it from the upper level and still dive in and be able to delve into the audit work as well."
As chair of the Board, Henshaw is tasked with initial implementation of the Society's new VSCPA2025 strategic plan. As one of three task force chairs charged with synthesizing the input of hundreds of members into a cohesive plan, Henshaw is excited about the future of the Society, but knows the work on the plan is just beginning.
"It's very important that we've developed our plans, we have our goals, but now is a key time," she said. "It's very important that we continue to flesh it out and decide how we're going to move forward. Anytime you're doing strategic planning, it's great when you have a great plan, but to see it forward is sometimes the tough part of it."
Henshaw is enthused about the entire plan, but one particular strategic tenet is especially close to her heart — the importance of creating a culture of learning, which she views as vital to her sometimes cash-strapped government colleagues.
"The culture of learning is very important in terms of CPAs in government," she said. "We all have the same needs in terms of having the knowledge we need to get our jobs done, and not just to do our jobs, but be innovative in our jobs.
"Resources can be something that we're scarce on, and we need to do more with less, so having that sort of learning program for members who are in government can really help them in achieving their goals and making sure they're doing things as efficiently and effectively as possible."
Henshaw grew up in rural Dinwiddie County outside Petersburg, returned to the area after graduating from U.Va. and has lived there ever since. The lengthy commute to Richmond, she says, is well worth the benefits of being near family and being in the country.
She lives on 10 acres in Dinwiddie with her husband, Allen, on the edge of her in-laws' farm in what she describes as "a line of Henshaws." Her non-work time is often spent gardening, riding all-terrain vehicles on the family land and taking care of a menagerie of animals.
"Anyone who knows me knows there isn't a stray that I'll turn away," she said. "I spend a lot of time taking care of a variety of animals. I love to be outdoors, whether it's a vegetable garden or working in flowers, I don't mind digging around in the dirt and getting my hands dirty."