Two years out from his term as chair of the VSCPA Board of Directors, Jim Shepherd, CPA, hasn't shifted focus from his goal of setting the highest standards possible for the way CPAs interact with and help their clients. He's just more focused on the micro than the macro.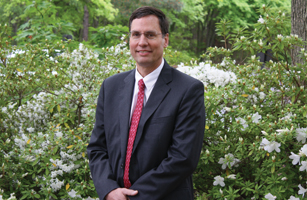 That commitment to quality, professionalism and kindness — along with a perpetual willingness to help out anyone who asks — is the reason Shepherd is the 2016 VSCPA Outstanding Member of the Year. It's not just that he's barely stepped back from his VSCPA volunteer work since ending his term as chair, presenting at conferences and co-authoring the Virginia-specific Ethics course for the first time. It's the way he's run his own firm, Verus Financial Partners, and empowered his employees to reach their potential.
"One of the definitions of a leader is somebody who can see into the future and not focus so much on what's happening today, but set a culture and an environment that's conducive for people to have a great future," Shepherd said. "A very humbling thing for leaders sometimes is to make sure that you're not so in control that it doesn't allow people who truly can do the very best things they can do to be able to do that. It's very important to give young people opportunities to do wonderful things. What you find is that they do things you couldn't have even envisioned yourself."
We've profiled Shepherd in these pages before (July/August 2013, if you want to go through your archives) and he's had some changes in his life. His granddaughter, Hazel, has a new little brother, Harvey. His daughter, Stephanie, is leaving Verus, where she runs the technology department, to move to Colorado.
And that's fine with Shepherd. Not just because he spends much of his summer each year in his Rocky Mountain vacation home, but because he believes the new freedom can lead to better things for her.
"One thing I've always encouraged them to do is whatever they thought was the right thing to do for themselves," he said. "Whatever that is, the greatest thing a parent can do is to not only raise your children to be wonderful kids and independent, but allow them the opportunity to do what's truly important for them in life. I support both of them 100 percent in whatever they do."
That attitude extends to his business philosophy. While much ink has been spilled about the disruptive impact of millennials in the workplace, Shepherd embraces the fresh attitude and aptitude for technology his younger employees bring.
"We probably say the same things that people said about our generation while we were coming up," he said. "Although people may approach things differently, the issues are not that unlike when we were growing up. They bring profound, wonderful changes to our profession. From our standpoint, one of the best things we can do is make sure we embrace those innovations and really continue to foster an environment that allows them to do what they're best at and make that huge difference in our profession."
That was a goal of Shepherd's during his term as VSCPA chair, but he's turned inward since his term ended and focused on the goings-on at Verus. He eschewed commission when he started out in the financial planning field, setting up Verus and its predecessor firm, Kuehl, Shepherd, Kozlowski & Associates, on a fee-only basis.
It's all part of his holistic approach to doing right by his firm's clients.
"We're truly trying to make our profession the best we can be, and we're trying to make a difference in our clients' lives," he said. "So we're not necessarily trying to maximize the dollars we make as much as doing the right things. If you allow that culture to foster and grow, it does enable great success to happen."
"Our profession is truly a wonderful profession," he added. "If you understand the finance, it's amazing what you can do to help people. As CPAs, if we can really be out there genuinely making that difference by truly doing our job, providing the integrity and ethics that go along with our job, it helps our clients and it helps the country. It helps us all to realize that there is a good way to do business."