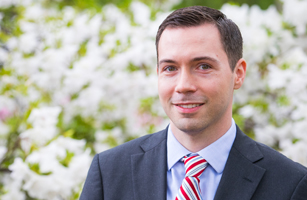 The youth movement atop the VSCPA Board of Directors continues unabated as Richard Groover, CPA, takes over the big chair from predecessor Staci Henshaw, CPA. Henshaw, who was 46 when she took over, was one of the younger chairs in recent memory, but she's turning over control of the Board to a full-fledged millennial.
Groover, 33, is long on accomplishments and credentials despite his relative youth. He's a shareholder at Wall, Einhorn & Chernitzer (WEC) in Norfolk and an adjunct professor of accounting at Old Dominion University's (ODU) Strome College of Business. And he describes himself as an "old soul" who's been right at home with his more experienced colleagues in board meetings, including those where the VSCPA2025 strategic framework was discussed and hammered out.
"I feel like I'm in touch with the older membership, but I'm also part of the new generation that's coming up," he said. "I feel like I have a good finger on the pulse — what they're looking for, what directions we need to move to appeal to them, to be sure we continue to grow as a profession."
Groover is something of an anomaly among his generation through his relative longevity at WEC. It's the only place he's worked since graduating from ODU in 2009, although he very nearly moved across Virginia to continue his education instead of entering the work force.
After being accepted to a master's program at Virginia Tech, Groover went to an ODU job fair on a whim and wound up speaking with WEC managing shareholder Marty Einhorn, CPA. Researching the firm further, he was struck by the friendliness of the WEC employees he met, and he accepted a position there instead of sticking with his plans to further his education.
Even then, he still didn't think he would be at the firm as long as he has.
"I came in with a little bit of that millennial mindset that I'm going to do this, be the best that I can be for my time here, then after six or seven years, move on and find something different," he said. "Then six or seven years came and I looked around and thought, 'I really love the people I work with. I really love my clients. I'm having a great time and I'm successful at it.' So every year stretched further and further, and now I do think it's looking like I'm going to be here for the end of my career."
One thing Groover loves about working at WEC is the empowerment to affect change, both in the firm and the profession. That willingness to question the status quo made him a great fit for the VSCPA2025 process, which took place over the past two years and resulted in the development of the Society's new mission, vision and bold strategies.
One of his favorite parts of the VSCPA2025 process was working with a diverse group of his professional colleagues. The 2025 group ranged in age from 26 to 60 and included CPAs from public accounting, corporate finance, government and education, and while the recommendations that came from the process were huge for the VSCPA, the connections between the group members were even more important for Groover.
"Being a part of the strategic planning process helped me build a lot of connections to people at the Society, from the employee perspective and also members at large and members of the board," he said. "That was a big reason why I accepted the appointment of chair. What a great opportunity for me to continue to work with these people who are so dedicated and so passionate about making the profession and the VSCPA the best it can be. As long as I can continue to spend time with them, I'm going to stay in a role that lets me do that."
Groover started out at ODU as an English major before deciding that graduate school and teaching weren't the future he wanted. He switched to the business school and got hooked on accounting when he took his first class.
Despite his previous aversion to teaching, he accepted his professorial role when asked and has spent the last several years teaching accounting at ODU. He thinks his professional experience helps him in terms of both expertise and outlook.
"It's different when you're coming in as a professional with lots of outside knowledge and real-world experience versus coming into a teaching role and that being all you do," he said. "There are lots of great professors who have dedicated their lives, gotten doctorates and are a heck of a lot smarter about a lot of things that I am. I have nothing but respect for people who do that. But where I was when I looked at that and where I am now are different places. I don't think I would teach full-time. I think I enjoy coming part-time and injecting my daily experience into the classroom and then going back to work."
Groover took a semester off from teaching this spring to indulge his passion for travel, meeting friends for a trip to Italy and the Greek Isles. He cites a trip last year to Machu Picchu in Peru as his single favorite trip — one that knocked an item off his bucket list.
He returned from that trip refreshed and ready to attack the VSCPA's issues as chair. Fittingly, he's particularly interested in the "Influence students to become CPAs" strategy from the VSCPA2025 plan, focusing on helping colleges and universities teach students the skills necessary for the profession of the future while helping CPAs maintain their reputation with the public as trusted, knowledgeable business experts.
"The phrase is rife throughout the history — trusted advisor. That's what we target," he said. "I don't think any client we work with would say that all they rely on me for is an audit opinion and that's all they want to talk about. When I think about all the conversations I have with clients, it's almost never about the audit. It's about a deeper issue or I'm calling them to say, 'This doesn't make sense. We need to look at this.' Are there money-saving opportunities or efficiencies to be gained?
"We work really hard on the audit, but it's a compliance function and a service. It's all the things around it and all the connections you've built that are the trusted advisor component."