September is Service Month at the VSCPA, and we're spotlighting members who serve the VSCPA, the profession and the community. Today, that's Tommy Blackburn, CPA, senior financial planner at Verus Financial Partners in Richmond and a VSCPA media ambassador.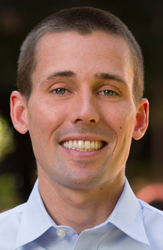 VSCPA: What led you to volunteer with the VSCPA? How did you first get involved?
TB: I began volunteering with the VSCPA due to a combination of wanting to be involved in the profession and being encouraged to do so by a mentor. It was important to me from the beginning of becoming a CPA to be involved in the profession, represent it well and give back to it. In addition, one of my mentors, Jim Shepherd, was involved with the VSCPA and encouraged being involved and giving back. 
VSCPA: What were you looking to gain from volunteering? How has your experience helped you professionally?
TB: I was motivated to volunteer out of a desire to learn and network, and a sense of duty to the profession to be involved and give back to a profession that had done so much for me and continues to do so. My experience has allowed me to grow personally and professionally, introduced me to other great professionals, has helped keep me informed, and given me some great exposure. It's also allowed me to step outside of my comfort zone through activities such as the VSCPA Call 12 Tax Hotline, and public speaking and writing.
VSCPA: Do you volunteer anywhere else? If so, where and in what role?
TB: Yes, I volunteer with the Central Virginia Financial Planning Association, where I'm currently the director of programs, responsible for planning speakers and conducting our chapter meetings; Tara's Children Trust, where I volunteer my time to take underprivileged children identified by the YMCA back to school shopping and we also provide Christmas gifts for a number of families each year; and the Virginia Tech Financial Planning Department, where I routinely travel back to the university and volunteer my time with the students and program.
VSCPA: What would you say to someone who was on the fence about volunteering with the VSCPA?
TB: I think you will find it worthwhile and rewarding, so I would recommend trying it out.  There is probably some area within the VSCPA that you can volunteer and will enjoy, and being a volunteer activity, it is up to you as to how much time and effort to commit.