VSCPA members Michel Bilè, CPA, and Glenn Nunziata were among the winners Wednesday night as Virginia Business magazine hosted the 13th annual Virginia CFO Awards at the Jefferson Hotel in downtown Richmond.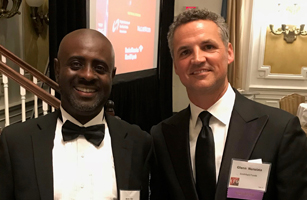 The VSCPA is a founding sponsor of the awards, which honor Virginia's top CFOs and those holding equivalent positions in several categories. Nine VSCPA members were among the 47 nominees, and five of those members were selected as finalists.
Bilè (left), the CFO at Hampton Roads Community Health Center (HRCHC) in Portsmouth, was honored in the Large Nonprofit Organization category. The Ivory Coast native first joined the HRCHC as a consultant when the organization did not have a controller weeks before the end of its fiscal year, then was hired as the full-time CFO after quickly producing the required documents. Under his leadership, the HRCHC went from a deficit of nearly $500,000 to running surpluses in each of the past three years.
Award presenter Gary Thomson, CPA, regional managing partner at Dixon Hughes Goodman and the chair-elect of the VSCPA Board of Directors, pointed out that some of Bilè's coworkers refer to him as "Superman" for his willingness to take responsibility for a wide range of operations. Despite those successes, his first instinct when learning he had been nominated for the award was to mark the email as spam.
"I didn't think it was real," Bilè said. "Something pops into my inbox as a nominee for Virginia Business magazine, and I typically get 2–300 emails a day. Sifting through those emails, I thought, 'Let me take it to my boss and go find out if there's something funny going on.'"
Nunziata, the CFO at Smithfield Foods in Smithfield, was honored in the Publicly Traded Company category. He worked closely with the Smithfield CFO to develop a comprehensive strategy that enabled four years of record growth, driven by operational efficiencies, earning improvement and strategic acquisitions. Thomson noted that Nunziata also helped spearhead a cultural shift that was described in his nomination as a "How can we help?" mentality.
"I just got into this job three years ago, and I feel like I'm still in the learning stage," Nunziata said. "The award is unexpected, and it's an honor."
The winners in the other three categories were:
Small Nonprofit Organization: Andrew Haugh, CPA, of Housing Opportunities Made Equal of Virginia Inc. in Richmond
Small Private Company: Amy Martin of American Cyber Inc. in Clifton
Large Private Company: Peter Whitfield of American Systems in Chantilly
The VSCPA's other finalists were:
JulieAnne Brown, CPA, CFO of Farmington Country Club in Charlottesville (Large Nonprofit Organization)
Aubrey Layne, CPA, Virginia Secretary of Finance in Richmond (Large Nonprofit Organization)
Mirriam Oman, CPA, CFO of GoochlandCares in Goochland (Small Nonprofit Organization)