Editor's Note: This is part of a series of profiles highlighting the diverse interests and careers of VSCPA members. Know a member (including yourself) who would make for an interesting profile? Email VSCPA Communications Manager Chip Knighton.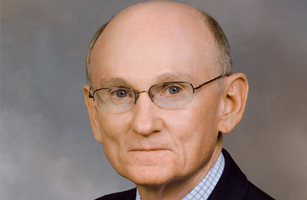 VSCPA member Barclay Bradshaw, CPA, spent four years on the Virginia Board of Accountancy (VBOA) and three years off before returning for a second stint. His niche of enforcement cases is much the same as how he left it, but that's about all that's the same in his professional life.
Bradshaw has moved into a new job at a new firm since rolling off the VBOA for the first time, moving into semi-retirement as a principal at Harris, Hardy & Johnstone (HHJ) on Richmond's Southside at the end of 2016. He kept his tax practice and largely (though not entirely) left audit and accounting behind — at least on a day-to-day basis.
That parenthetical is necessary both in his day job — Bradshaw still does some audit and accounting work, just not as engagement partner — and in his work serving the profession at the VBOA. He chaired the Board's Enforcement Committee during his first stint from 2011–2015, and when he rolled off, he said he had been surprised at the relative lack of audit and accounting cases he saw in that role. He hopes he can step back into enforcement to help the board keep pace with the daily realities of the profession while protecting the standards he worked hard to help implement.
"The profession deals with change, and the role of someone with 40-plus years of experience is to try to deal with those changes, whatever they are," he said.
Since lightening his professional load, Bradshaw has stepped up his service to the profession, as well as the other two institutions that have played a huge role in his life — Three Chopt Presbyterian Church and his alma mater, the University of Richmond (UR). He serves as an elder at the church, working in stewardship and (go figure) finance, and has helped to drum up interests in college reunions and other projects of interest among the alumni community.
"When reunions come up, I'm one of several people from the class who reach out to people to get them to participate," he said. "Miscellaneous things come up now and again. I just try to be a promoter, an advocate, for the school whenever it makes sense as an alum."
That work stems from Bradshaw's efforts to stay busy and involved outside of his family and day-to-day work. He's also hoping to use his increasing free time to get more involved in the community. He serves on the audit committee at Northstar Academy, a Richmond private school for students with disabilities, and works on the finance committee at the Virginia Capitol Foundation, which supports the restoration, preservation and interpretation of the Virginia Capitol Square and Executive Mansion.
In addition to his reunion work, Bradshaw has also served as a mentor at UR's Robins School of Business for roughly 12 years, helping business students find jobs and internships and navigate the beginnings of their careers. It provides an interesting counterpoint to his work at the other end of his professional career, helping to make sure the profession is where it needs to be as he prepares for his eventual full retirement.
This time around, that likely means work on the Virginia accounting statutes and VBOA policies. Fortunately, that's a concept he's worked on before – on his first VBOA stint, he worked with another VSCPA member, the late Steve Holton, CPA, to develop comprehensive guidance for Virginia CPAs on how they can provide volunteer help to organizations without running afoul of the regulations.
"Like everything else, once it gets a little stale, that needs to be updated," Bradshaw said. "We've got a whole new level of service, financial statement preparation, that wasn't around when that guidance was created, so for no other reason, the volunteer services guidance should be updated.
"I'm proud to have worked with a great man, Steve Holton, Mr. Audit and Accounting, not just in Virginia, but nationally. I'm proud that he wanted to work with me on this. Hopefully it's been a benefit to licensees as they're asked to provide services to charities to make sure that they're in compliance with licensing requirements and not violating our statutes and regs."
And of course, none of that deals with the biggest elephant in the VBOA room. Bradshaw returns to the Board to find it without an executive director after longtime head Wade Jewell accepted a position with the National Association of State Boards of Accountancy (NASBA) over the summer.
Bradshaw hasn't noticed any change in the day-to-day operations at the VBOA, and he is quick to credit the Board's interim director, Mary Charity, for the continuity. But he's still hopeful to see a permanent appointment soon.
"I hope we're close to finding Wade's replacement," Bradshaw said "The search committee has been working for quite a while. It was a very wide-open search, not a limited-scope search. I'm hopeful that we'll soon hear."