General Information
The VSCPA's headquarters is located in the Innsbrook business park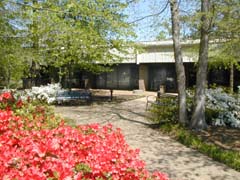 , just 16 miles west of downtown Richmond and accessible from all major interstates. The facility is situated on a three-acre wooded lot and has all the resources you need for a successful event, including:
A well-lit, spacious lobby with comfortable chairs and easy-to-use tabletop desks for note-taking and/or laptop/tablet us
Four classrooms that can accommodate up to 100 people
Ample parking
And more
Email Tara Pennington at [email protected] for more information.
Floor Plan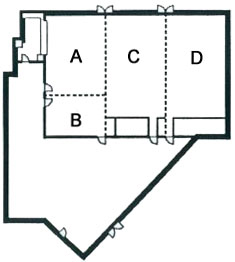 Layout Options
Room

Dimensions

Square Feet

School Room

Open U

Hollow Square

Board Room 

A

20' x 28'

560

16–24 people

12–17 people

14–20 people

14–16 people

B

12' x 10'

240

8

N/A

N/A

10

C or D

21' x 34'

714

25–35 people

21–31 people

20–32 people

14–16
people

CD

34' x 42"

1,428

42–63 people

30–41 people

38–52   people

N/A

ABCD

34' x 62'

2,108

70–100 people

41–80 people

46–90 people

N/A
---
VSCPA members receive a 10 percent discount on room rental only. All rates are based on 8-hour rentals. A tabletop lectern and wireless Internet access are included at no charge.
Rooms A & B: $275
Room C: $275
Room D: $275
Room D: $275
Rooms C & D: $450
Rooms A, B, C & D: $600
All rooms will be arranged classroom style. If your group requires one of the following other options, there will be an additional charge for room setup, and two weeks notice is required.
Open U
Hollow square
Board room
Food & Beverage
The VSCPA does not offer food and beverage service. For a list of outside caterers, click here (DOCX). You are not required to choose from this list, but these caterers are familiar with the VSCPA facilities. Should alcoholic beverages be provided for your group, the VSCPA requires the use of a licensed bartender. If food and/or beverages are brought into the facility, all trash from the food and beverages must be cleaned up by the renter or caterer. It will be the renter's responsibility to ensure that no trash is left in the meeting rooms or the lobby area. If additional trash bags are needed, please notify a staff person. A cleaning fee will be assessed if these policies are not adhered to.
Other Fees
If necessary, there will be an excessive clean-up charge of $75.00 added to your invoice.