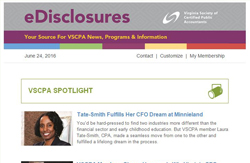 Your personal gateway to the latest VSCPA headlines and professional news that affects YOUR practice area, eDisclosures features in-depth professional updates on the topics you choose, CPE opportunities based on the same topics and the latest job openings from the VSCPA Career Center.
Click here to customize your fields of interest and receive news and CPE opportunities tailored to you.
Questions? Contact VSCPA Communications Director Jill Edmonds.