Disclosures Magazine | Ad Sizes & Rates | Editorial Calendar & Deadlines
Bi-monthly distribution of 13,500 
HIGH READERSHIP! 94% of members rate the information in Disclosures as excellent or good.
78% of members say they always or often read Disclosures magazine.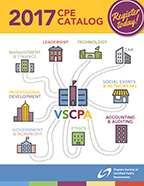 Annual CPE Catalog | Ad Sizes & Rates | Ads Close Jan. 31, 2018
Annual distribution to more than 10,000 members and CPE purchasers.
44% of members participated in our events last year.
Includes more than 80 pages of educational opportunities that are referenced throughout the year.