The VSCPA Leaders' Institute opens its doors to Virginia's top accounting students for the 10th time this week. From its humble beginnings at the University of Virginia (U.Va.) — well, as humble as any event that debuted at U.Va.'s palatial Darden School of Business can reasonably claim — the Leaders' Institute has grown into a recognized name for developing future leaders in the accounting profession.
It's shaped numerous careers of today's most promising CPAs, both by honing their leadership abilities and putting them in front of the firms that would give them their shot in the profession. Here's a look at three Leaders' Institute alumni and how the event has shaped their careers.
Marian Millikan, CPA
Tax Manager, Cherry Bekaert, Richmond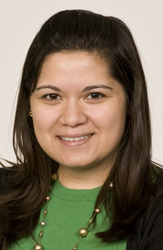 Marian Millikan didn't start out in accounting, but she was involved in the profession from the start. She started out as a training coordinator at Cherry Bekaert while taking night classes at Virginia Commonwealth University to get the credits needed to earn her CPA license.
That gave Millikan, 31, a couple of extra years' experience over her fellow attendees at the second Leaders' Institute in 2008. That translated to a different, more focused perspective.
"I had been in the industry for three years, even if I wasn't in an accounting-specific role," she said. "It kind of gave me a different viewpoint on what I wanted to do in my career. I knew what path I wanted to go down."
Millikan, who had earned her bachelor's degree from Virginia Tech before starting at Cherry Bekaert, earned her CPA license in 2010 after transitioning into an accounting role one year prior. Interestingly, while she has worked in the accounting industry since she graduated from college, the Leaders' Institute helped her connect to the profession in a more profound, personal way than she had previously considered.
"One of the big things I got out of it was the network of the accounting industry," she said. "You go into college and go through career fairs and being put into these buckets. You're accounting, you're marketing, you're this, you're that. Going to Leaders' Institute made me feel like more of a part of my industry than those buckets from college."
Finding that place in the industry was crucial for Millikan, who progressed from staff to senior to manager while growing in her career and having two children along the way. She stayed equally involved with the VSCPA, serving on the VSCPA Educational Foundation Board of Directors for two years. That comes from the same community spirit that she saw when she briefly left Cherry Bekaert for a job in industry before returning.
She left the firm because she thought she could craft a more workable schedule, befitting a mother of two young children, in industry. She went back when it became clear she could have the flexibility she needed in public accounting. And she tapped into her Leaders' Institute experience to get that realization.
"Going into accounting as a college student, I didn't realize that was there," Millikan said. "You have to use those years to gain as much knowledge as you can, and once you have the work ethic that companies are looking for, you have the opportunity to get a schedule that can work with different stages of life."
Millikan has made several trips back to Leaders' Institute to pass along her hard-won knowledge to her successors in the profession. She does it because she wants future CPAs to know about the same opportunities and resources she did.
"I know where they were, their position, and how intimidating and confusing it is to know what you really want to do," she said. Being able to sit down with somebody who has walked in those shoes before – I want to be able to share that with them so they know they're making the right choice. If they want to go down one path or another, they have somebody they can ask questions to. It goes to the sense of community that the profession has, and I think the VSCPA is a big part of that. It brings that community together.
"The connections that I made at Leaders' Institute allowed me to see that there was a bigger pool to my field. The resources that I was connected to were really valuable for me, long-term."
Christin Butler, CPA
Audit Supervisor, PBMares, Fredericksburg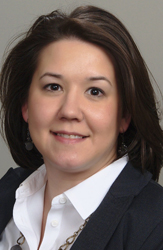 Like Marian Millikan, Christin Butler was slightly "old for her class" at Leaders' Institute. She worked her way through college and started out as a physical therapy major at Old Dominion University (ODU), with an eye on medical school, before deciding that accounting was where she needed to be.
"I was already 28 and decided that I wanted to have a full-time career before I was 50," she said.
The Leaders' Institute helped give her a leg up on getting that career started. She applied for the 2010 Institute at the urging of her advisor, former VSCPA and VSCPA Educational Foundation Board of Directors member Doug Ziegenfuss, CPA.
It was at that event, held at Virginia Tech, where she laid the groundwork for what's been the entirety of her career so far. Part of the agenda at Leaders' Institute each year is the mock interview session, intended to give students experience in an interview setting.
For the session, Butler was pared with former VSCPA Educational Foundation Board of Directors Chair Sean O'Connell, CPA, a partner with what was then PBGH. That connection helped her get her foot in the door at the firm
"I had a mock interview with Sean O'Connell, who was a partner in Fairfax at PBGH," she said. "I really liked the way he presented himself and his firm. My husband is from the Fredericksburg area, so I tracked them down and said, 'I've already had an interview with Sean, and he liked me.'"
But the connections that led to a job with PBGH — which merged with Witt Mares in 2013 to form PBMares — weren't all Butler, 34, got out of the Leaders' Institute.
"It's really the transition from classes and books to this being your career. It's definitely different," she said. "What I learned in college gave me enough knowledge to learn how to do my job. You can't just walk out and say, 'I'm going to be a public accountant now' and expect to know everything. That was the biggest eye-opener for me."
The Leaders' Institute provided her crucial connections with PBGH, and the Society and her future employer both gave her the room and opportunities she needed to get started in the accounting industry. One lesson taught at the Leaders' Institute (and elsewhere) is the need to remain open to growth opportunities, and that's a tenet Butler has followed at every turn.
"They've given me growth opportunities," she said. "I've joined a niche team — hospitality. I've gotten to travel internationally. I've worked all the way across the firm and practices. I've worked with people in Richmond, Fairfax, people in Maryland. It was quite the experience."
Pavlina Novakova, CPA
Senior Associate, Dixon Hughes Goodman, Norfolk
Pavlina Novakova also took a circuitous route to the accounting profession and the Leaders' Institute. Like Christin Butler, she was nominated by an ODU professor involved in the VSCPA Educational Foundation — Randy Spurrier, CPA, who currently sits on the Foundation Board of Directors.
Novakova, 28, attended the 2013 Leaders' Institute at George Mason University. Her experience there helped her overcome a lack of local connections in the industry after emigrating to the United States from her native Bulgaria.
But that wasn't all the Institute did for Novakova. It ignited her passion for the subject matter itself.
"I was a double major in finance and accounting," she said, "and I added accounting after the fact because it was just an extra semester. But when I went to Leaders' Institute and spoke with professionals, I really got excited about the profession. Then it became my major major."
At the time, Novakova's real-world accounting experience was limited to some part-time tax work. She got her first taste of the audit field through conversations with Leaders' Institute mentors and found it far more engaging than what she was used to.
"When I spoke with auditors at the Leaders' Institute and representatives from different CPA firms, they told me what they were doing and said a lot about fraud investigations," she said. "Pretty interesting stuff when you're in college. It sounded really amazing, and I really wanted to do it."
Novakova had studied history in Bulgaria before coming to the United States and enrolling at Tidewater Community College (TCC), then ODU. She basically had to start her college education from the beginning upon enrolling at TCC, which gave her a sense of urgency to take advantage of everything the profession, and the VSCPA, had to offer.
"I was determined to get a job right after I graduated," she said. "I definitely got a lot out of it. I really took advantage of that event."
One of the most helpful elements of Leaders' Institute was the face time Novakova got with recruiters. She met representatives from Dixon Hughes Goodman (DHG) at the event, then saw them again during on-campus recruiting the next semester.
The familiarity helped her land her job at DHG, where she was promoted to senior associate last year. She got her CPA license in February and is pressing forward in her career, with one small exception — motherhood. She was scheduled to have her first child any day when this article was published, but she's already looking forward to resuming her career when she gets back.
"I'm sure that I'll be eager to come back," she said. "I like my job."