By Stephanie Peters, CAE
VSCPA President & CEO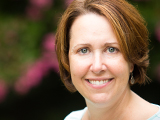 Our third bold strategy from the VSCPA2025 strategic framework is not a new concept: Influence students to become CPAs. Pipeline strategies have been part of the VSCPA's outreach efforts for some time now, but when looking at the future health of the profession, it's more important than ever to ensure the best and brightest of Virginia students are exposed to the CPA profession.
Much of that work takes place on college and university campuses across the state. That's where many students are exposed to accounting for the first time (although reaching students before they get to college is an ancillary part of this strategy). The VSCPA must create and enhance awareness of the career opportunities that come with the CPA credential. The best way to do that is to have them speak with practicing CPAs, to see them as people and professionals as they interact with the communities they serve.
Influencing students to become CPAs also means ensuring they leave school with the knowledge they need to become productive members of the profession. We must foster open collaboration with accounting departments at colleges and universities in order to ensure their curricula are relevant to current and future business needs. Success comes when Virginia students graduate ready and willing to take on the challenges of the CPA Exam and the accounting profession.
This strategy works in concert with the other bold strategies from VSCPA2025 to counteract two trends visible in the U.S. population and the accounting profession: The graying and browning of America. The country is becoming older and more diverse. That's why in addition to recruiting students to the profession, full stop, we must place a special focus on students with diverse backgrounds. The profession will be better equipped to serve Virginia's communities when it is made up of members of those communities.
The CPA profession can only thrive moving forward with a robust, prepared pipeline of future CPAs ready to replace retiring leaders. The VSCPA is counting on members' help as it works to show those students the profession as the wonderful opportunity it is.