By Stephanie Peters, CAE
VSCPA President & CEO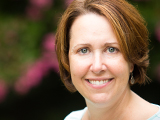 Earlier this month, we unveiled our VSCPA2025 vision and detailed four bold strategies aimed at empowering CPAs to thrive in a changing business environment. Today, I'll focus on the second of our four strategies: Drive innovation and vision.
The VSCPA, and CPAs in general, must take a leadership role in identifying and implementing innovative processes and strategies for one simple reason — they'll be left behind if they don't. Automation and artificial intelligence (AI) already perform many lower-level tasks traditionally carried out by CPAs. Larger employers are staying on the cutting edge by embracing AI, with their employees analyzing the data it generates and offering high-level advisory services.
This is the shift the industry must make as a whole. Firms of all sizes must find their niches, where they can provide the greatest value to their clients. CPAs working outside of public accounting must embrace cutting-edge processes and products to find new business strategies for their employers, and accounting educators must keep abreast of those changes and train the CPAs of tomorrow to leverage them in their careers. The VSCPA is committed to educating its members on the latest technological advances and empowering them with the knowledge needed to provide that value.
I'm struck by something VSCPA Board of Directors Chair Staci Henshaw, CPA, said in the run-up to the unveiling of VSCPA2025. She asked, "How can we use technology that's taking over some of the skills that we used to have to bring to the table? How can we use that to take it to another level? How can we use technology to analyze data better, to perform the work that we do in a different manner, to help our clients to do things differently, to provide information to them that wasn't as readily available to them in the past?"
She added, "It's something that's kind of scary, but it's also a great opportunity for us." That, to me, is equally insightful. The profession's future is in flux, but that provides a chance to reinvent ourselves in a manner that can cement the CPA's status as the trusted advisor for taxpayers and businesses across Virginia.