By Stephanie Peters, CAE
VSCPA President & CEO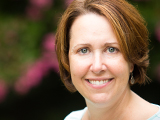 This month, we're unveiling our VSCPA2025 strategic framework, the result of more than a year of future-forward discussion between VSCPA leadership, members and staff. VSCPA2025 lays out the profession's best response to the numerous issues that are sparking change in the accounting industry, as well as how the Society can help its members remain vital in a changing business climate and thereby fulfill our new mission: Empowering our members to thrive.
You can view the entire report at vscpa.com/2025, but over the next two months, I'll be devoting this space to taking a deeper dive into our four bold strategies to achieve our 2025 vision:
Create a culture of learning
Drive innovation and vision
Influence students to become CPAs
Advocate for members' interests.
Today, I'll be focusing on the first of those strategies: Create a culture of learning. The VSCPA has been actively studying different methods and modes of learning for years with the goal of ensuring Virginia CPAs are qualified to provide the highest quality work to their clients. On a large scale, CPAs must shift their value proposition from reporting on past financial data to providing future-focused business intelligence for their clients and employers.
With the VSCPA2025 framework, the VSCPA is committing to infusing learning into all of our activities, with the goal of training the most qualified workforce possible. For the CPA profession to continue to thrive will require continuous learning among all its practitioners — to keep up with global changes and focus on high-impact skills that deliver the greatest possible value.
To deliver on this promise and help you perform the best work you possibly can, we will monitor global changes and develop engaging learning opportunities in response to those changes. We will drive the conversation on competency-based (as opposed to compliance-based) education and work proactively to provide learning opportunities that make our members better at their jobs. We will focus on high-impact learning that enhances leadership and technical skills alike. And we will promote thinking, not just doing, in entry-level positions.
Those are just some of the ways the VSCPA is working to help our members thrive in the business environment of the future. I'll be back later this month with a look at another VSCPA2025 strategy. Thank you for trusting us to be your professional organization.