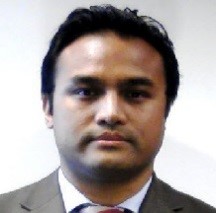 March is Wellness Month at the VSCPA! All month long, we're running Q&As with VSCPA members on health and wellness topics. Today's Q&A is with Abi Joshi, CPA, tax director at PricewaterhouseCoopers in McLean.
VSCPA: What was your relationship with wellness as a child?
AJ: As a child growing up,  I was always into playing soccer with my friends and cousins in the evenings after school or weekends. At that age, I wasn't focused into wellness but simply a form of entertainment as we didn't have iPhones or iPads at that point.  
VSCPA: How has it changed since you became an adult?
AJ: As an adult with a father of two small kids, I certainly value the importance of work/life balance and try to manage my schedule accordingly. I try to go to work early in the morning and would come back home on time so that I can have dinner with my family and also play with my kids. I would then go back online after kids go to bed. 
VSCPA: What stresses do you face in your day-to-day job?
AJ: Since I have to deal with multiple clients and since the tax filing deadline is always the same, my main role is to make sure that the project is moving along smoothly without any hiccups. Some of the stresses that I face every day are related to resource constraints, getting the client requested documents, not on time but with quick turnaround of the delivery, etc. But most importantly, I try not to let these issues create stress in my day-to-day job. Since we have a very open communication method at work (top down or vice versa), we work as one team and timely communicate any issues to each other so that they can be timely resolved. I always keep my supervisor posted if certain issue requires his or her attention. 
VSCPA: What techniques do you use to help manage stress?
AJ: I would prioritize my incoming emails based on urgency. That way, I will have an idea of the time it takes to perform the task. I would plan my calendar a week in advance so that I can focus on any certain projects on a particular day. If a project is due on a certain date, I make sure to complete it at least few days in advance and share with my partner and client. That way, if there are any last-minute changes, we have enough time to make those changes. 
VSCPA: What's your must-have in terms of wellness and fitness during busy season?
AJ: At my work "Be well, work well" has been our number one motto. As a tax professional, we all are expected to work long hours to meet the tax filing deadline without sacrificing our health. So even though during busy season, I don't get a chance to go play outdoors or go to the gym, I usually take different approaches to maintain my health, such as:
Taking the stairs up to the 11th floor at my work instead of the elevator
Bringing a healthy lunch to work (when possible) and walking outside for 15 or 20 minutes to get fresh air
Use a stand-up monitor so that I am not sitting at your chair for a continuous eight to 10 hours
VSCPA: How can employers help encourage employee wellness?
AJ: There are various ways employers can help employees being self aware of wellness, such as:
Ordering healthy fruit snacks to work so that our team can munch on in between work
Holding a step challenge with the help of various health apps such as the Fitbit app, and whoever has the highest score wins a prize
Outside of busy season, employers can also organize outdoor sporting events such as volleyball, soccer, etc., so that team members can also have fun while improving their wellness while developing team spirit