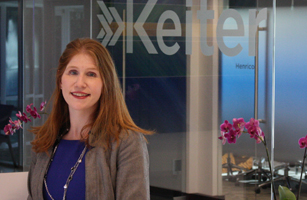 October is Technology & Innovation Month at the VSCPA! All month long, we're celebrating our members who push their employers forward in terms of technology and process improvement. Today, we're speaking with Julie Gustavsson, CPA, partner and chief operating officer at Keiter in Glen Allen. Earlier this year, Julie was honored as one of the most powerful women in accounting by the American Institute of CPAs (AICPA) and CPA Practice Advisor.
VSCPA: What's your role in your organization? How did you elect to focus on the intersection of accounting and technology?
JG: I am a Partner and Chief Operating Officer at Keiter.  I started here at Keiter as a software business analyst, became the IT director and now have the role of COO. 
 
When I was looking at colleges and majors in the 90's, information technology was pretty new on the accounting scene. The summer of my Junior year in high school I read an article in the Wall Street Journal that discussed the essential role of technology in the future of the accounting industry. After reading the article, I felt this intersection of accounting and technology would provide significant career opportunities. Given my desire to have a job upon graduation, I decided going into the field of information systems and accounting would be the best bet at the very least it couldn't hurt. I went to Virginia Tech and majored in Accounting and Information Technology.  One of the reasons I chose to attend VT was the Information systems/Accounting degree pilot program they started within their accounting department. VT offered exactly what I was looking for as my major.
 
VSCPA: What's the greatest technological threat CPAs face? What's the greatest opportunity?
JG: The answer most people would give would be Artificial Intelligence (AI), Blockchain, or something like that…but the reality is the only threat CPAs have are themselves. We are an industry that sometimes struggles with change, can be slow to adapt, and see technological opportunities as threats. This is one of the reasons I like being a part of the Keiter team. Keiter's entrepreneurial spirit and our desire to be opportunity advisors to our clients, gives us a reason to run toward challenges versus away from them.  
 
The greatest opportunity is to create more efficiencies in the way we work. By doing so, more time can be spent providing our clients with strategic planning, knowledge sharing, and insightful recommendations to help them grow and build their businesses. Technology will play a pivotal role in helping us create these added efficiencies as well as provide us with the opportunity to see our clients' data in unique ways that will lend itself to enhanced levels of communication and service offerings.
 
VSCPA: What role can CPAs play in helping clients with their technology needs?
JG: We can help by starting conversations with our clients about new and changing technology and translate how that technology benefits them on the business level as well as the individual level.  We can create awareness of the changes that are coming and help clarify confusion surrounding its complexities for their specific industries. 
 
In order to help our clients with technology changes, we as CPAs have to be open minded to the change, understand that we are only limited by our own preconceived notions and fear of the unknown.  If we can embrace that uncertainty, it can set our profession on a pretty cool ride to new client service offerings and client relationships that were not achievable without technological advances. A quote that illustrates this well is "The pace of change will never be as slow as it is today" from Sue Siegel Chief Innovation Officer, GE; CEO, GE Business Innovations.
VSCPA: What's your favorite piece of technology you currently use at work? In your personal life?
JG: My favorite piece of technology at the office are my curved screens.  Having dual or tri screens is really nice, but having them curved gives a crispness to the graphics that is surprisingly great.  In my personal life, I like the Waze app because it keeps me updated on traffic conditions and keeps me on time despite my busy life.