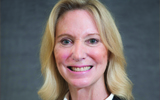 August is Pipeline Month at the VSCPA! This month, we'll be highlighting educators who are working to create a CPA culture on campus and help fulfill the VSCPA2025 bold strategy, "Influence students to become CPAs." The first subject is Nancy Bagranoff, CPA, accounting professor and dean of the Robins School of Business at the University of Richmond. She was a member of the American Institute of CPAs' (AICPA) Future of Learning Task Force, charged with making recommendations on how to assess and ensure learning among accounting students.
VSCPA: What do you hear from students at your university about the CPA credential?
NB: Many of our students pursue the credential.
VSCPA: When you were a student, what led you to pursue the CPA credential?
NB: I found it to be valued by employers and also to give me credibility.
VSCPA: What's the best way universities and professors can influence students to become CPAs?
NB: By demonstrating the value and holding it themselves.
VSCPA: What can CPAs do to get students interested in the p​rofession before they get to college?
NB: Not sure — the general public lacks some knowledge of the profession.
VSCPA: What's your opinion on the potential alternate pathway to the CPA for non-accounting majors?
NB: I think ​that the CPA requires the study of accounting.